The best in Regional and International Live Music!
Here you will find the very best in Live Music. From Solo artists to bands to Live Music theatre shows there is something for everyone to enjoy. Highly recommended by What's On Southwest Magazine
---
Women In Rock UK @ Palace Theatre – 3rd May 2019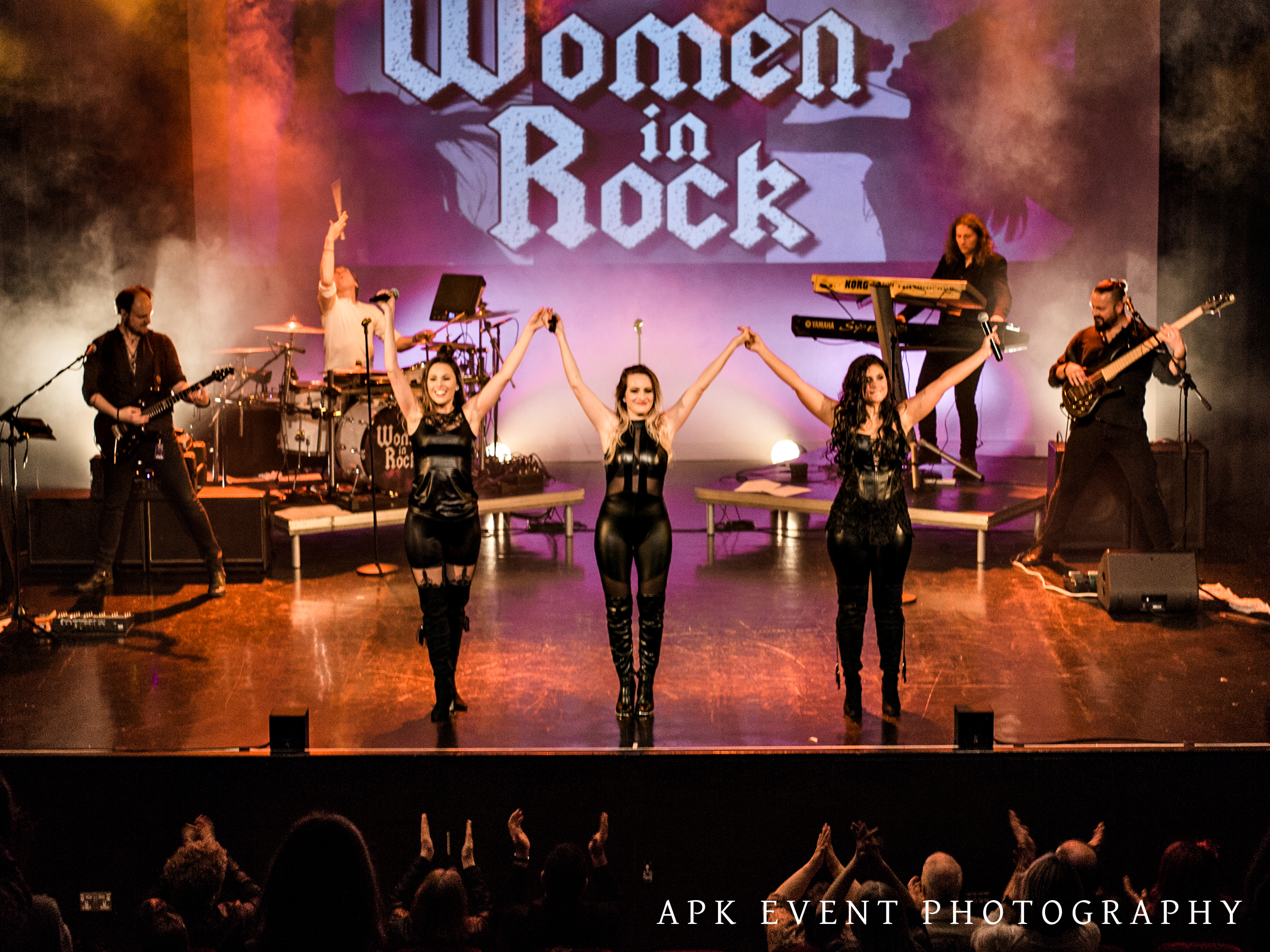 Women In Rock is the only show of it's kind in Europe, and features the very best known songs from the World's greatest female rock legends such as Heart, Pat Benatar, Joan Jett, Cher, Bonnie Tyler, Stevie Nicks, Blondie, Evanescence, Suzi Quatro, Pink and many more. We are a fitting tribute to all women that simply rock!
We have up to 3 of the UK's most sought after vocalists at our disposal for each performance. They are backed by a dynamic, professional full live four piece band which includes musicians that have played with many established touring shows across the globe.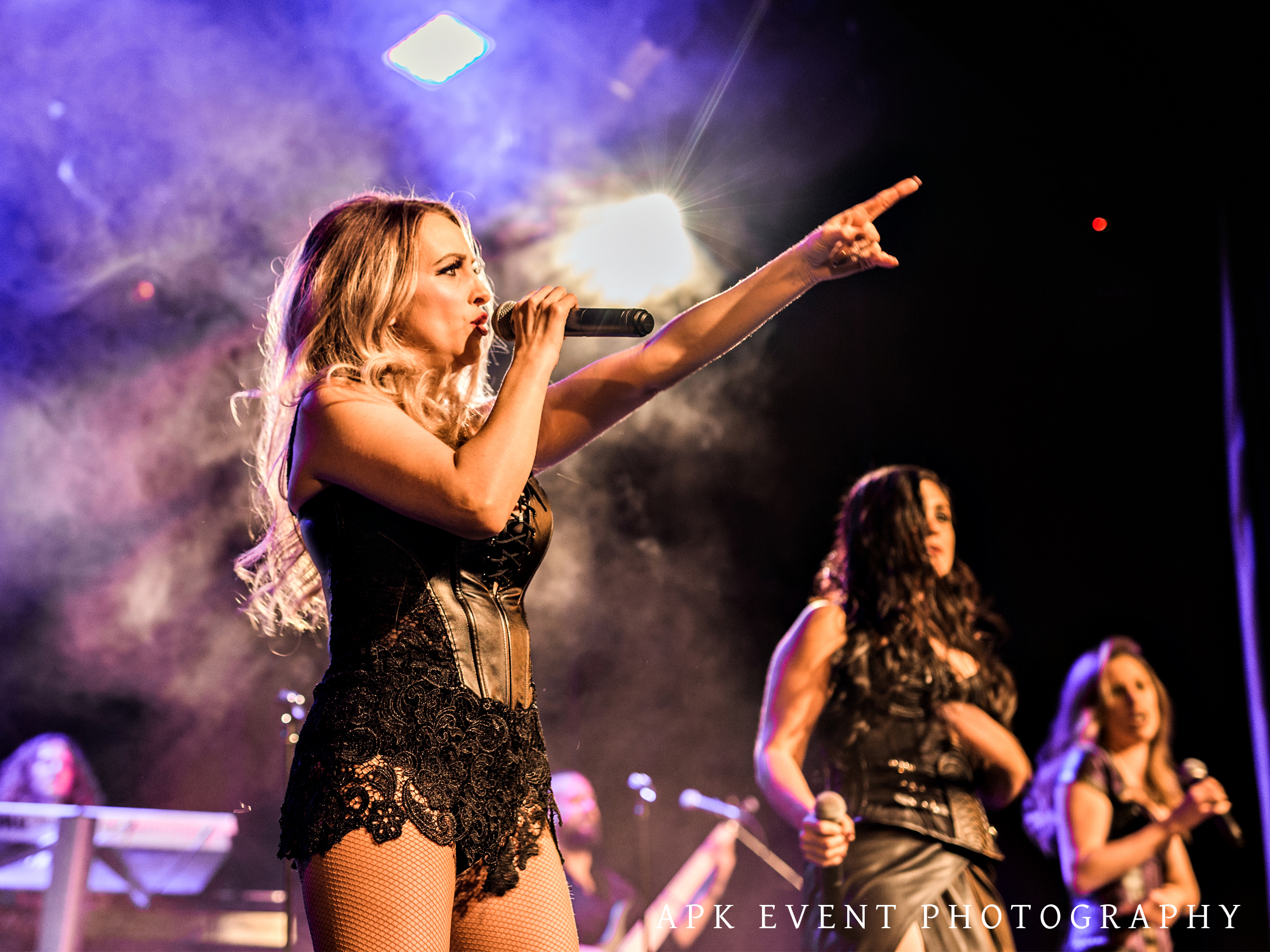 Interest and excitement around this unique one of a kind concept has been overwhelming and to date we have performed for a number of high profile clients including Harley Davidson, P&O Cruises, Hard Rock Cafe, Girl Guides UK, TGI Fridays, and many more.In 2018, the show were invited to embark on a 3 month mini tour for the UK's market leaders in the theatre entertainments field playing some of ATG's most established UK venues.
The shows highest accolade received was being chosen from a huge volume of applicants to perform for Harley Davidson at their 115 Euro Festival in Prague in July 2018 in front of 150k people for which The Rolling Stones opened the festival. We are booked to play in Portugal on June 14th this year again with Harley Davidson to perform at their Summer Rock and Bike festival.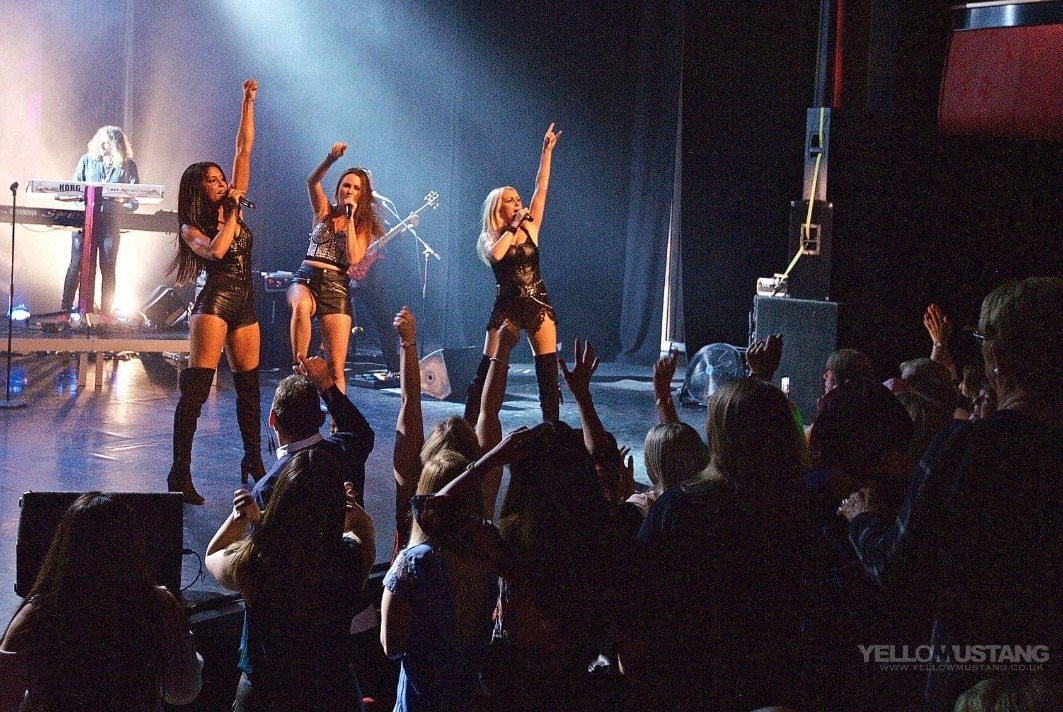 Come join us on a dazzling 2hr journey through some of the world's greatest female rock legends of all time.There is something for everyone. Your audience will be singing, dancing and cheering for more!
Show Details
Doors open at 7pm
Show starts at 7:30pm
Ticket Info
Buy tickets online at https://www.palacetheatrepaignton.co.uk/shows/women-in-rock/
Or call the box office on 01803 665800
Ticket Price: £16.50 – £18.50
Women In Rock UK @ Palace Theatre, Paignton on 3rd May 2019
For more information and full Tour Dates please visit http://www.womeninrock.co.uk/tour-dates/
---
POP DIVAS LIVE! @ Babbacombe Theatre, 12th April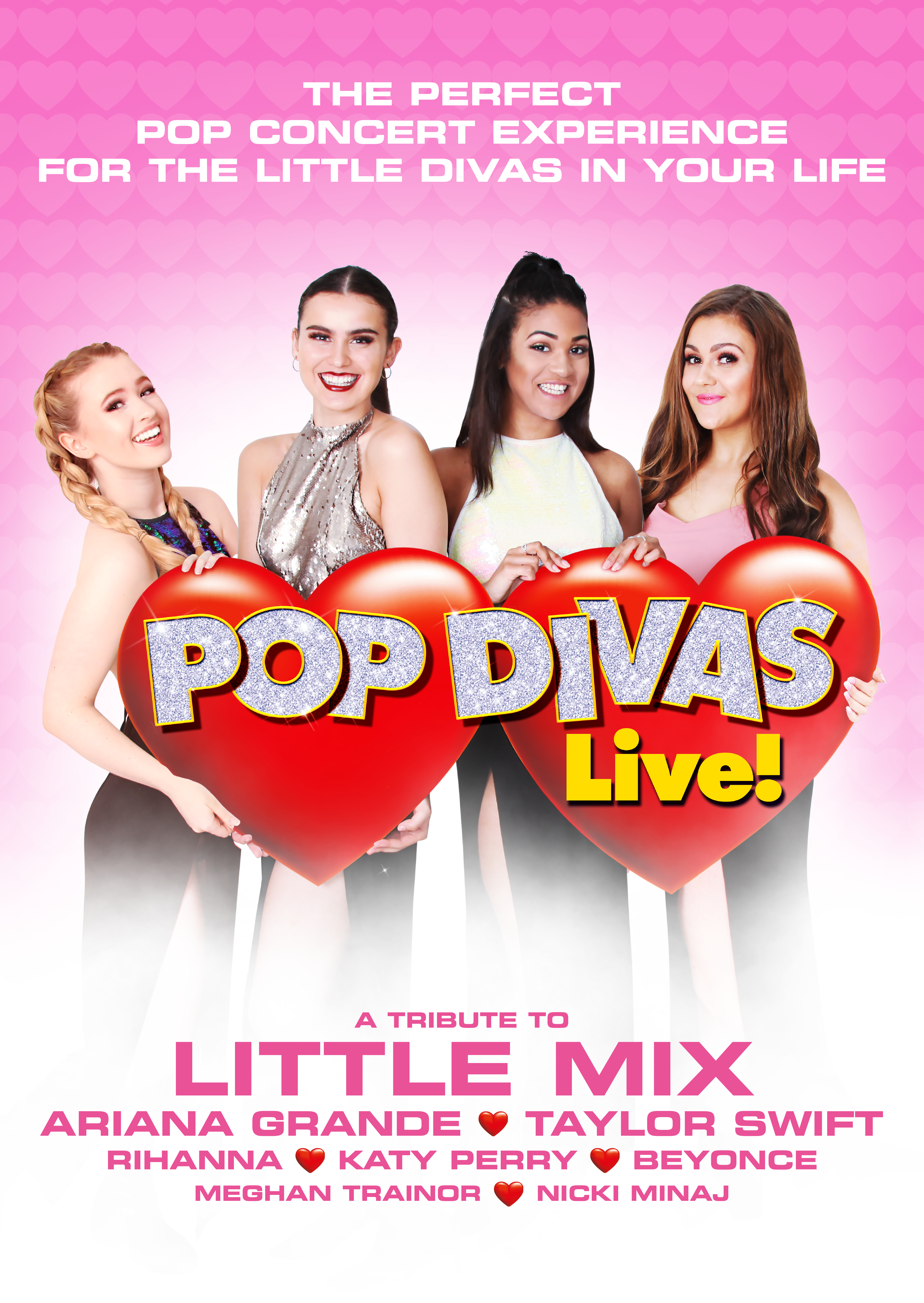 THE FAMILY FOCUSED POP PARTY OF THE YEAR COMES TO TORQUAY!
The highly acclaimed touring production Pop Divas Live! is coming to the Babbacombe Theatre on Friday 12th April at 6pm.
Pop Divas Live! takes the audience on a whirlwind tour of their favourite pop acts creating the perfect concert experience for little divas and their parents.
Little Mix will cast some Black Magic and Taylor Swift will Shake It Off as four enormously talented girls bring you up close and personal with the greatest female pop performers of today including Meghan Trainor, Ariana Grande, Beyoncé and Rihanna.
With a dazzling array of superb vocals, choreography and state of the art videos the show is a perfect night out for both little divas and big divas alike.
This new concept for a tribute show, was launched in 2017 by Creative Director, Katie Barker-Dale. Katie trained at Laine Theatre Arts and has been in the industry for 10 years as a professional dancer and choreographer working in theatre, TV and film. She has travelled the world working for brands such as Topshop and Benefit Cosmetics as well as appearing in films such as 'Legend' and TV commercials for brands such as Samsung and Honda.
The young cast are highly experienced across all genres of entertainment from stage to screen. Kali Dronsfield (Meghan Trainor and Ariana Grande in the show) appeared in Cameron Mackintosh's West End production of Oliver! Lauren Russell (Beyoncé, Rhianna and Leigh Anne from Little Mix) has appeared in the hit TV shows, 'Silent Witness', 'Hotel Babylon' and 'Family Affairs'. Boo Miller (Katy Perry and Jade from Little Mix), was last seen in a featured role in the Christmas 2017 TK Maxx Commercial.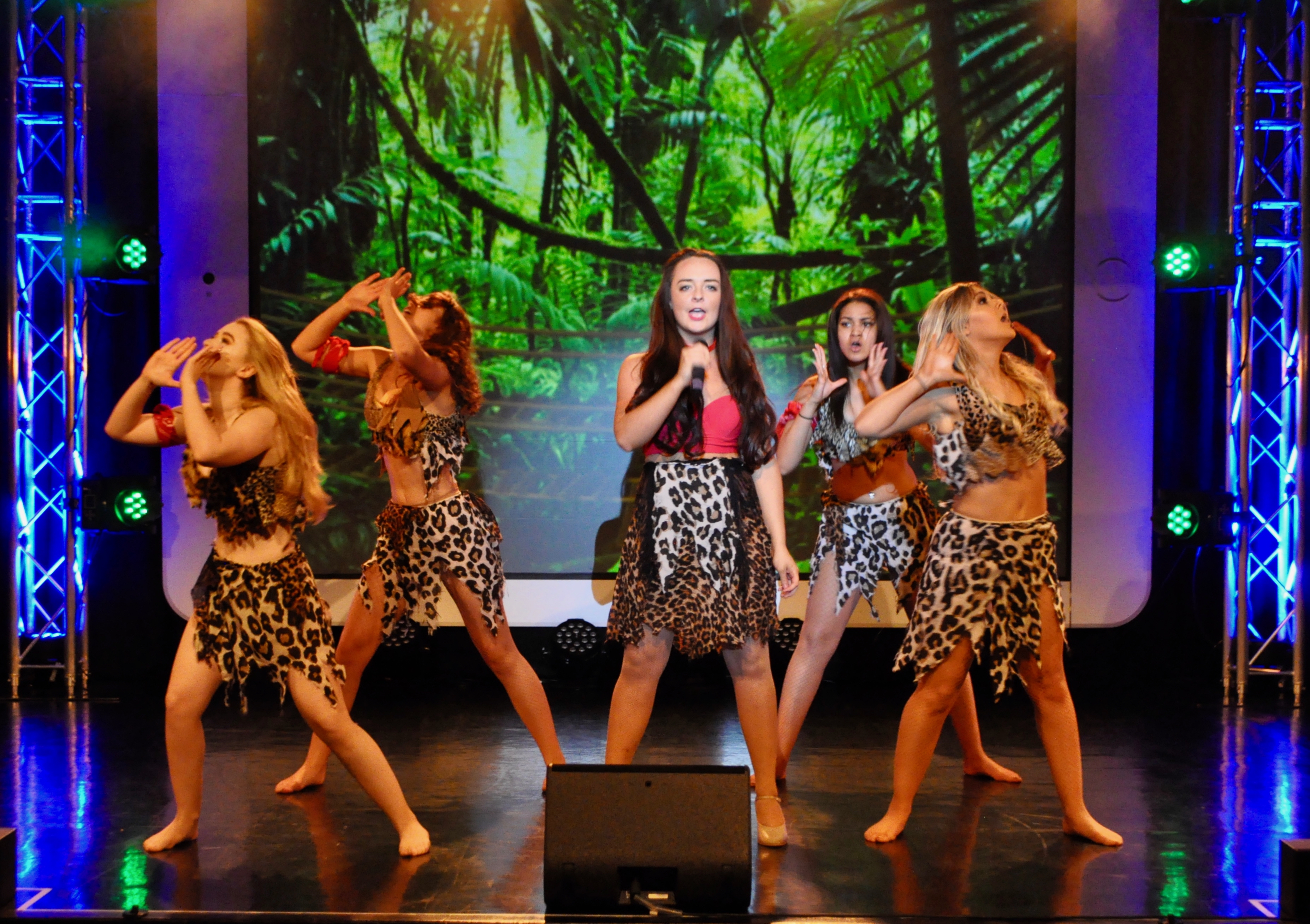 The show has proven to be popular for all ages up and down the country but especially for young children and their parents. Creative Director Katie said, "It's been amazing to see my vision come to life with the help of a fantastic team. I've always wanted to create a show like this, and the best part of the whole experience has been seeing the kids and their parents having fun, singing and dancing along together."
Tickets for Pop Divas Live! on the 12th April  are available from the Babbacombe Theatre's Box Office on 01803 328385 or online at: www.babbacombe-theatre.com
Lauren Russell (Rihanna, Beyonce, Nicki Minaj, Leigh-Anne from Little Mix)
Lauren's onstage roles include Rosalia in 'Westside Story' and Star To Be in 'Annie' (Rhodes) She has played various ensemble roles and most recently appeared as a chorus dancer in the pantomime, 'Cinderella' (Rhodes Arts Complex). Her TV appearances include 'Silent Witness', 'Hotel Babylon', 'Notes on a Scandal' and 'Family Affairs.' She was also a contestant in the 2015 series of X Factor. Lauren has choreographed productions such as 'Sound of Music' and 'Guys and Dolls' and regularly works in colleges and schools, teaching dance to students.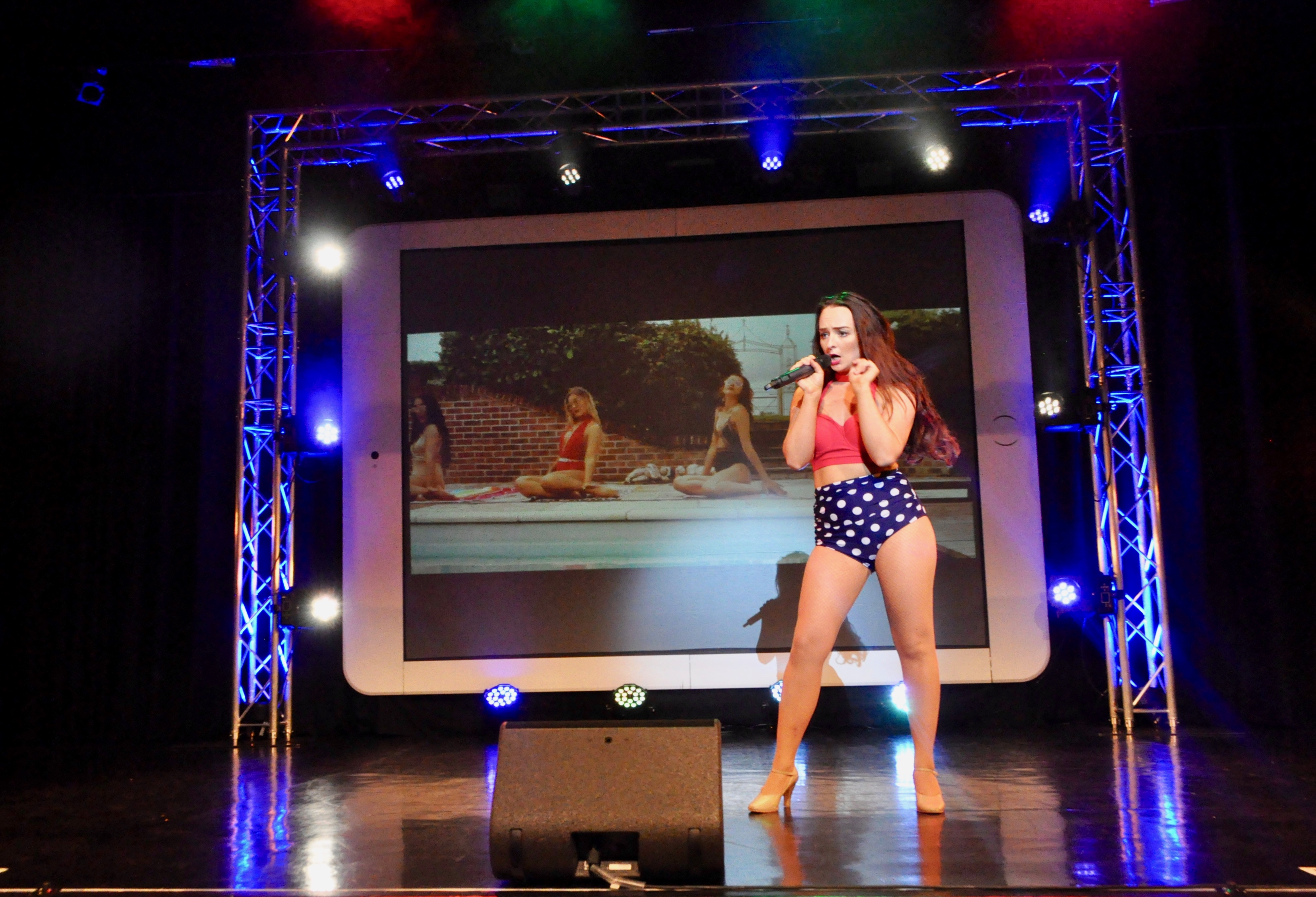 Kali Dronsfield (Meghan Trainor, Ariana Grande, Jessie from Little Mix)
Kali began performing professionally at a young age when she appeared in 'Oliver' in the West End. Her training at Sylvia Young Theatre School led to her playing various roles in productions such as 'West Side Story', 'Annie' and 'Oliver' (Rhodes Arts Complex). Her pantomime credits include ensemble roles in 'Robin' Hood', 'Cinderella', Jack and the Beanstalk' and 'Dick Whittington' in which she also worked as dance captain (Rhodes Arts Complex). Her acting credits include playing Tinkerbell in 'Peter Pan' (Harlow Playhouse) Peter in "Peter Pan' (Rhodes Arts Complex) and Hermia in 'A Midsummer Night's Dream' (Rhodes Arts Complex). Kali completed a season for Bourne Leisure at a Haven Holiday Park as a dancer and regularly teaches dance classes for KBD Dance in Bishop's Stortford.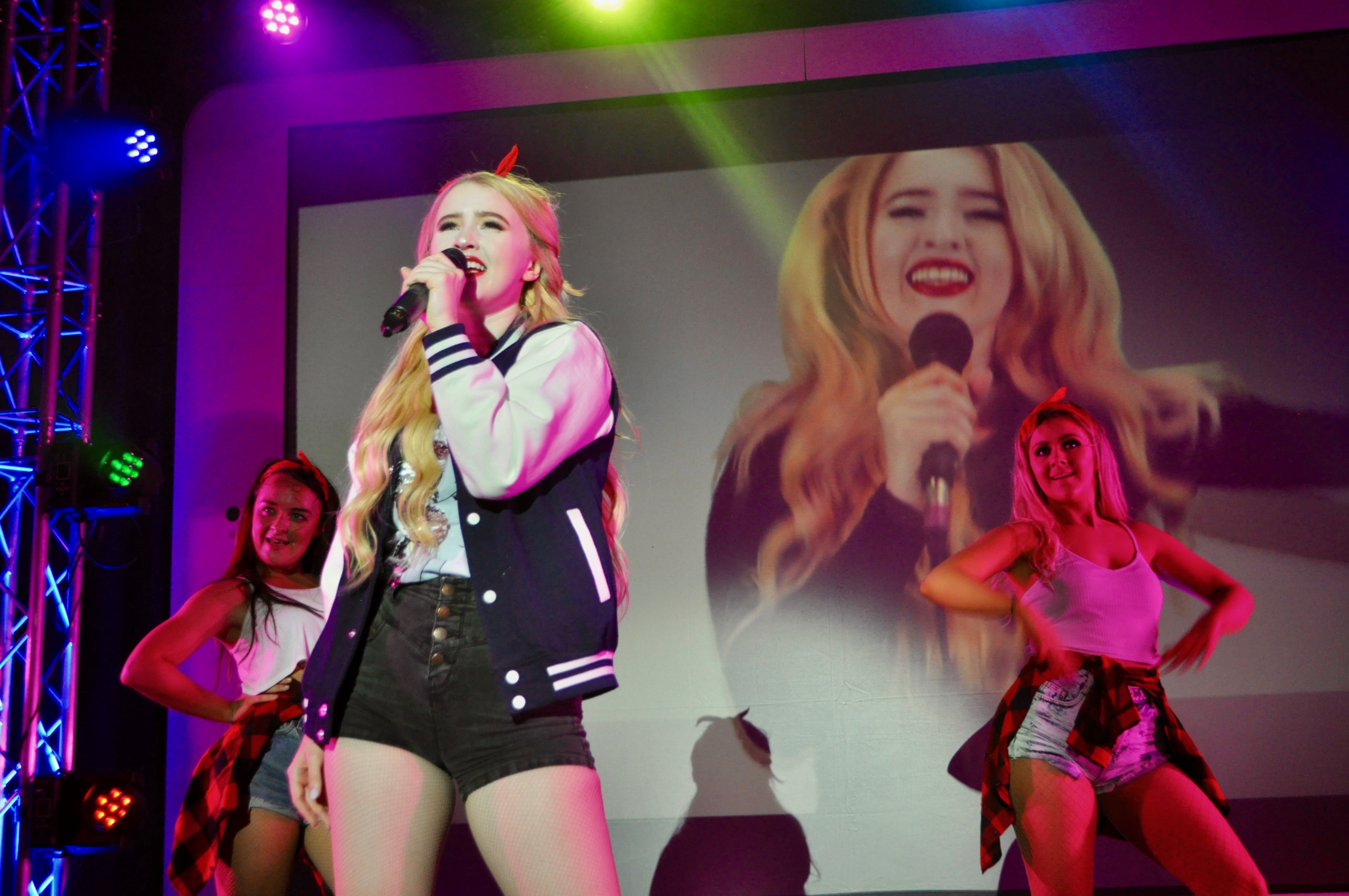 Georgia Tyler-Collins (Taylor Swift, Perrie from Little Mix)
Georgia has been performing since a young age and started out at Pineapple Performing Arts. She has played various roles on stage including Tiger Lily in 'Peter Pan' (Harlow Playhouse) and Graziella in 'West Side Story' (Rhodes Arts Complex), as well as various ensemble roles. She has played the female lead in several pantomimes including Jill in 'Jack and the Beanstalk', Alice Fitzwarren in 'Dick Whittington' and most recently, Cinderella in 'Cinderella' (Rhodes Arts Complex). Her other panto credits include ensemble in 'Cinderella', and 'Robin Hood' (Harlow Playhouse). Georgia has worked as part of the entertainment team at Paradise Wildlife Park and also regularly teaches drama and dance to primary aged children for Phoenix Theatre School and KBD Dance in Harlow & Bishop's Stortford.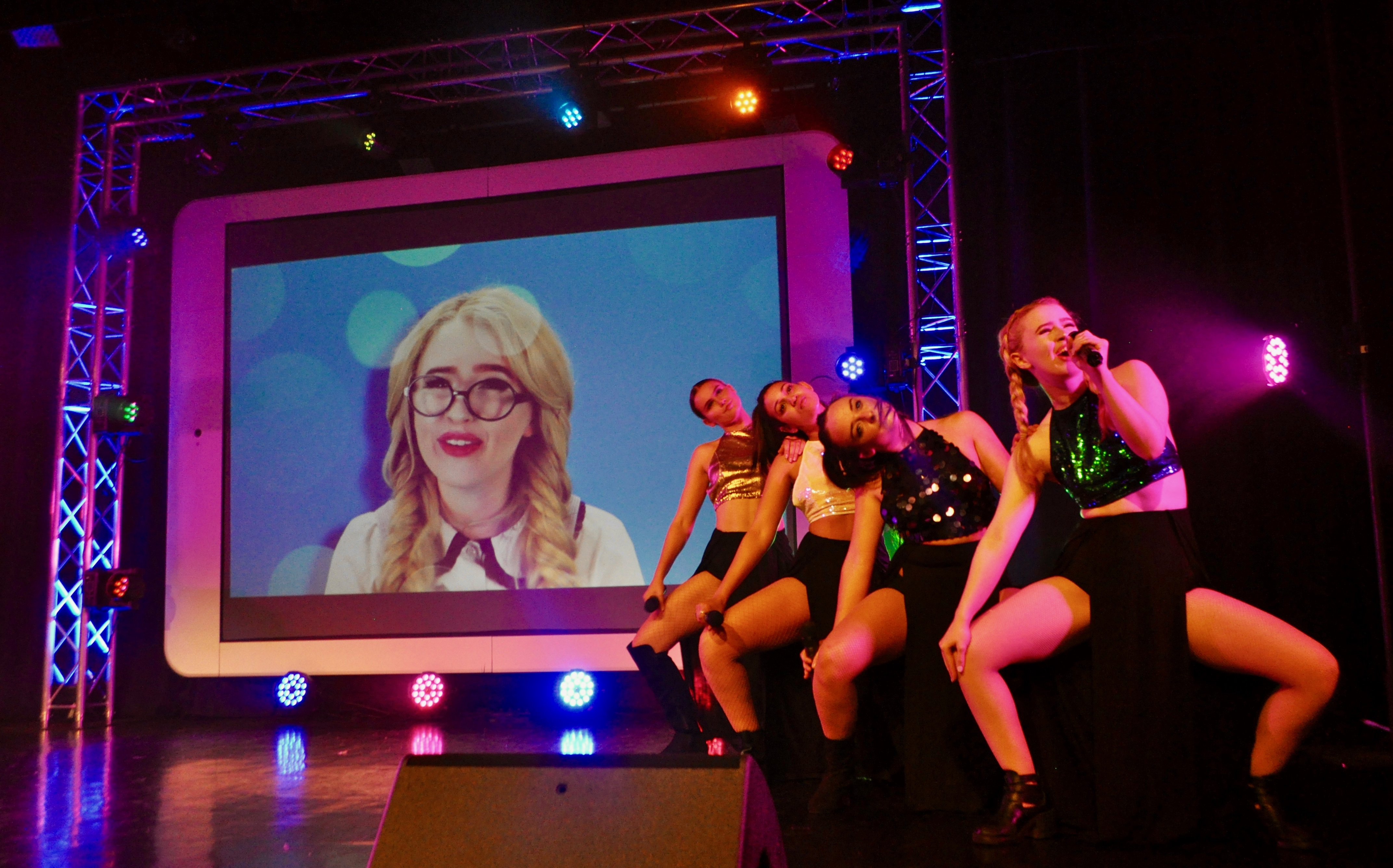 Boo Miller (Katy Perry, Jade from Little Mix)
Katie has appeared in many plays, musicals and pantomimes and more recently played the role of Jack in the hit pantomime 'Jack and the Beanstalk' (Rhodes Arts Complex). She has played various ensemble roles in musicals such as 'Annie', 'Westside Story' and 'Peter Pan' (Rhodes Arts Complex). Her acting credits include Helena in 'A Midsummer Night's Dream' (Rhodes Arts Complex) and Adriana in 'The Comedy of Errors'. Katie has performed at the Edinburgh Fringe Festival twice with the innovative physical theatre company 'Temper Theatre'. She has performed as a backing dancer for successful function band 'Salut' and she regularly teaches and assists on dance classes for KBD Dance in Bishop's Stortford.
---
Exclusive Band Feature – Wild Youth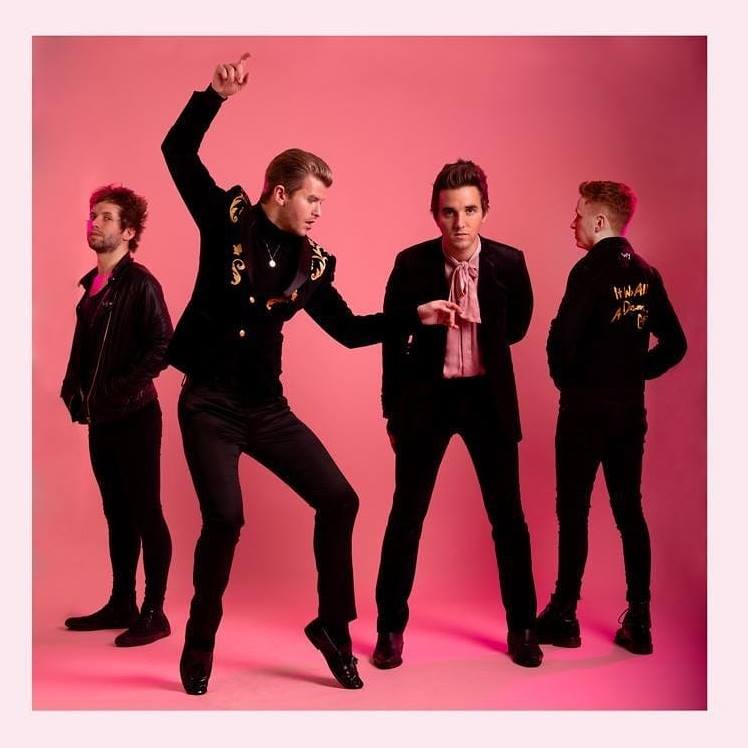 Four-piece band "Wild Youth" stormed the Spotify Viral Charts and held the #1 spot for two weeks with their first single. With influences ranging from Imagine Dragons, to The XX, The Script, and The 1975, they play a melodic brand of pop-rock with electronic touches. After a freak accident left Conor O'Donohoe, songwriter and keyboards, with a prolonged period of rehabilitation he took up the guitar to pass the time.
His new passion caused him to shift his focus from college and sports to composing songs in his shed with childhood best friend Dave Whelan, singer.
With the recruitment of guitarist Edward Porter and drummer Callum McAdam, Conor found two musicians that could breathe new life into the songs he had composed. The four then locked themselves away for a year writing new songs and developing their sound. In 2017, they emerged with "All or Nothing", which amassed over half a million Spotify streams.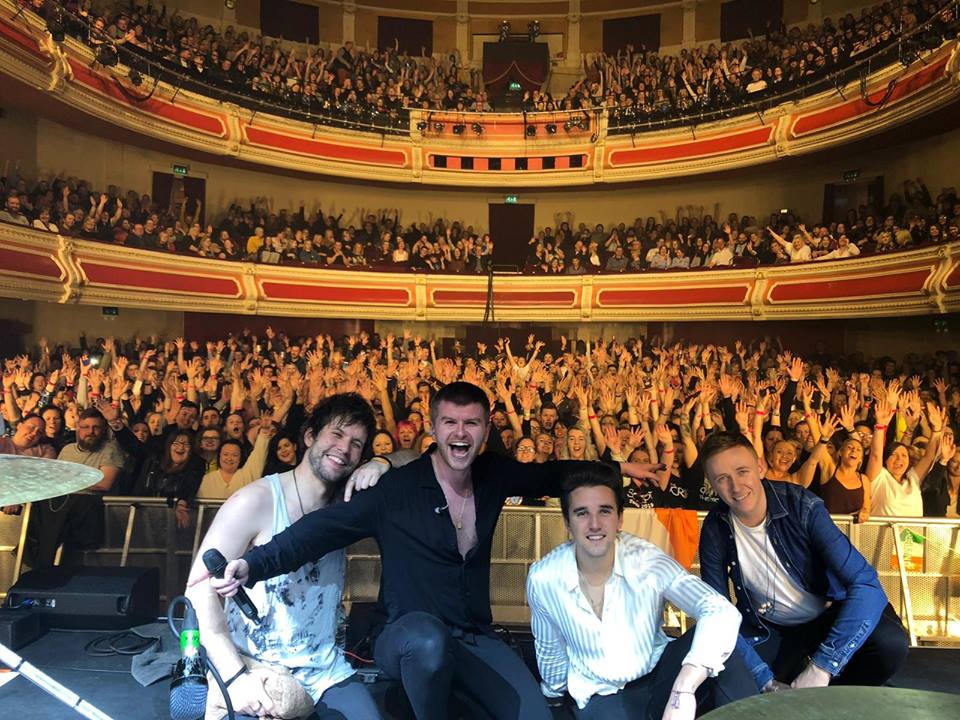 Their second single, "Lose Control", received heavy rotation on radio stations and led to sold out headline shows in Dublin and London. They soon found themselves invited to support artists such as Niall Horan, The Script, and Zara Larsson on arena sized shows, and drawing huge crowds to their festival slots across Ireland and the UK. Currently splitting their time between Dublin and London, writing and recording their first album, Wild Youth look set to big one of the biggest acts of 2018 and for many years beyond.
For up to date info please check out www.facebook.com/bandwildyouth/
---
Exclusive Artist Feature – McGoozer
The high note. The bass line.
The words that send a shiver of recognition down your spine. A rush of dopamine. Thousands of hairs standing on end. An emotion recognized and released. Your mind knows what to react to. Your heart knows what connects. It has been said that music feeds the soul, so give it something good to feast on. Give it McGoozer…
With a vocal range that will astound you and lyrics that will remind you of a life well lived, McGoo sings both from the heart and for the heart. He isn't just a remarkable musician: he is a storyteller, a performer, and an authentic human being who believes that music exists to be experienced and shared.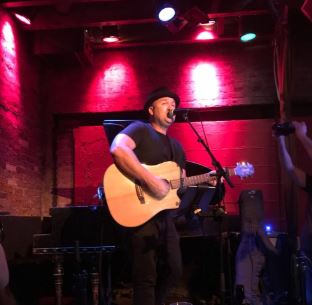 What you put into your ears does matter, so fill it with music that motivates, invigorates, and resonates. McGoozer makes positive music about universal experiences. They are personal, relatable, and beautiful, creating a soundtrack for your life that's as compelling and complex as you are.
Whether you're craving a sweet melody or a rock anthem you can sink your teeth into, McGoo and his crew have you covered.
In an industry with a lot of noise, listen to music that speaks to you. Your heart has a beat, but if it had a voice, it would sound like McGoozer.
Paul McGee, known widely as McGoo, embraced music from an early age. His siblings had a major impact on his love for music along with the influences that abound in his native Scotland. With his brother Brian being a founding member of Simple Minds and his other brother Owen (AKA Owen Paul) having a UK summer smash in 1986 with "You're My Favourite Waste of Time", it is no surprise that McGoo has spent his entire life immersed in the music industry and yet still feels like this is just the beginning.
His career in music began with "The Official Tribute to the Blues Brothers", where he alternated between playing the parts of both Jake and Elwood Blues as he toured with this theater production. In the three years that he was engaged in this production, McGoo toured Europe twice, toured the UK for a full year and participated in a six-month long residency in London's West End.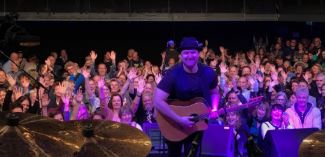 These years were extremely important in the fledging years of his own band, McGoozer, as they offered him widespread exposure as well as experiences with which he could base future songs upon. As his time touring with the "Blues Brothers" production slowed down, he focused on creating his own music and honing his craft into the melodic anthems that his name is becoming synonymous with.
Another early career highlight was recording and touring with Mike and the Mechanics. McGoo sang on their studio album "Rewired" and toured all round Europe as the opening act for Phil Collins on his world tour, performing to festivals and stadiums of over 70 thousand people at a time. "It was truly fantastic to get to work with, and get to know, such musical giants as Mike Rutherford and Paul Carrack", notes McGoo.
McGoo's manager, Steve Shippee of ShipWright Productions, discovered McGoo by accident – an accident they have since recognized was more destiny as their combined, complementary talents have created the perfect foundation from which McGoozer can launch.
"Paul McGee is a singer/songwriter with a vocal range that is reminiscent of Axl Rose and a tone/melody often described as that of a male Adele. He tells a story with his rock/pop styled music that elicits a feeling of positivity and personal connection. He can cover the likes of Aha, Ed Sheeran and Taylor Swift with his unique interpretation of their music, however his original tunes are his true works of art." Steve Shippee, CEO of ShipWright Productions
McGoo's passion continues to be funneled primarily through McGoozer where he is constantly inspired and feels some of his best music moments have been born. McGoo is also regularly sought after to collaborate with other artists as there is an increasing desire for his talents in all aspects of the music industry.
For more Information including tour dates please visit www.mcgoozer.com
---
Kris Barras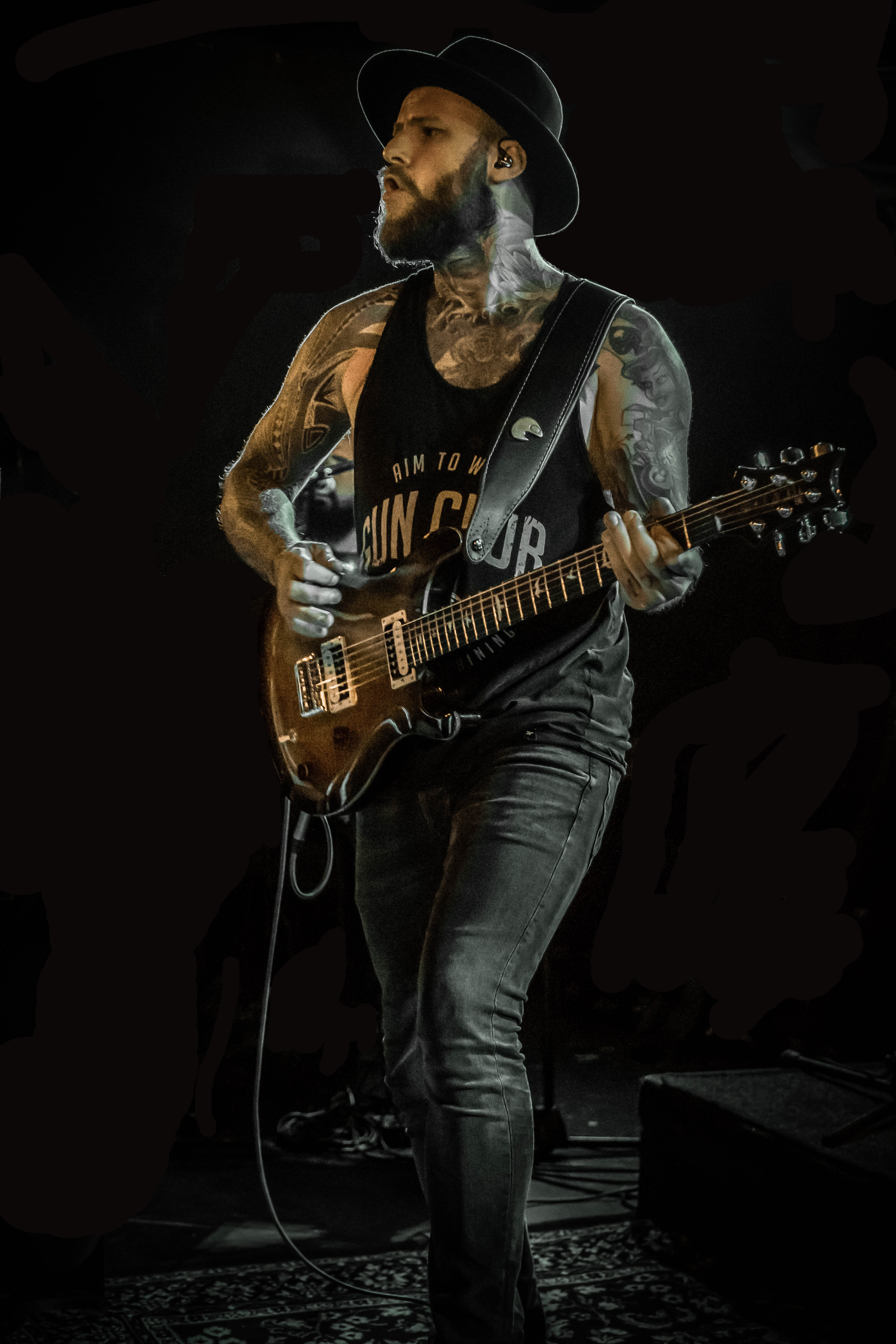 UK guitarist Kris Barras is known for his high-energy hybrid of no-nonsense rock, blues and country. winners of 'best new band' in the 2018 planet rock awards, the Kris Barras band have become one of the UK's fastest rising acts.  Recently voted one of the 'top blues guitarists in the world' (music radar) and winning the 'best album' accolade in the European blues awards, perhaps best demonstrates the band's fluidity and appeal to fans of different genres.
2019 has seen the band already complete a near sell-out UK tour, going from playing to an average of just 50 people per show in late 2017, up to selling out 400-500+ capacity venues, all in the space of just over one year. Plans for the rest of the 2019 include a main stage appearance at the Ramblin' Man Fair festival, main support to Black Stone Cherry on their UK/Ireland dates and a spot on the 'Rockin the Blues' tour. This will be several dates across Europe alongside label mates Jonny Lang and Walter Trout. With a brand new album scheduled for release later this year, the band will have extensive UK/european tour plans for the autumn.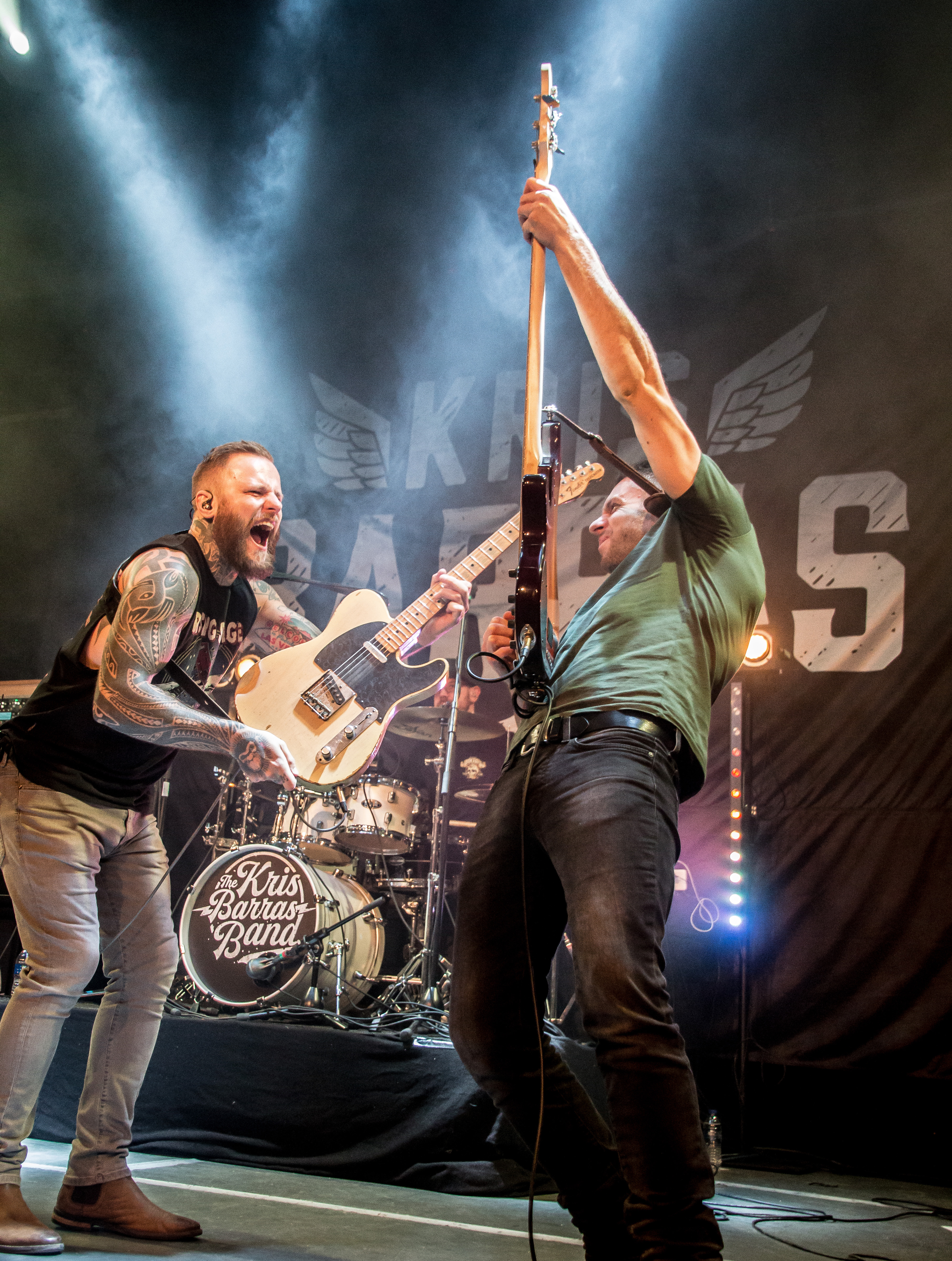 After a self-released debut in 2016 (Lucky 13), The release of the much anticipated second album, 'The Divine and Dirty' is when Kris really started to turn heads. Released in March 2018, the album headed straight to Number 1 in both the Amazon Bestseller's and the iTunes Blues Charts. The album also reached number 3 in the Official UK Blues charts.
As a side project, Kris Barras is the frontman for USA super-group, Supersonic Blues Machine. The band feature's legendary artists such as ZZ Top's Billy Gibbons, Steve Lukather (Toto), Eric Gales, Warren Haynes (Gov't Mule) and Walter Trout. Kris is currently working on new material with the band and will feature on all upcoming releases.
Kris is signed to world-renowned record label Provogue/Mascot Label Group. He joins a roster that includes names such as Joe Bonamassa, Black Stone Cherry, Monster Truck, Kenny Wayne Shepherd and Walter Trout.
For more Information including tour dates please visit www.krisbarrasband.com