STARS OF LES MISERABLES
THE BARRICADE BOYS
LIVE IN CONCERT
TO PLAY
THE PALACE THEATRE, PAIGNTON – FRIDAY 15 MARCH 2019
&
 LIGHTHOUSE THEATRE, POOLE – WEDNESDAY 6TH JUNE 2019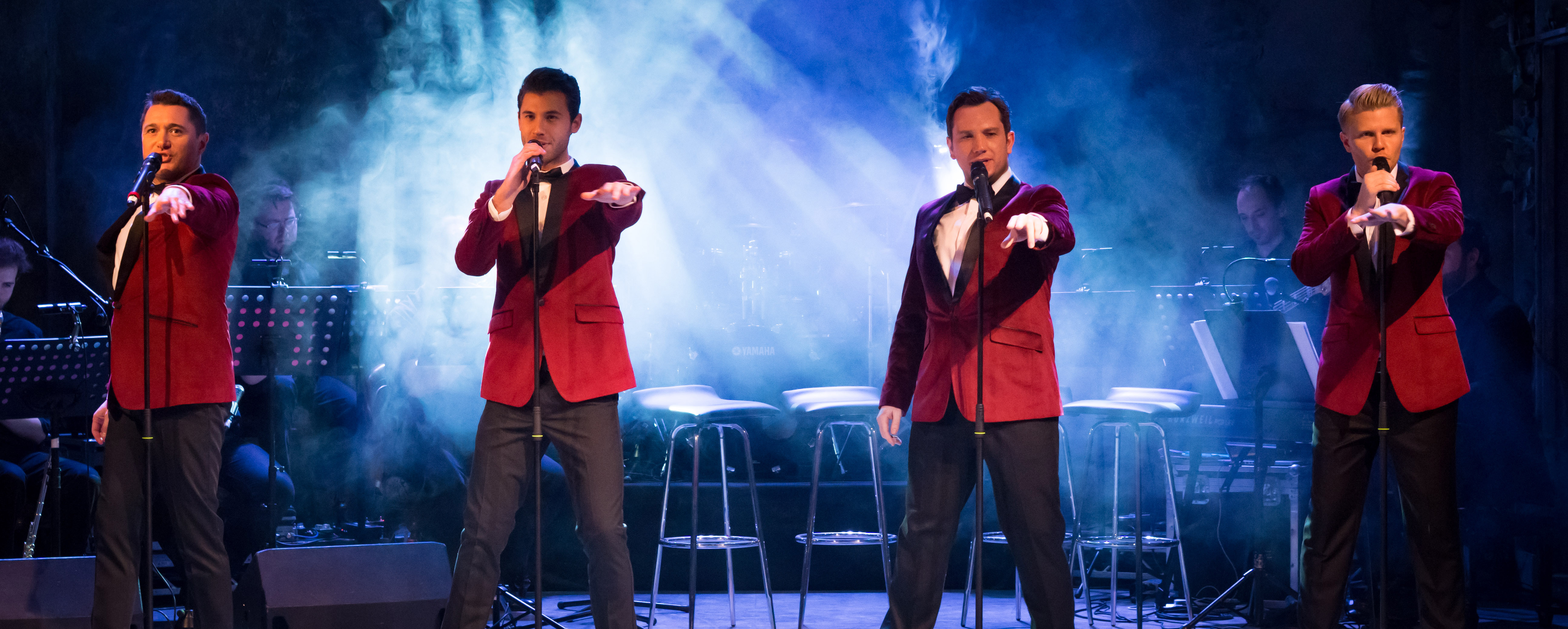 Direct from London's West End and Broadway, The Barricade Boys are back on the road with their sensational and critically acclaimed national tour and will play one night only in Paignton at the Palace Theatre on Friday 15 March.
Featuring fabulous harmonies, incredible vocals, dashing good looks and stacks of charm, The Barricade Boys showcase the UK's finest male voices from the world's longest running musical – Les Misérables.
The Barricade Boys not only perform the world's greatest show tunes, but they also celebrate music from some of the most iconic names in the music industry, from powerful ballads and beautiful operatic arias to some of the best pop, rock and swing numbers of all time.
After sell-out performances in London's West End, an appearance on Broadway and a host of international dates, this exceptional group are once again taking their spectacular live show around the country, as well as across the pond to the USA (in April).
The Barricade Boys have played nearly every major role in musical theatre from The Phantom of The Opera, Wicked and Billy Elliot to Jersey Boys, The Sound Of Music and of course Les Misérables. As seen on ITV's 'This Morning' and 'The Paul O'Grady Show', The Barricade Boys have rightfully secured their place as the world's leading musical theatre super group.
The Barricade Boys were founded in 2016 by Scott Garnham (Nativity! The Musical, Billy Elliot The Musical,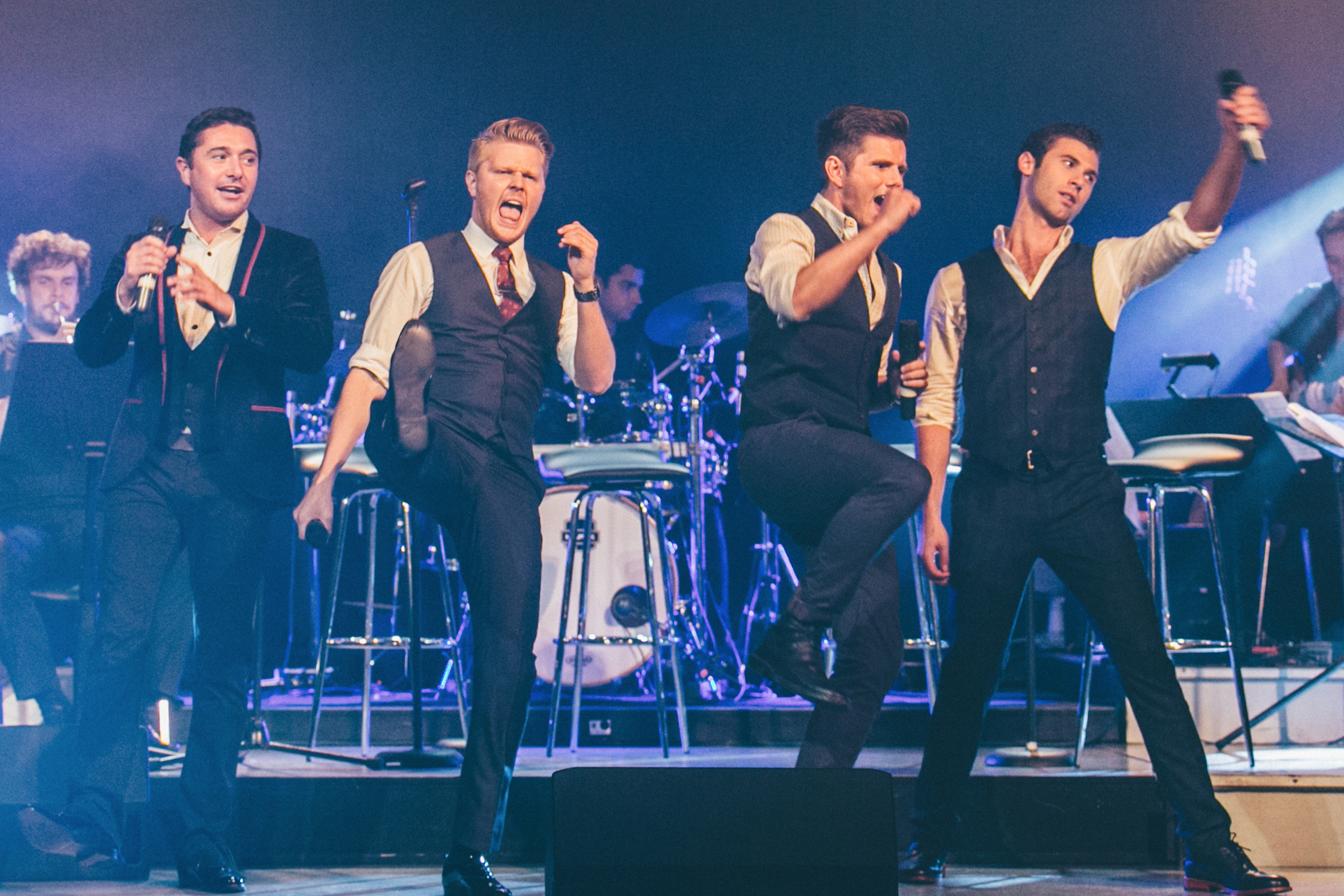 Made in Dagenham, Les Misérables) and Simon Schofield (title role in Oliver! London Palladium, Joseph and The Amazing Technicolor Dreamcoat, The Sound of Music, Doctor Doolitle, Les Misérables).
Follow The Barricade Boys on Facebook and Twitter @Barricadeboys and Instagram @BarricadeboysUK www.Barricadeboys.com
Trailer here: The Barricade Boys Trailer
 Friday 15th March @ 7.30pm
Wednesday 6th June @ 7.45pm
"These guys are fantastic… DON'T miss this show!" – Alfie Boe
"Do you hear the people sing? Yes! With dashing good looks, incredible voices and outstanding musical magic!" – Elaine Paige, BBC Radio 2
Exclusive Interview with Barricade Boys – Simon Schofield and Scott Barnham talking all things musical theatre as their 2019 UK Tour goes on sale.
Q) Simon and Scott.  Tell us a little about The Barricade Boys – when you formed the group and what inspired you.
Simon) Firstly it's one of my favourite musicals.  Les Mis is a phenomenon within the world of musical theatre and there had never been a show featuring just guys who had all been in this incredible show.  The planning began in 2015 and in 2016 The Barricade Boys was launched at The Charing Cross Theatre in London's West End. We didn't know what would happen or if we would even sell a ticket but within two weeks of its launch the performance was completely sold out and we knew we had stumbled across something very special. We performed to a fantastic crowd and ended the show with a full standing ovation; the atmosphere was electric. And the atmosphere has remained electric at every venue we go to all over the world whether that be in New Zealand, Paris, London or New York.
Scott) I was in Les Miserables in the West End and also lucky enough to be part of the 25th anniversary at the O2 Arena with Alfie Boe and Matt Lucas. It was overwhelming to see the love and appreciation of the show and to understand how much it means to people. I knew then that Les Miserables was special and that a show featuring members of the cast performing songs from the show, in a unique way, plus hearing music that the stars of the show themselves loved singing would be something really special. An idea was born!
Q) What's so special for you about Les Miserables?
Simon) Les Miserables is a unique show with timeless songs. To have been part of the show's history, no matter how small, makes me feel very proud as it's the only show I could sing every day and not get bored of singing those songs. There is something very special about the show and it's clear that everyone else thinks the same as it's the longest running musical of all time and every night the audiences are still packed. It's been made into a Hollywood movie, a 6-part drama on the BBC which shows that the story is constantly being re-invented and is always current.
Scott) There's no other show quite like it. I think that's why it's stood the test of time. I spent two years in the West End production and have continued to sing the songs for the past three years with The Barricade Boys and I'm still not bored of hearing them. So many hits and so many special moments. The story is about love and forgiveness which is something I think we could all learn from and remember from time to time… especially in today's current climate.
Q) You don't just perform songs from Les Miserables – tell us a little about what audiences can expect?
Simon) Of course we sing all the classic Les Miserables songs which everyone loves and enjoys but we do them slightly differently, with our unique four-part arrangements. However, we don't only perform Les Miserables and musical theatre songs – we actually have more variety in our show than Heinz! We sing songs from all genres from Rock and Roll to Pop Rock and Swing. It's a really fun show with a really special atmosphere – so if you feel like singing or dancing in the aisles you can do, or you can just sit back and relax.  It's not every night that you can watch a show which goes from Bohemian Rhapsody to Frankie Valli, with, of course, our unique arrangements of the Les Miserables classics.
Scott) We've got pop, swing, Motown, other musical theatre and even a rendition of Bohemian Rhapsody. So whether you like the sounds of 60's with our Jersey Boys medley or the ballads of West Side Story, there's something for everyone.
Q) What have been the highlights of your time as The Barricade Boys? 
Scott: I think my personal highlight was appearing at The St James Theatre on Broadway. Every performer dreams of appearing on both The West end stage and the Broadway stage so it was a real achievement for The Barricade Boys to have appeared on both sides of the Atlantic.
Simon) We were lucky enough to perform at the St James Theatre Broadway in a gala evening honouring Jude Law. We decided to change the lyrics from One Day More to One Jude Law! It was a real highlight of the concert and had everyone, including Jude, roaring with laughter. We met him afterwards and he asked if we'd print out the lyrics for him so he could send a copy to his mum.
Q) Outside of The Barricade Boys, what have been the highlights of your career so far?
Simon) From a very early age I always wanted to play Joseph in Joseph and the Amazing Technicolor Dreamcoat. When I was 21 my dream came true and I had the privilege of wearing the coat at The New London Theatre.  It was a very surreal experience and one I feel so lucky to have been given the opportunity. I also played Oliver in Oliver! at The London Palladium in 1995 with Jonathan Price as Fagin, and one day the late great Lionel Bart and Sir Cameron Mackintosh came into my dressing room to meet me and congratulate me on a great show. I was completely star stuck by Lionel Bart as I'd looked at his name almost every day for years – it was in prime position on the Oliver! Score (blue in a fancy font) which had taken pride of place on the piano in my family home since I was a toddler.  He was a lovely man and I'm delighted that I got to meet him.
Scott) I was lucky enough to play Tony, the brother to Billy, in the original UK tour of Billy Elliot the musical, directed by Stephen Daldry. It was an incredible experience touring the show to many cities around the UK but nothing was as special as when we took the show 'back home' to Sunderland. The audience's response to that show was unbelievable. I met many gentlemen who'd been miners during the 80s and they would often thank us at stage door for telling their story.
Q) What's your all-time favourite musical?
Simon) If I didn't say Les Misérables then I would have to say Jersey Boys. The music is timeless, the show is slick and it's brought the music of The Four Seasons back to another generation of people, including me. It's a wonderful musical and what a voice and sound Frankie Valli has.
Scott) Well Les Miserables is definitely up there!! I'd say a close second is The Producers and West Side Story. I think they're perfect in different ways and all have had profound effects on me whilst watching them
Q) Looking to the future, what would be your dream musical theatre role?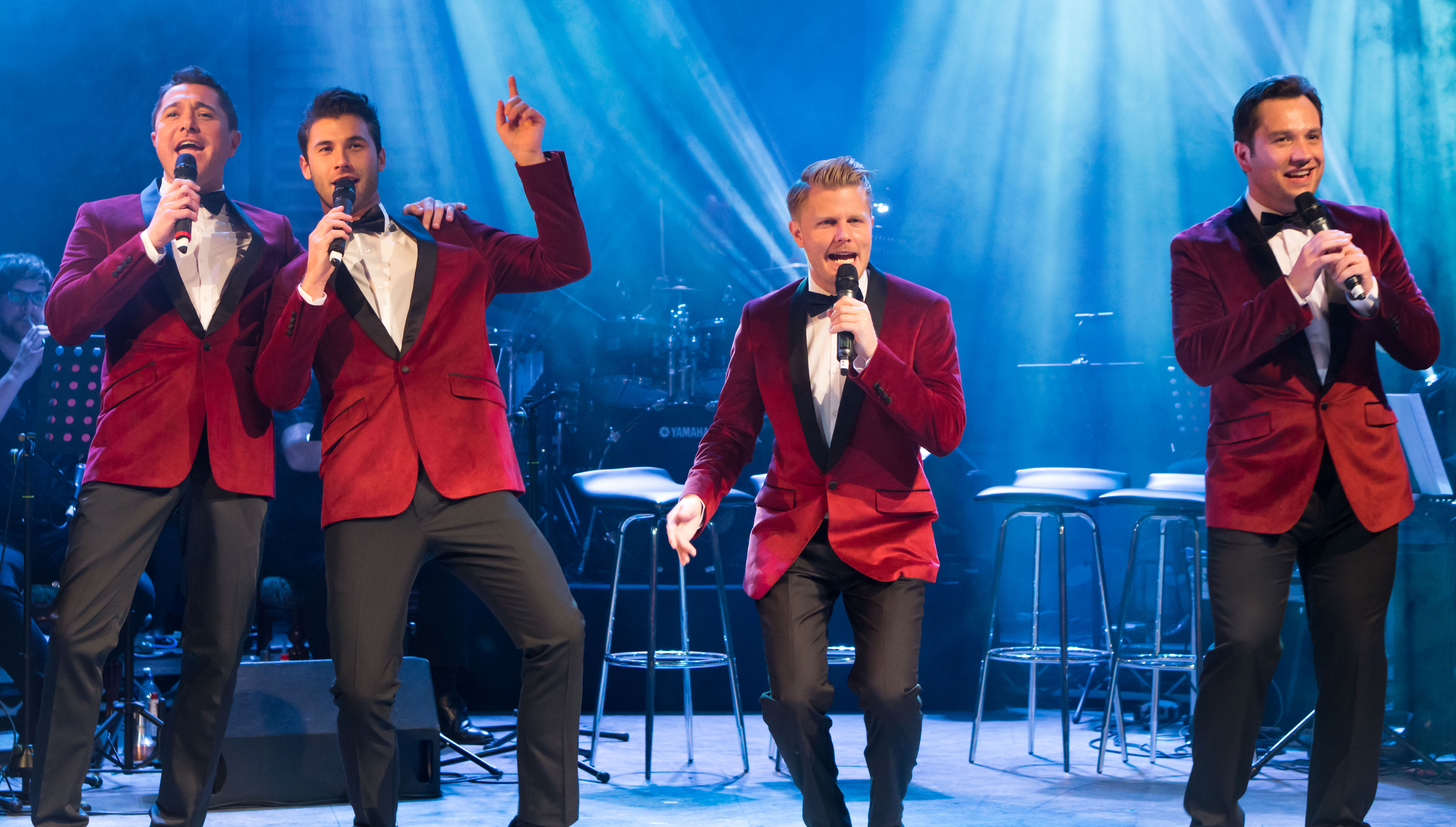 Simon) I've been very lucky in my career to have performed every role I'd set out to perform…. apart from the lead role in Queen's musical We Will Rock You. I'm a huge Queen fan but so far that part has evaded me. I think I will have to let that one go now, I'm afraid, but I'd always wished I'd been Galileo, if only for one night!
Scott) This is always a tough question for me to answer. I love creating something new. There's nothing better than new work so I suppose my dream role hasn't been created yet!
Simon) One of favourite late-night snacks is a buttery pea sandwich. Nothing better!
Scott) I have different coloured eyes