Bradleys, the South West's largest independent Estate Agent, has announced one of their 2018 charity partners as the Dame Hannah Rogers Charity (Hannahs).
Over 200 staff across its 33 branches in Somerset, Devon and Cornwall will be encouraged to tackle a range of fundraising activities and challenges to support the charity which cares for children and young people from across the South West with complex disabilities.
Bradleys, which has a long history of supporting local groups and charities, has selected Hannahs for one of its 2018 charities to help raise vital funds to help them support children and young people who have a range of disabilities including cerebral palsy, learning difficulties, acquired brain injuries, and genetic disorders.
Kai Logan, Group Marketing Manager at Bradleys Estate Agents, said: "We are delighted to bring Hannahs on board as one of our 2018 charity partners and hope that we can help them raise awareness and of course money for this vital cause. It is an important part of our culture to help charities like Hannahs and also adds to the excellent morale within the Bradleys family being able to help such worthwhile causes."
Claire Landricombe, Corporate Fundraiser at Hannahs, said "We are really excited to be working with Bradleys this year. We know how enthusiastic their staff are in fundraising for great causes across our region and are very grateful for their support for Hannahs this year. We're looking forward to encouraging them to take part in as many fundraising activities as possible, from the Hannahs Mission Marathon to Wing Walking!"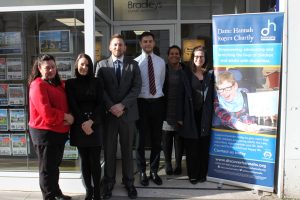 Hannahs is based at Ivybridge and Seale Hayne, near Newton Abbot. It is one of only five other provisions in the country able to offer its level and quality of education, therapy and care which yet it is desperately needed so that young people with complex disabilities are able reach their full potential without judgement or limit.
Picture caption: Sally Hooper, Charlotte Rickard, Peter Lindberg and Darbo Moors from Bradleys with Charlotte Nicholls and Claire Landricombe from Hannahs