FRIDAY 20th – SATURDAY 21st JULY 2018
IMELDA MAY | BUZZCOCKS
SHOW OF HANDS | KING KING | THE CORRESPONDENTS
THE HOT SPROCKETS | BARBARELLA'S BANG BANG| MARTIN HARLEY
HUNTER & THE BEAR | THE WOOD BURNING SAVAGES | DESSIE MAGEE
XYLARU | THE GRAHAMS | THE LUCK | KELLY OLIVER | LUKA STATE | LUVIA
HUW EDDY & THE CARNIVAL | JAKE MORRELL | CHAY SNOWDON | QUORUM
Plus full LIVE LOUNGE line up and as always, house band…NEW CRISIS
FULL 2018 LINE UP NOW CONFIRMED!!
IMELDA MAY, BUZZCOCKS, SHOW OF HANDS, THE CORRESPONDENTS
AND MANY MORE TO PERFORM AT DEVON'S CHAGSTOCK FESTIVAL
– ONE OF THE UK'S MOST BEAUTIFUL FESTIVAL SITES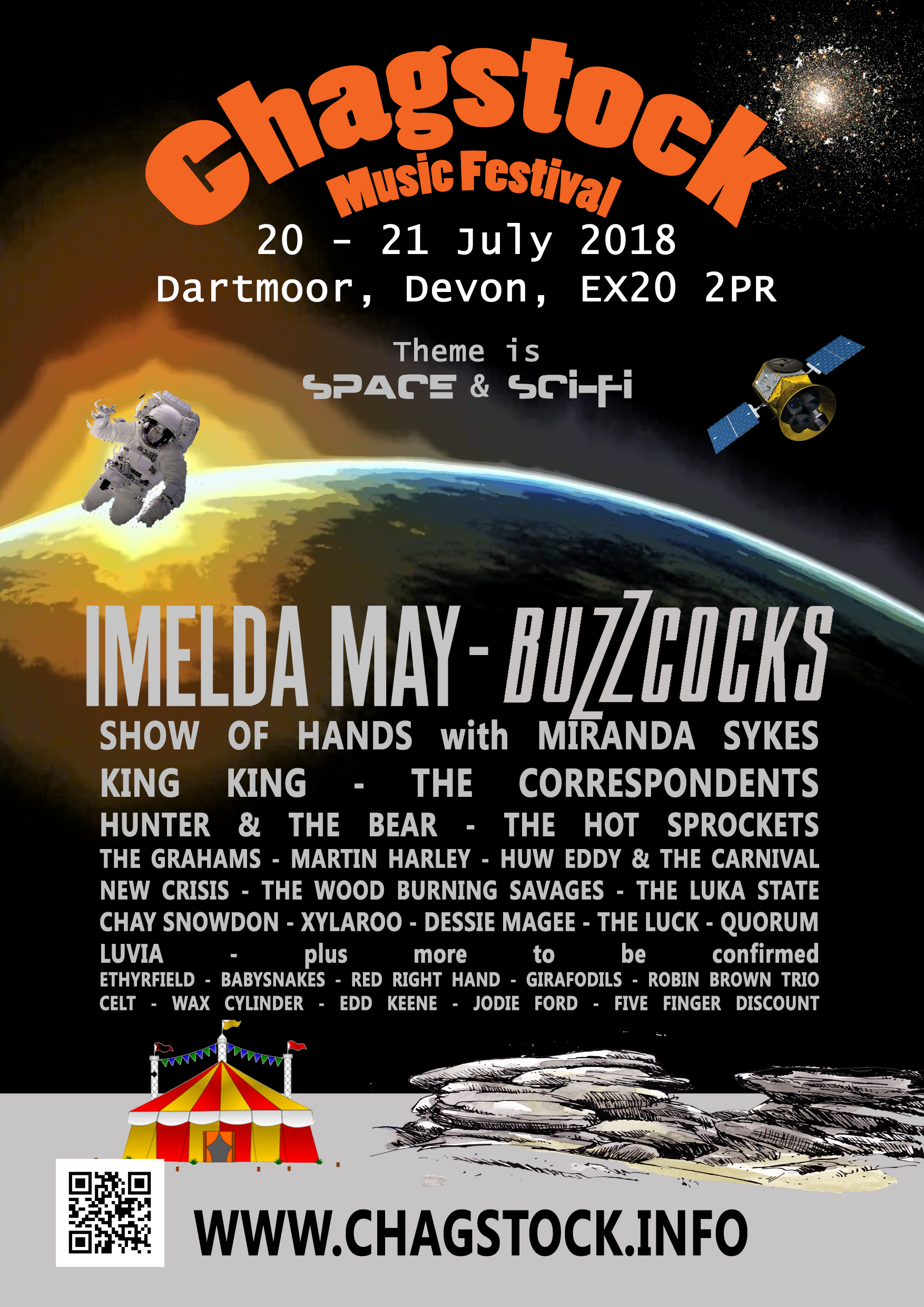 Taking place on Friday 20th and Saturday 21st July 2018, Chagstock showcases the very best music, food and entertainment from the Westcountry, have to offer.
Set in 70 acres of farmland near Chagford, Chagstock is renowned for its stunning location with unbeatable views across Dartmoor, a diverse line-up of brilliant live bands, and a laid back, non-corporate, family-friendly atmosphere.
Chagstock's incredible Friday line-up includes Xylaroo, King King, Martin Harley, The Correspondents, Hunter & The Bear and main stage headliners; Buzzcocks.
Saturday's highlights include The Grahams, Luka State, The Wood Burning Savages, The Hot Sprockets, local heroes Show of Hands and to round off the festival, the incredible Imelda May.
This year's fancy dress theme is Space & Sci-Fi…going boldly where no one (costume) has gone before!
Starting life as a small private party, Chagstock has now grown into a major fixture on the Westcountry festival circuit, selling out year after year.
In addition to the main stages, Chagstock hosts a huge variety of alternative musical and non-musical activities for all ages, including large children's area, independent local food traders, and of course, a well stocked bar serving a wide variety of beverages including local ales and ciders.
As part of Chagstock's commitment providing excellent value for money wherever possible, the bars will remain at last year's prices for 2018.
Weekend tickets are just £95 per adult, with family, youth, group and accessible carer discounts available. They include all entertainment, car parking and 2 nights camping.
Day tickets start from just £50 per adult, with family and youth discounts available. Day tickets also include car parking and one night's camping.
CHAGSTOCK 2018 MAIN STAGE ACTS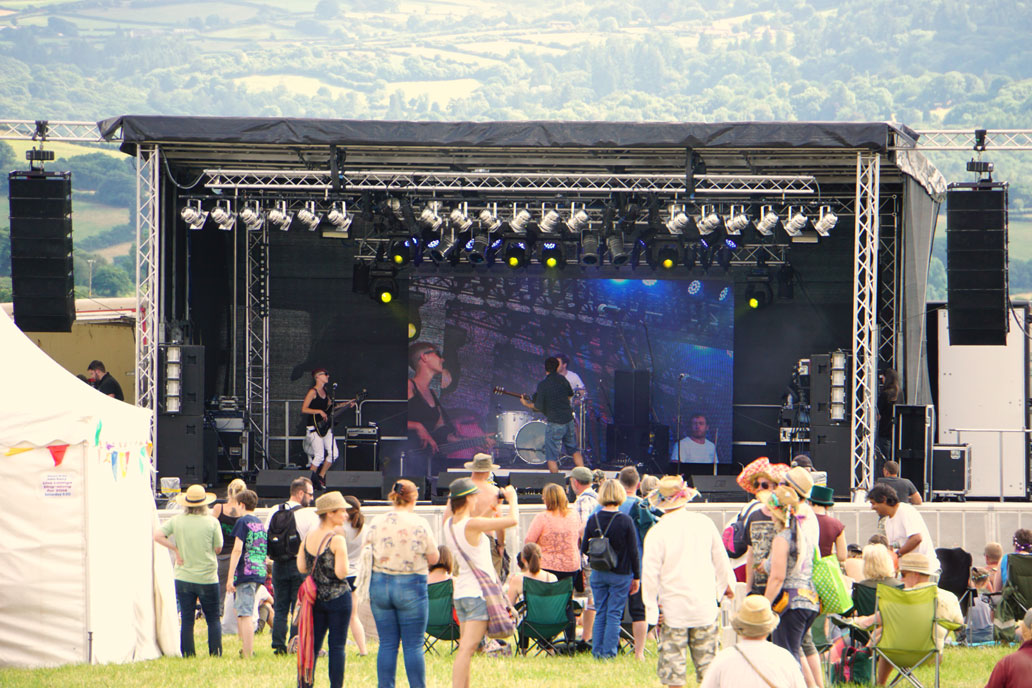 Friday night headliners Buzzcocks were formed in 1976 by Pete Shelley, Howard Devoto, Steve Diggle and John Maher. In August 1977, they released their landmark 'Orgasm Addict' single, swiftly followed by 'What Do I Get?', the band's first entry into the UK Top 40, and the first of a string of chart hits. Since then, Buzzcocks have become one of the UK's best loved bands, touring extensively and releasing countless outstanding albums including Another Music in a Different Kitchen, Love Bites and A Different Kind of Tension, as well as the hugely influential Singles Going Steady compilation.
Saturday's headliner Imelda May began her career in 2003, releasing 'No Turning Back'. In 2007 she signed with Ambassador Records and recorded her second album, 'Love Tattoo'. It reached No. 1 in Ireland and its widespread acclaim caught the attention of Jools Holland, who invited her to support him on tour, and on his BBC2 show for a hugely memorable performance on Later…
Imelda has recorded with a huge variety of world-class artists, including Lou Reed, Jeff Beck, Smokey Robinson, Tom Jones, and Sharon Shannon; she has performed at the Grammy's with Jeff Beck in tribute to Les Paul; on The Tonight Show with Jay Leno, and recently sang the Irish anthem before the Floyd Mayweather/Conor McGregor fight in Las Vegas.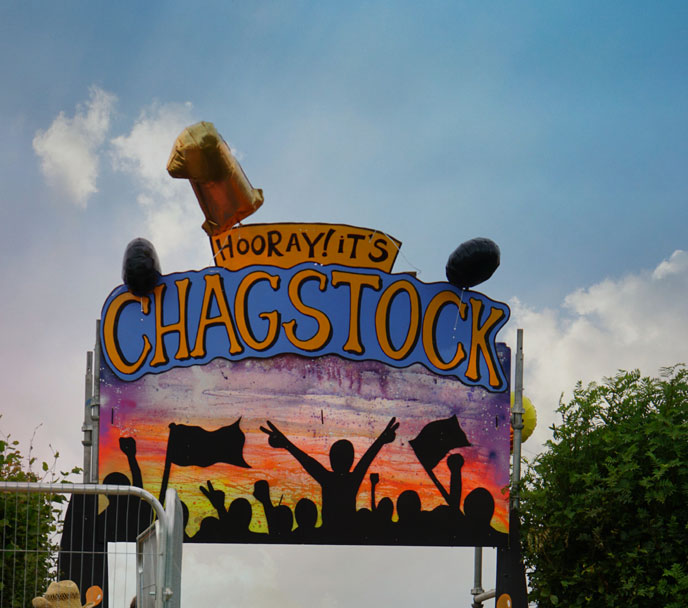 Show of Hands return for their third performance at Chagstock, including a magical headline set back in 2011. One of the UK's most successful acoustic acts (and local heroes to boot!) the talents of Steve Knightley and Phil Beer will be celebrating 25 years of magical music making.
Warming up for Buzzcoks on Friday night will be King King. If this is your first time discovering them…they are simply the living, breathing, here and now of Classic Rock music.
The Correspondents consist of singer Mr Bruce and producer, Chucks. Formed in 2007, within two years they went from house parties to festival main stages with a show that quickly established the duo as one of the best live acts in the UK..
Alyssa and Doug Graham have spent most of their lives together. Friends since she was 7 and he was 9, they became a couple in their teens, then husband and wife. Somewhere along the way, they also became The Grahams, a dynamic Americana duo who've married their love of adventure with a desire to build on foundations laid by their musical predecessors.
Hotly-tipped British rockers, Hunter & The Bear will close Chagstock's marquee stage on Friday, with Dublin 'blood brothers' The Hot Sprockets bringing proceedings to an end on Saturday.
Described succinctly by the Huffington Post as "The Heroes British Rock Needs Right Now", Hunter & The Bear have spent the last few years loudly reinvigorating the UK's live music scene, picking up scores of fans after incredible performances at festivals including Glastonbury and T In The Park, alongside supporting the likes of Eric Clapton, Van Morrison and Simple Minds on tour.
The Hot Sprockets are five blood brothers from Dublin City drawn together by their mutual love of Rock 'n' Roll. Take some good-time revolutionary spirit, add a pinch of psychedelic flavour, simmer it down with some indie soul and you are now somewhere close! You better get ready for the ride because they are more than a band, they are a force of nature…!
Songwriter Martin Harley "One of the UK's finest contemporary roots musicians" – Total Guitar) will also take to the main stage, returning to Chagstock for the first time in five years.
CHAGSTOCK FESTIVAL TICKETS
WEEKEND TICKETS – INCLUDES TWO NIGHTS CAMPING
£95 (Adults)
£65 (Youth age 13-17)
A Family Ticket for 2 Adults & 2 Under 18s is £275.
SPECIAL OFFER: Buy 6 get 7 at £81.43 each
DAY TICKETS – INCLUDES ONE NIGHT CAMPING
FRIDAY
£50 (Adults),
£35 (Youth age 13-17)
A Family Ticket for 2 Adults & 2 Youths is £145.
SATURDAY
£55 (Adults),
£40 (Youth age 13-17)
A Family Ticket for 2 Adults & 2 Youths is £150.
Under 12's are free (ticket is still required. Car parking included with all tickets.
www.chagstock.info
Chagstock Festival is a Not For Profit Organisation, proud to support Devon Air Ambulance Trust