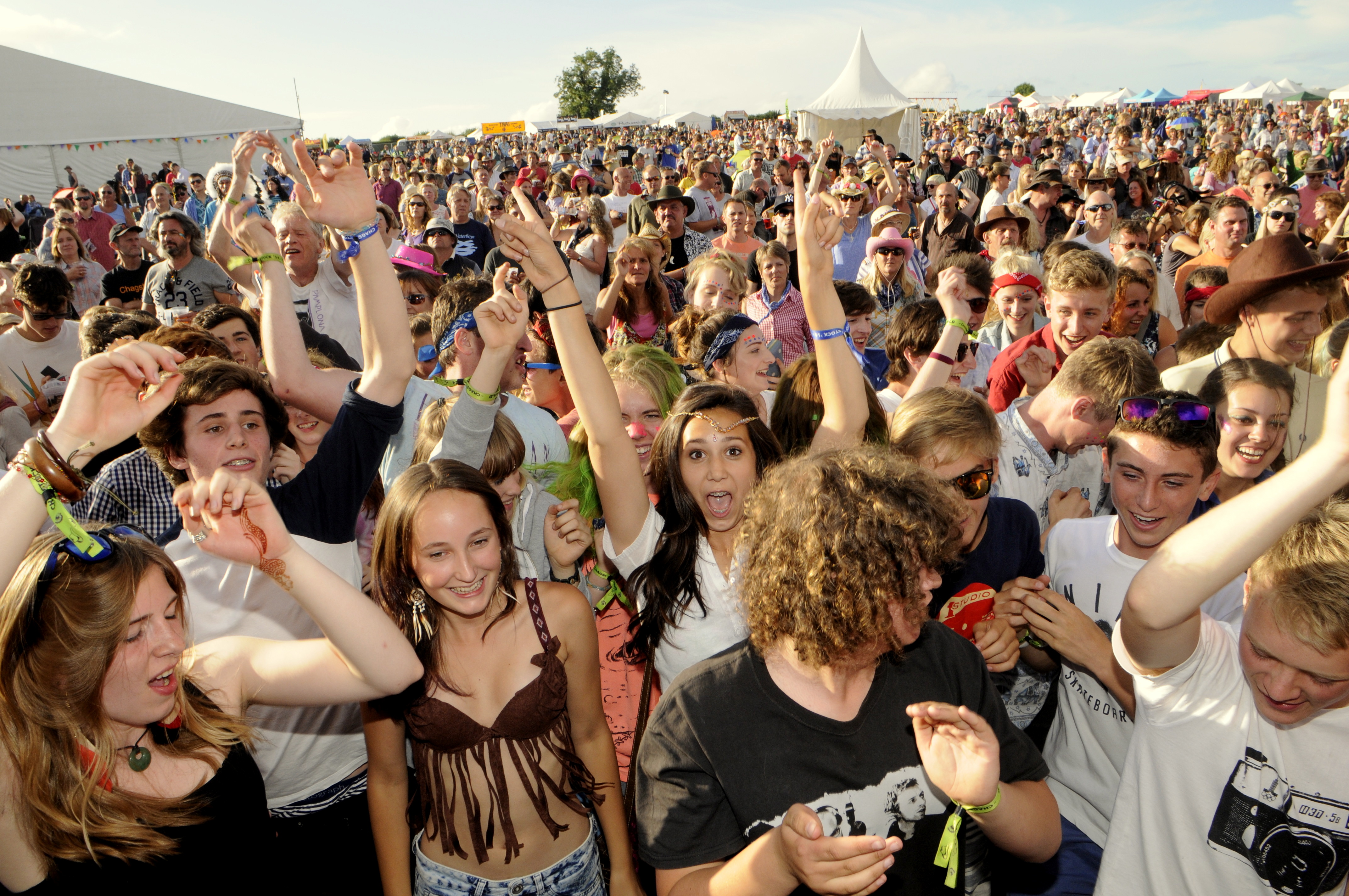 Chagstock festival have announced that they will be waging war on single-use plastics this year. The festival has teamed up with campaign group Plastic Oceans UK and will also working with The Green Goblet company who will provide reusable plastic mugs.
Plastic Oceans UK – a group that raise awareness of the growing issue of plastic waste in the oceans have been working with Chagstock to reduce waste in a number of areas. The group became famous for their award-winning documentary A Plastic Ocean, which was a massive hit on Netflix.
With the fancy dress theme of the year being 'Under the sea', the festival hopes to highlight some of the damage done to our oceans by single-use plastics, whilst having fun at the same time.
Christian Brighty of Plastic Oceans UK said: "We were the first charity focused on tackling plastic pollution and have been experts on the issue for a decade. Through education, science and sustainability we change attitudes and behaviours on the use and value of plastics to stop plastic reaching the ocean within a generation."
"In order to address the multitude of environmental harms, we need to reduce the production of plastic and eliminate the use of all but the most essential single-use plastics. That's why we're so pleased to partner with Chagstock festival, as they move towards being a plastic-free event. Festivals are wonderful places where people live in a different way to their day-to-day lives. What better place to start re-imagining a world with less consumption and one that instead values nature, community and experience".
The charity will be advising Chagstock on how to reduce plastic in a number of ways, including the site build and take down, and other innovative methods during the festival.
The festival will also operate a reusable cup system provided by The Green Goblet company. A £1 charge is paid with the customers first drink, for their next drink, they bring back their empty cup to the bar and it is exchanged for a clean one. Festival goers are then free to return their cups, or keep them as a souvenir of the weekend. Unlike many other music festivals, Chagstock doesn't suffer the issue of revellers leaving tents behind. "Chagstock has never had an issue with abandoned tents" said festival organiser Simon Ford. "We're really proud to see that everyone makes the effort to clean up. Like every year so far, we don't expect ANY tents to be left behind this year".
Simon added: "Single-use plastics and the damage that waste is doing to our environment, particularly our oceans, is very much in the public conscience and is a massive problem".
"So, to go with our theme for this year of 'Under The Sea' we are trying to highlight this issue in relation to festivals and live events by joining up with Plastic Oceans who are a leading organisation in this field."
"We are also trying to minimise the amount of plastic waste we produce by introducing Green Goblet re-usable drinks cups for the bar. Even our site roadway plates that we have used for many years are all made from recycled plastic as well."
Chagstock addressing gender imbalance in the arts
Earlier this year Chagstock announced that a majority of their main stage acts featured female inclusive artists. This year we have made a special effort to address gender imbalance in music. With so much talent out there, addressing male orientated festival billings is in everyone's interest.
Simon Ford said: "When choosing the line-up, I wanted to make sure that quality came first. I'm glad to say that there is no shortage of great female musicians out there."
Amy Montgomery who is due to play her set on Saturday said: ""The rise of female artists is awesome to see and to be a part of. The feminine essence is an important element in creating a wholesome feel for a festival. Especially when she is let free, and given opportunities to flourish her energy. But let's not forget about how amazing and important the males are too, for it is all about balance!"
Line up
Main Stage & Marquee Stage
Line up:
FUN LOVIN' CRIMINALS
FROM THE JAM
MAD DOG MCREA | NOBLE JACKS
HOLY MOLY & THE CRACKERS
CHAINSKA BRASSKIA | WILL VARLEY
COCO & THE BUTTERFIELDS
3 DAFT MONKEYS | WILL VARLEY
KATY HURT | LUKE JACKSON TRIO
AMY MONTGOMERY | MAD APPLE CIRCUS
SWINGROWERS | THE CABARATS
NEW CRISIS & THE FBs | JODIE & THE MOTLEYS
VELVET & STONE | LUKE JACKSON TRIO
GENTLEMEN OF FEW | SUCH CREATURES
This year Fun Lovin' Criminals have been invited back to headline the main stage on the Saturday night. They are, still, the world's finest and only purveyors of cinematic hip hop, rock 'n' roll, blues-jazz, latino soul vibes. The planet's "best-loved cousins from New York", who, through the mid-late 90s, chronicled life in their native city while bending the global ear to the sonic possibilities of exuberant hip-hop gangster-rock merged with lounge music, funk, mariachi trumpets and 'Bass-o-matic' Barry White. While possibly smoking a cheroot, in a sweat-dripped Puerto Rican nightclub, somewhere on the Lower East Side. Like The Killers and Kings of Leon today, the UK loved them first, the most; whip-smart story-tellers in smarter Saville Row suits, who told vibrant, satirical, comically tall tales of living large in the neon metropolis via music, drugs, crime and existential ennui. With a penchant for a beautiful "lady".
Friday night's main stage headline act will be, From The Jam! The Jam had amazing chart success with 18 singles and 7 albums to make the top 40 in the United Kingdom from their debut in 1977 to their break up in 1982. Fronted by the Jam's legendary Bassist Bruce Foxton, From The Jam will bring their unique punk / mod sound to the main stage on Friday, performing hits such as 'That's Entertainment', 'Going Underground' and 'Town Called Malice'.
Supporting acts include Mad Dog Mcrea and Noble Jacks (both extremely popular choices in our recent fan survey!)
Day tickets are available this year, with one night's camping included in the price.
We're proud to offer disabled tickets which include entry for designated carers on the ticket, (proof of DLA required on entry).
The festival will be taking place on Friday 19th and Saturday 20th July 2019, Chagstock will once again showcase the very finest music, food and entertainment from the Westcountry and beyond. Chagstock is one of the best value festivals to be found anywhere in the country.
Set in 70 acres of farmland on the edge of Dartmoor, Chagstock is renowned for its stunning location, diverse line-up of artists and non-corporate, family friendly atmosphere. Chagstock showcases the very best music, food and entertainment that the Westcountry and the UK have to offer. Starting life as a small private annual party, Chagstock has now grown into a major fixture on the Westcountry festival circuit. Chagstock is able to offer Glamping again for 2019 through Tee & Toast Glamping and their Bell Tents.
Orginiser Simon Ford said: "We can't wait to welcome friends new and old to Higher Fields in Whiddon Down for Chagstock 2019. We are delighted to already be able to confirm Fun Lovin' Criminals as the Saturday night headliner. They appeared at Chagstock in 2012 and got the arena jumping so much that in a recent survey they were one of the favourites to ask back. Bruce Foxton's From The Jam are Friday night headliners, along with our friends Mad Dog Mcrea and a host of other fantastic live acts. We still have many more exciting bands to announce as well! As always we are working hard to bring an eclectic and high quality line-up to the beautiful Devon countryside, and we look forward to seeing you in July.
Do keep an eye on our website www.chagstock.info or social media @Chagstock or #chagstockfestival, for the most up to date news and announcements"
Chagstock Festival is a Not For Profit Organisation, proud to support Devon Air Ambulance Trust
CHAGSTOCK FESTIVAL 2019
Tickets are selling fast!
£89 (Adults), £59 (Under 18's)
Under 12's are free (ticket is still required).
A Family Ticket for 2 Adults & 2 Under 18s is £249.
Weekend Disabled + Career ticket £119
Day tickets are £45 for Friday & £49 for Saturday.
(booking fees apply)
All weekend tickets include 2 nights of camping and car parking. Campervans £18
Tickets are available from www.chagstock.gigantic.com/chagstock-higher-fields-well-farm-whiddon-down-nr-chagford-2019-07-19-12-00