Wednesdays 31st Oct. 7th, 14th, 21st & 28th November.
5th & 12th December 2.30pm & 8.15pm inclusive. Wednesday 19th December 2.30pm.
Boxing Day Weds. 26th Dec, 12 noon & 3pm. Friday 28th December 3pm.
New Years Day, Tues 1st January 12 noon & 3pm.
Box Office: 01803 328385, www.babbacombe-theatre.com
How do you make Christmas Crackers? It's essential you have something colourful, preferably with some sparkle to wrap them with, jokes and trinkets to insert, and lastly but most importantly that little something that goes pop!
The Babbacombe Theatre in Torquay has all you will need, to ensure this yuletide season, your festive celebrations include the very best box of 'Christmas Crackers', for you to enjoy with family and friends.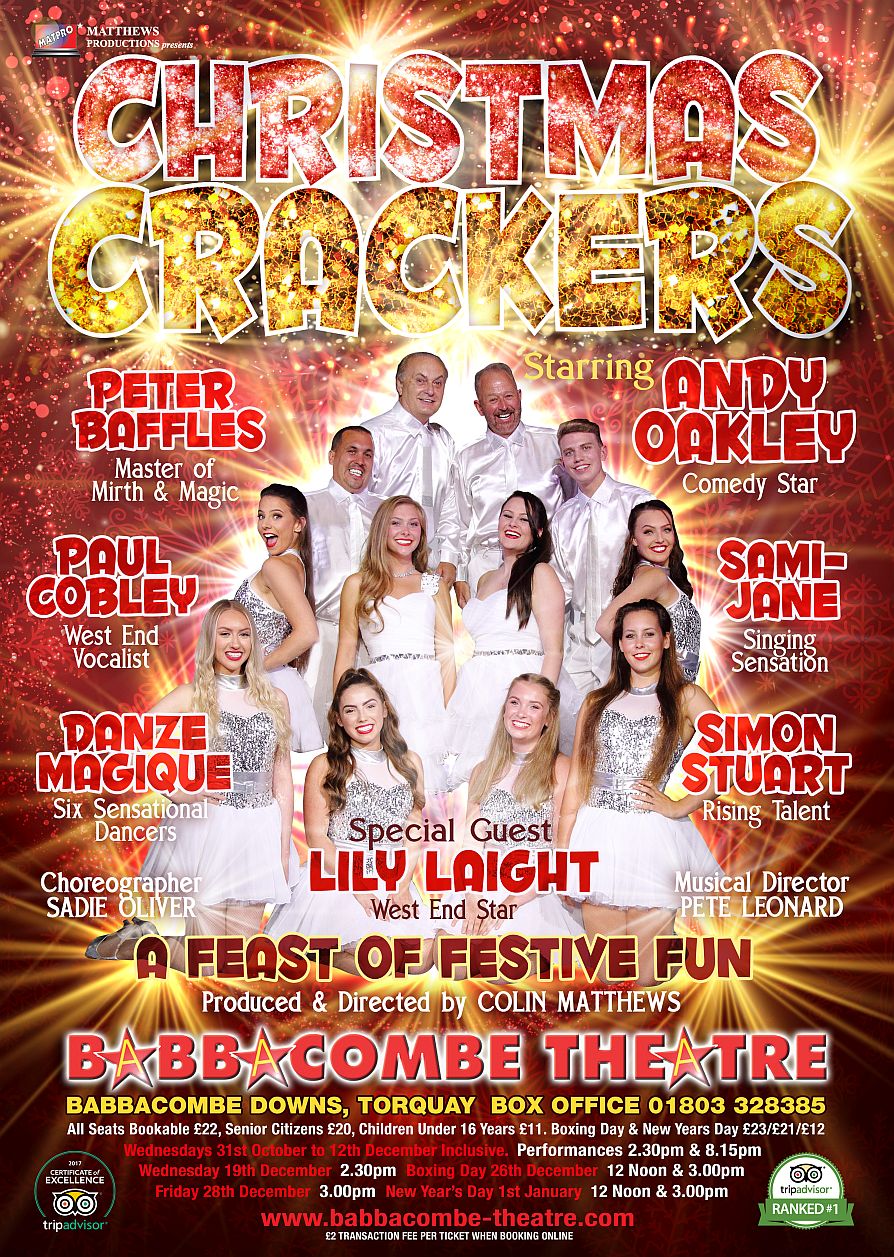 Some of the best comedic one liners and funny stories will be a part of the celebrated venues new family variety show Christmas Crackers – no silly jokes in sight. Andy Oakley returns as the ever-popular headlining act with even more side-splitting sketches that will make you laugh louder than ever. He is joined on stage by other artistes instantly recognisable to regular theatre patrons, including great comedy magician Peter Baffles, a master of illusion and a firm favourite with audiences across the globe, with even more tricks up his sleeve, he will amuse and amaze you.
To enhance the sparkle to the wrapping, this production, showcases the superlative talents of Paul Cobley and Sami-Jane. Individually their vocal ability is memorable, however, when you hear them sing together you will be totally captivated. Optimising every show tune, chart topping hit and classical song will be Danze Magique. They have an adept ability to interpret the content set by choreographer Sadie Oliver with flair, whilst engaging with the musical arrangements of Pete Leonard.
The personal gift for people going to see Christmas Crackers, comes in the guise of special guest, Lily Laight. At 16, Lily is already a seasoned performer. She appeared with the original cast of Matilda on London's West End, has appeared on TV in Doc Martin and in 2014 hit the headlines worldwide when the movie, Love Rosie went on release. Lily has been performing at this venue since she was only 8 and this show will mark her fifteenth production on the Babbacombe boards!
Inspirational lighting, costume design, choreography and musical arrangements are without exception what promises to make Christmas Crackers that little bit extra special. After all, when opening a box of crackers, the experience is never just about what is in the cracker but how lovely they look when set out in front of you.
To complete any cracker, you'd need to insert the very small explosive mechanism called a snap, the satisfying crack that we associate so closely with Christmas. This show has that too – with some Disney Delights, a Million Dreams, the Kings of Rock and Pop, a Christmas encounter with Mrs Brown and newcomer to the venue this Christmas season, Simon Stuart. Undoubtedly the crack in this box of crackers will go with a bang!
Christmas Crackers opens at the venue on Wednesday 31st October and will run weekly every Wednesday until the 12th December with performances at 2.30pm & 8.15pm. Thereafter, shows are on Wednesday 19th December at 2.30pm, Boxing day 12 noon & 3pm, Friday 28th December at 3pm and finally on New Years Day at 12 noon & 3pm. Tickets are available from the box office, 01803 328385 and online at www.babbacombe-theatre.com