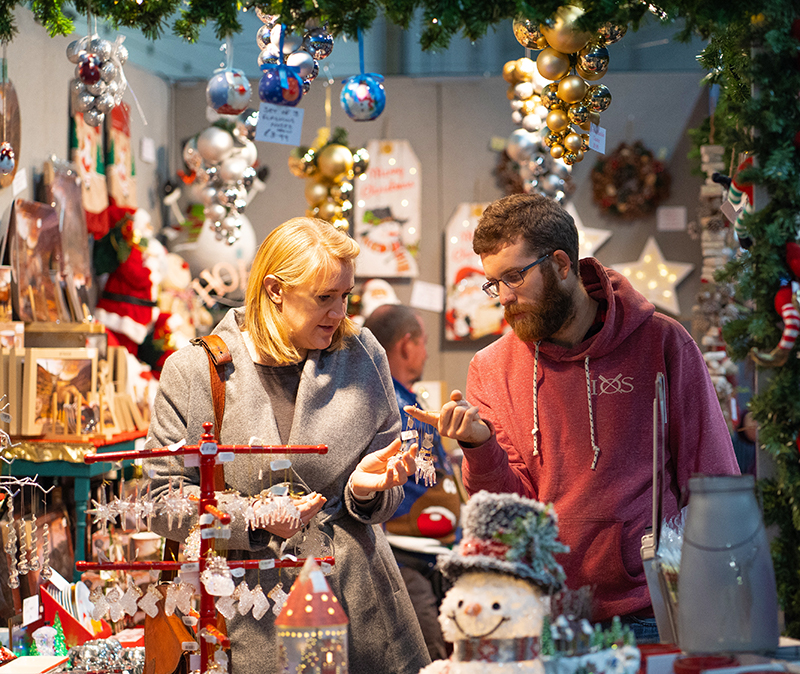 Unfortunately, the Christmas Shopping Fayre, which was due to open today, cannot take place. With 15,000 visitors in the hall over three days – this just wasn't possible!  We are next holding this event at the huge Westpoint Centre, Exeter from 26th – 28th November 2021.
"All your Christmas shopping under 1 roof!" is the boast in all our marketing which includes; social media, adverts in over 50 newspaper & magazines, radio coverage, leaflets, posters, AA signs, banners, coach promotions, competitions….we really do have it covered!
There are over 280 shell-scheme stands filling this carpeted and heated 50,000 sq ft hall, with free parking immediately outside for 1000's of cars and coaches. The stands are occupied by an incredible variety of businesses ranging from small unique craft workers to some of the best known names on the High Street – every alleyway at the Fayre is filled with surprises!
Visit the show website for lots more information. Stands are great value, and you can apply for one of them now by completing the order form. Upon receipt, we will check your product ranges and let you know if we can accommodate you. If you have any queries, just give us a call on 01934 733433.
2021 is already set to be a bumper year, with such pent up demand for live events – why not get ahead and book your stand now?