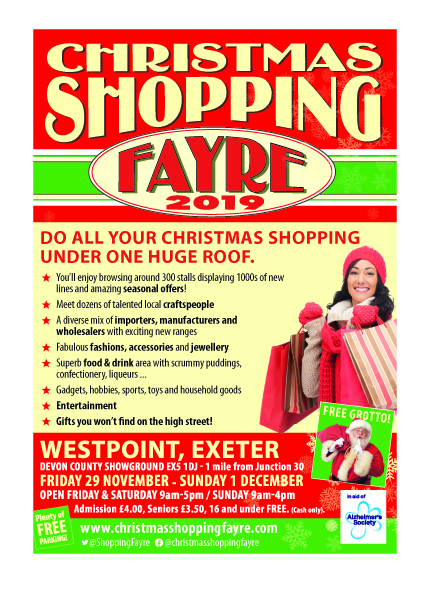 CASH IN ON CHRISTMAS!
Would you like to sell your products to thousands of customers, just weeks before Christmas? Our Christmas Shopping Fayre takes place from 29th November – 1st December at Westpoint, Exeter and over those three days you could be meeting 15-20,000 visitors, all eager to get their Christmas shopping done.
Nearly all of the 280 shell-scheme stands filling the carpeted and heated 50,000 sq ft hall are full.
Craft Area – FULL
Main Hall – 12 stands left
Food & Drink Area – 6 stands left
We promote the show extensively, with adverts in over 50 newspapers & magazines, radio coverage, leaflets, posters, AA signs, social media, banners, coach promotions, competitions and more… There's also free parking immediately outside the hall for 1000's of cars and coaches. We really do have it covered!
If you'd like to one of these last few stands, which are great value, then all the details, including the floor plan, are here. You can apply for a stand by completing the Exhibitor Order Form. Upon receipt we will check your product ranges and let you know if we can accommodate you. To keep the show successful for exhibitors, we try not to have too many stands selling the same kinds of things – no-one wants too much competition!
If you'd like more information, please check out the show website www.christmasshoppingfayre.com, and if we can help you with any queries then give us a call on 01934 733433.