Illuminate your day with – Starshine.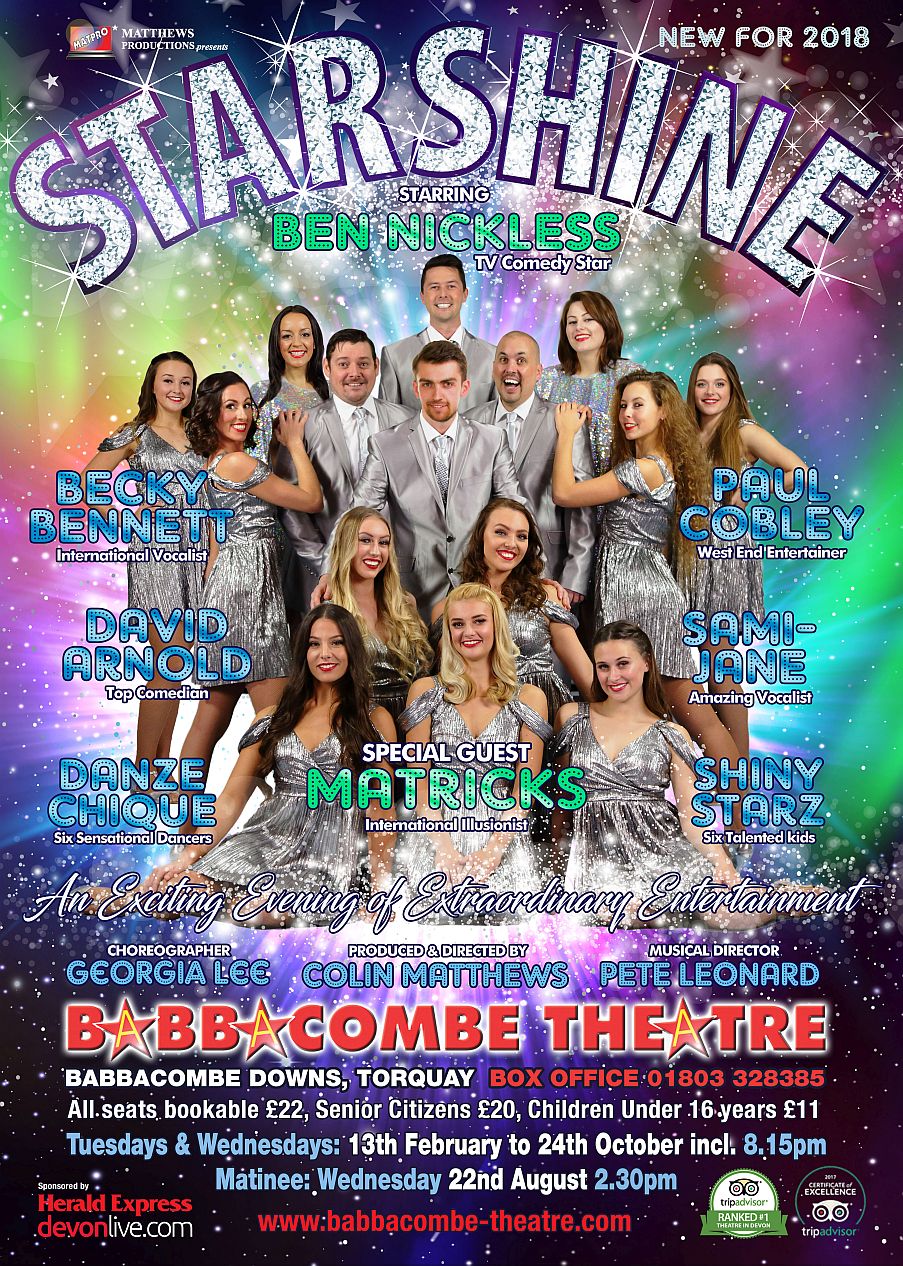 Featuring an array of talented performers who share one common purpose to 'Entertain you', the all new show for 2018, Starshine, promises an abundance of side – splitting comedy, powerful vocalists delivering dynamic songs and elegant dancers who are endlessly energetic.
Starshine, celebrates the musicals, enjoys highlights from popular movies as well as tributes to some of the most iconic pop stars, including Michael Jackson, who would have turned 60 this year.
Headlining this year is the man with many voices, one of the country's favourite comedy impressionists, Ben Nickless. Joining Ben are West End vocalist Paul Cobley, the much-travelled songstress, Becky Bennett, and Sami-Jane, who is as adept at interpreting a pop song as she is the most opulent of arias. You will undoubtedly agree, when singing in unison, the impact they make is nothing short of breath-taking!
Newcomers, this season, to the venue, are funny man David Arnold, the loveable Welshman, and international illusionist, Matricks, AKA, Alexander Jesson. Expect elements of danger, magic, comedy and charm, from these naturally born showmen. Also look out for them as they join Ben & Paul to take on the guise of TV favourites, recognised worldwide within popular culture.
Danze Chique, the resident team of dancers, are a bevy of gorgeous young ladies who continue to raise the standard every season. Their commitment to interpreting the dynamic choreography of Georgie Lee, working in harmony with the exciting musical arrangements of Pete Leonard is always paramount to the shows successes, as is the contribution made by the junior cast. Shiny Starz.
Tuesdays & Wednesdays 13th February – 24th October incl. 8.15pm.
Matinee: Wednesday 22nd August 2.30pm
To Book tickets
BOX OFFICE
Telephone: +44 (0) 1803 328385
Website: www.babbacombe-theatre.com/upcoming-shows/starshine