Join The Tribe this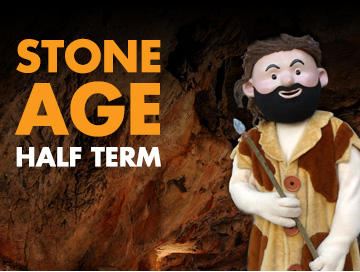 February Half Term!
Date: 15th to 23rd February
This February half term, delve into adventure on a guided tour of Kents Cavern, a place that was once home to your prehistoric ancestors and extinct animals! Throughout the Stone Age, three different species of human lived in Torquay, sharing the cave and the land around it with bears, hyenas, woolly mammoths and Irish elk and many more. Find out all about the lives of Stone Age people and animals in our brand new exhibition area!
THERE'S LOADS TO DO ON YOUR VISIT!
ACTIVITIES LEARN ABOUT THE DIFFERENT SKILLS NEEDED TO SURVIVE ON OUR STONE AGE TRAIL
TAKE PART IN THE ICE AGE ANIMAL HUNT AND DISCOVER MORE ABOUT THE DIFFERENT SPECIES THAT LIVED HERE.
TAKE PART IN SHELTER BUILDING, AND BUILD A COMMUNAL SHELTER IN OUR WOODS, IF THERE'S ONE ALREADY THERE, KNOCK IT DOWN AND BUILD A NEW ONE!
MAKE AND DECORATE YOUR VERY OWN CRAFT MAMMOTH AT OUR CRAFT CENTRE.
DO YOU HAVE THE SKILLS TO MAKE IT AS A PREHISTORIC HUNTER? FIND OUT IN OUR SPEAR THROWING ACTIVITY.
FIND OUT ALL ABOUT THE ARCHAEOLOGISTS THAT EXCAVATED THE CAVE IN OUR EXHIBITION AREA AND CARRY OUT YOUR OWN EXCAVATION DIGGING FOR GEMSTONES.
HAVE A HANDS ON EXPERIENCE AND HOLD REAL AND REPLICA STONE AGE TOOLS, WEAPONS AND BONES AT OUR PALAEO-TABLE.
CHOOSE YOUR TRIBE, OUR STONE AGE SCHOOL TEAM WILL BE READY WITH FACE PAINTS TO HELP YOU LOOK LIKE PART OF THE WOOLLY MAMMOTH, HYENA, CAVE BEAR OR IRISH ELK TRIBE
Make other prehistoric decorations at our craft centre:
Tribal name pendant
Clay necklace
Stone Age pouch
Book Tickets online www.kentscavern.digitickets.co.uk/tickets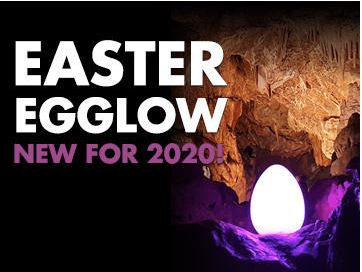 Easter Egglow!
Date: 28th March to 19th April
All tours during the Easter holidays include a quest and the Easter underground illuminations!
What's that glowing in the cave? Is it a torch? Is it a lantern? No, it's an Egg! But how many can you find hiding in the cave?
Join us this holiday for Easter Egglow, a brand new event for 2020. See spectacular illuminations as one of our fantastic guides leads you through the cave. See how many glowing eggs you can find as you go and you might just earn yourself a seasonal treat!
OUTSIDE OF THE CAVE THERE'S STILL LOADS TO EGGSPLORE!
First things first, you need to choose which tribe you belong to, Woolly Mammoth, Hyena, Cave Bear or Elk. Head to the craft centre and have your face painted in your tribe's colours.
Take a stroll through our woods and take part in The Stone Age Trail, Spear Throwing, Ice Age Animal Hunt and Shelter Building!
When you've been outside for long enough, head back inside to our craft centre and make your own craft woolly mammoth for free! (other craft activities are available at an extra cost).
Whilst your mammoth is drying, visit our new Stone Age exhibition to see if you can use a prehistoric drill to make holes in stones or try scratch your way through an antler with flint knives
If that wasn't enough, you can even excavate our sandboxes for hidden fossils just like an archaeologist, AND if you find any gemstones in the sand you can keep them!
All of these activities are included in the cost of your cave ticket.
www.kentscavern.digitickets.co.uk/tickets