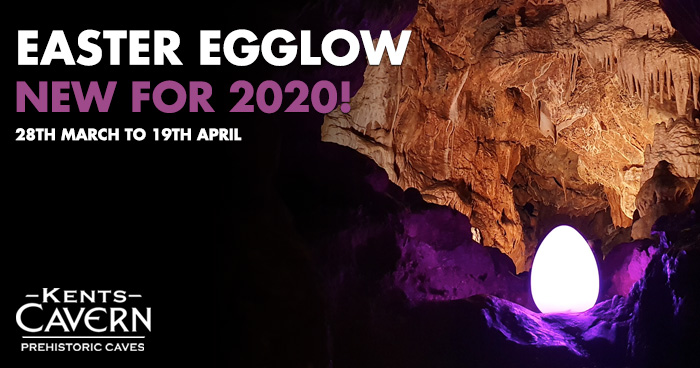 EASTER EGGLOW!
Date: 28th March to 19th April
All tours during the Easter holidays include a quest and the Easter underground illuminations!
What's that glowing in the cave? Is it a torch? Is it a lantern? No, it's an Egg! But how many can you find hiding in the cave?
Join us this holiday for Easter Egglow, a brand new event for 2020. See spectacular illuminations as one of our fantastic guides leads you through the cave. See how many glowing eggs you can find as you go and you might just earn yourself a seasonal treat!
OUTSIDE OF THE CAVE THERE'S STILL LOADS TO EGGSPLORE!
First things first, you need to choose which tribe you belong to, Woolly Mammoth, Hyena, Cave Bear or Elk. Head to the craft centre and have your face painted in your tribe's colours.
Take a stroll through our woods and take part in The Stone Age Trail, Spear Throwing, Ice Age Animal Hunt and Shelter Building!
Visit our new Stone Age exhibition to see if you can use a prehistoric drill to make holes in stones or try scratch your way through an antler with flint knives
If that wasn't enough, you can even excavate our sandboxes for hidden fossils just like an archaeologist, AND if you find any gemstones in the sand you can keep them!
All of these activities are included in the cost of your cave ticket.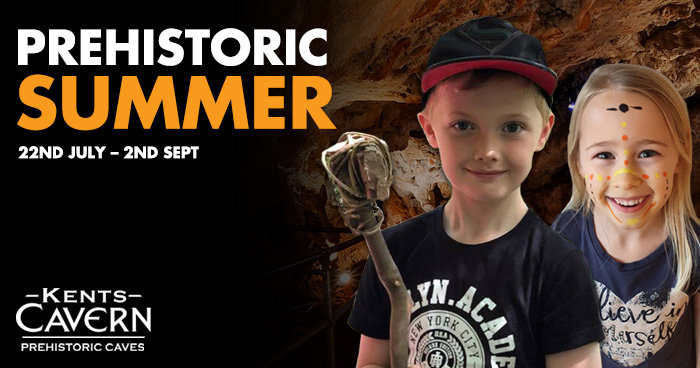 PREHISTORIC SUMMER!
Date: 22nd July to 2nd September
JOIN THE TRIBE
This summer holidays, delve into adventure on a guided tour of Kents Cavern, a place that was once home to your prehistoric ancestors and extinct animals. Throughout the Stone Age, three different species of human lived in Torquay, sharing the cave and the land around it with bears, hyenas, woolly mammoths and Irish elk and many more. Find out all about the lives of Stone Age people and animals in our brand new exhibition area.
THERE'S LOADS TO DO ON YOUR VISIT!
* CHOOSE YOUR TRIBE, OUR STONE AGE SCHOOL TEAM WILL BE READY WITH FACE PAINTS TO HELP YOU LOOK LIKE PART OF THE WOOLLY MAMMOTH, HYENA, CAVE BEAR OR IRISH ELK TRIBE!
* LEARN ABOUT THE DIFFERENT SKILLS NEEDED TO SURVIVE ON OUR STONE AGE TRAIL
* TAKE PART IN THE ICE AGE ANIMAL HUNT AND DISCOVER MORE ABOUT THE DIFFERENT SPECIES THAT LIVED HERE.
* TAKE PART IN SHELTER BUILDING, AND BUILD A COMMUNAL SHELTER IN OUR WOODS, IF THERE'S ONE ALREADY THERE, KNOCK IT DOWN AND BUILD A NEW ONE!
* DO YOU HAVE THE SKILLS TO MAKE IT AS A PREHISTORIC HUNTER? FIND OUT IN OUR SPEAR THROWING ACTIVITY.
* FIND OUT ALL ABOUT THE ARCHAEOLOGISTS THAT EXCAVATED THE CAVE IN OUR EXHIBITION AREA AND CARRY OUT YOUR OWN EXCAVATION DIGGING FOR GEMSTONES.
* HAVE A HANDS ON EXPERIENCE AND HOLD REAL AND REPLICA STONE AGE TOOLS, WEAPONS AND BONES AT OUR PALAEO-TABLE.
* Make other prehistoric decorations at our craft centre:  Tribal name pendant     Clay necklace    Stone Age pouch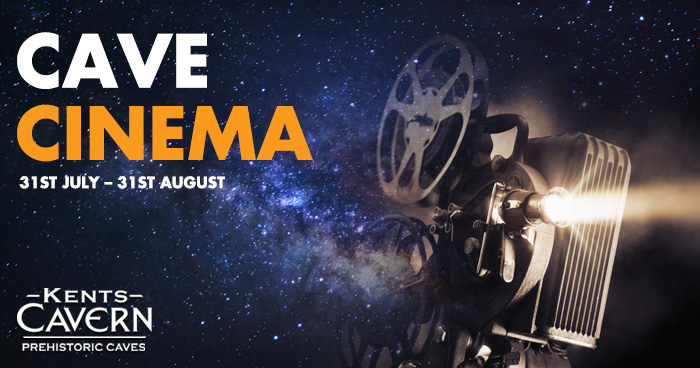 CAVE CINEMA!
Date: 29th July to 29th August
The South West's only underground pop-up cinema. Watch cult classics, family favourites and horror films in a cave. A unique experience.
More details coming soon!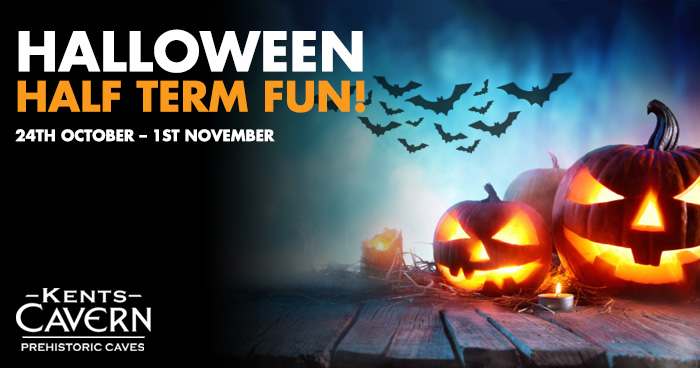 HALLOWEEN HALF TERM FUN
Date: 24th October to 1st November
October Half Term
GO BATTY AT KENTS CAVERN HALLOWEEN HALF TERM!
Bring your little witches, wizards, ghosts and ghouls to Kents Cavern this Halloween Half Term for Batty adventures! Head into the mysterious underground world of the caves to find the hidden pumpkins, get the right answer and claim your Halloween prize. Get up close to weird and wonderful stalactites and even come face to face with the bones your ancestors.
UNDERGROUND PUMPKIN HUNT
Our mascot Cavog has hidden pumpkins around the caves. Find the correct number to get a Halloween treat!
WOODLAND BAT CHALLENGE
Can you find all the bats hidden around our woodland trail? Each bat has a missing word on it, find all the words to claim your bat expert card.
GUESS THE WEIGHT OF THE PUMPKIN
Correctly guess how heavy our pumpkin is for a chance to win a prize!
MAKE YOUR OWN BAT
Create your own bat friend to take home with you.
Loads of other kids activities to get involved with…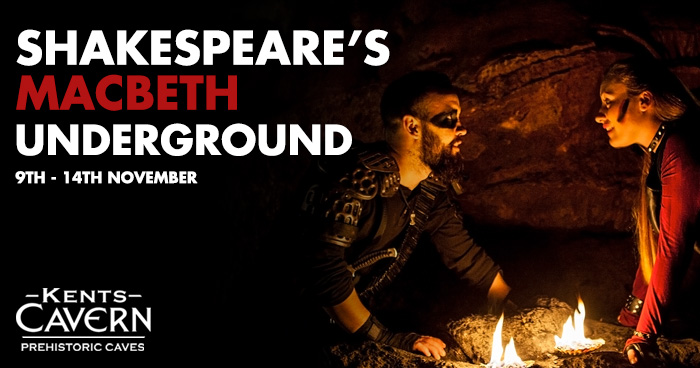 MACBETH AT KENTS CAVERN
Date: 9th to 14th November
"Blood will have blood. Stones have been known to move, and trees to speak…."
Delve underground into Shakespeare's sinister tragedy of Macbeth as it unfolds around you in a world of stalagmites and stalactites through limestone passageways. The Festival Players Theatre Company returns with Macbeth from Monday 9th November to Saturday 14th November. A thrilling hour long, underground production of Shakespeare's Macbeth in the extraordinary setting of Kents Cavern. Witches haunt the ancient rocks; evil lurks in the shadows and seduce a king in his lust for power. The audience enters the belly of the earth for a truly unique, up close experience of one of Shakespeare's most powerful plays.
The Festival Players Theatre Company which is a professional theatre company delivering the best in open-air Shakespeare providing an accessible and enjoyable evening for all types of audiences. The Festival Players's patron is Dame Judi Dench, and the company is committed to presenting the very best in touring theatre.
Booking information
Prices £16 per person
Ages Suitable for 8 years old and above.
Discounts Annual member discounts available online. No other discounts applicable for this show.
Other info Includes a 70 minute promenade performance around the cave. Suitable clothing and footwear is advised. Private groups available on request!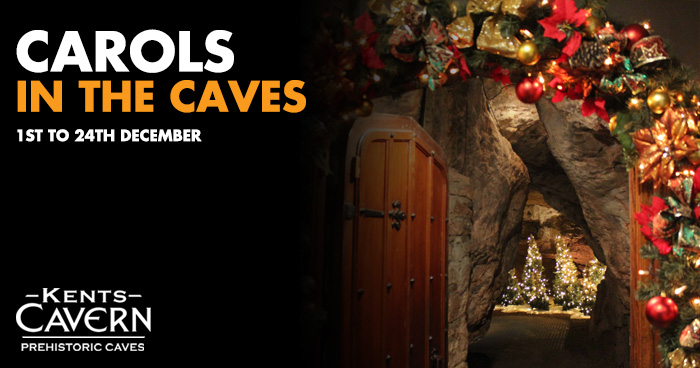 CAROLS UNDERGROUND
Date: 1st to 24th December
Join us for a unique, sell out event, of carols by candlelight in the underground world of Kents Cavern.
We're teaming up once again with the fantastic 'Yours In Harmony' and the 'KC Carolers' to hear Christmas carols and showcase songs underground. This unique festival experience lasts two hours. Start seated and hear the amazing acoustics and then take a walk around our magnificent cave system singing carols by candlelight. Finish with mulled wine/hot chocolate and festive treats in the Great Chamber!
Dates and times:
Tuesday 1st Dec, 6-8pm with the KC Carolers
Thursday 3rd Dec, 6-8pm with Yours in Harmony
Tuesday 8th Dec, 6-8pm with the KC Carolers
Thursday 10th Dec, 6-8pm with Yours in Harmony
Tuesday 15th Dec, 6-8pm with the KC Carolers
Thursday 17th Dec, 6-8pm with Yours in Harmony
Tuesday 22nd Dec, 6-8pm with the KC Carolers
Thursday 24th Dec 4-6pm with the KC Carolers
BOOKING INFORMATION
Prices £17 per person
Booking Booking essential
Other info Limited to 70 people. Warm clothing and sensible footwear recommended.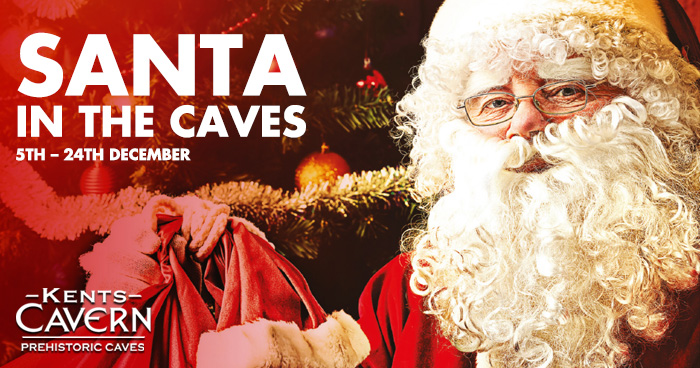 CHRISTMAS AT KENTS CAVERN
Date: 5th to 24th December
TICKETS AVAILABLE TO BUY SOON!
Join Santa and his friends in a magical underground adventure – more than just a Grotto!
Tickets sell fast, so we recommend you book online in advance.
Come along and get caught up in the magic of another exciting Christmas adventure! Full of Christmas spirit, fun and laughter for all the family. A truly wonderful experience that brings out the child in everyone and puts the joy and wonder back into Christmas! Join in, in this hour long Panto style adventure around the caves, with some of the best Christmas characters. Your ticket includes; an hour long promenade performance, a personal visit with Santa, fantastic Christmas presents, mulled wine and mince pies and a return adult ticket to visit on a daytime tour in January 2021 -what more could you ask for!? Each child (2-12) meets Santa and receives a wrapped quality present.
BOOKING INFORMATION
Times Shows from 10.00am to 16.30pm
Ages Children 2-12. Presents available for under 2's
Discounts Annual member discounts available online. No other discounts applicable for this show.
Other info Includes an hour long promenade performance around the cave. Suitable clothing and footwear is advised. Private groups available on request!
To buy ticket on-line please visit www.kentscavern.digitickets.co.uk/tickets