FRANKIE GOES TO HOLLYWOOD 'WELCOME TO THE PLEASUREDOME'
2017 BMG ART OF THE ALBUM DELUXE EDITION
RELEASED 27th OCTOBER 2017
ON 180g DOUBLE VINYL LP WITH 6-PAGE 12" BOOKLET (BMGAA04LP) & CD WITH HARDBACK COVER & 28-PAGE BOOKLET (BMGAA04CD) FORMATS
PRE-ORDER ALBUM FORMATS HERE; www.pledgemusic.com/frankiegoestohollywood
"It's important to play Frankie Goes To Hollywood. Holly Johnson was a pioneer" (John Grant)
"Things like Frankie Goes To Hollywood and other Trevor Horn productions I just loved from the heart.
I always thought their pursuit of sheer scale was so great" (Stuart Price)
BMG ANNOUNCE RELEASE OF 180g DOUBLE VINYL LP & CD DELUXE EDITION OF LIVERPOOL BAND'S AUDACIOUS, ZEITGEIST DEFINING 1984 No.1 DEBUT DOUBLE ALBUM 'WELCOME TO THE PLEASUREDOME'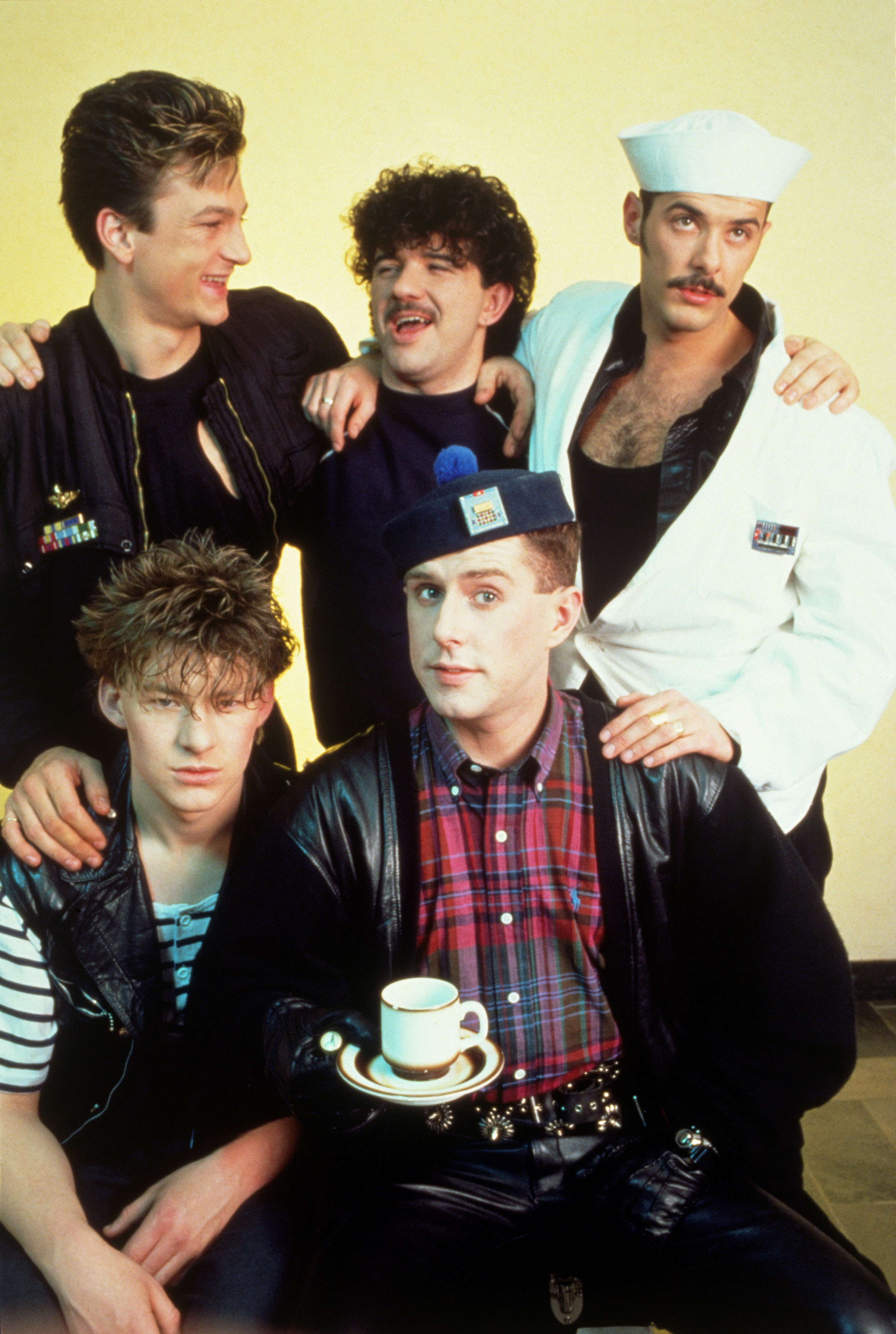 With three huge No.1 hit singles plus a multi-million selling 1984 No.1 debut double album to back them up, it's difficult to over-estimate Frankie Goes To Hollywood's impact upon British pop music in the mid-Eighties.
But theirs was a pop of a different kind; expansive, edgy and with an inbuilt dangerous, thrilling urgency. Whilst the big themes of sex, love and nuclear war which dominated 'Welcome To The Pleasuredome' might have been on the minds of young people and millionaire pop stars alike across the globe at that time, nobody had dared tackle them previously with such a glamorously widescreen sense of sheer, bloody-minded joi-de-vivre. If disease or nuclear armageddon looked destined to finish off the human race, then this Liverpool band were determined that we were all going out with the party to end all parties.
As The Guardian's Paul Flynn points out in his excellent extensive essay which forms part of the 28-page booklet accompanying this new Art Of The Album special edition of 'Welcome To The Pleasuredome,' Frankie Goes To Hollywood frontman Holly Johnson had clearly been waiting for his moment to shine for at least a decade. As well as releasing a brace of singles on fledgling local independent label Eric's, he had been co-fronting Liverpool's art-punk shock troopers Big In Japan whose numbers also included future pop alumni Bill Drummond (KLF), Ian Broudie (The Lightning Seeds), Jayne Casey (founder of Liverpool's legendary Cream nightclub) and Budgie (The Slits/Siouxsie & The Banshees) whilst spending more and more time clubbing in discos at both ends of the M62.
A pivotal moment occurred when Holly opted to join local Merseyside band Dancing Girls which already featured guitarist Brian 'Nasher' Nash plus drummer Peter 'Ped' Gill. Bassist Mark O'Toole soon replaced his brother in the nascent band's line-up and, with a swift name change to Frankie Goes To Hollywood (the new moniker spotted in a newspaper report about Frank Sinatra), and the recruitment of swivel-hipped dancer/co-frontman Paul Rutherford from St Helens punk band The Spitfire Boys, all the elements were properly in place.
Word soon spread as early Frankie live appearances saw the band flaunting S&M festishwear, openly provocative during a new era of Thatcher worshipping conservatism. This early live buzz about the band led to a legendary filmed performance slot on Channel 4's new music show The Tube, still one of the most complained about moments in the show's history as the band refused to tone down the leather, rubber and studs one iota for the early teatime slot. As Holly himself said of his life in Liverpool; "You used to get people writing in to the Liverpool Echo saying, 'Who is this Martian walking round town?' I used to get battered. Going out for lunch was like running the gauntlet".
As always, BBC Radio 1's John Peel was listening too and early radio sessions on his show led to the band also being asked to record a session for the David 'Kid' Jensen show which went out earlier in the evening on the same station. It was a rudimentary, in your face version of 'Relax' broadcast as part of that Jensen radio session that caught the ear of acclaimed producer, musician & songwriter Trevor Horn, already a purveyor of chart smashes for the likes of The Buggles, Dollar, ABC, Malcolm McLaren & Yes. Sensing the song's tremendous potential, within days Horn (along with engineer Steve Lipson) was applying his trademark pure-pop high-end sheen to the band's rough demo. Just a few weeks later and, following the now-legendary refusal of BBC Radio 1 breakfast show DJ Mike Read to play the track during his Top 40 chart countdown, the band's throbbing, hi-energy debut single 'Relax' had climbed to No.1. At which point the BBC practically imploded, week after week refusing to broadcast the nation's No.1 single on Top Of The Pops, hoping that the whole thing might just somehow go away. It really did feel like the Sex Pistols all over again.
Whilst Horn, Lipson and the band beavered away in Sarm West Studios in West London, a plan was already being put in place by ZTT Records' marketing supremo Paul Morley to launch full-on Frankiemania around the band's second single, 'Two Tribes,' in summer 1984; Frankie ruled the nation's clubs, airwaves & record players via a campaign that saw the new single enter the UK Top 40 at No.1 and stay there for a mammoth nine week reign via the release of a series of exhilarating remix 12-inches (all counting towards the single's No.1 chart position) plus Kevin Godley's attention-grabbing fake fighting Reagan vs Chernenko promo video, also dominating the high streets with their series of en-pointe 'Frankie Says' slogan T-shirts, advertisements and posters. And this time around the band had their pick of TV, radio and press, all clamouring for a slice of the Frankie Goes To Hollywood pie. 'Two Tribes' was to become the longest-running No.1 single of the 1980s and it saw its songwriters, Johnson, Gill & O'Toole awarded the prestigious 1984 Ivor Novello Award for Best Song Musically & Lyrically .
The band's audacious debut album, 'Welcome To The Pleasuredome' was released on 29th October 1984 and entered the UK Album Chart at No.1 having racked up over one million sales on pre-order alone. A clear summation of Horn, ZTT and the band's supreme confidence, the album was released as a double, more than 64 opulent minutes in length. Exploring the pleasure principle in serious depth across its four sides of vinyl, its songs variously dealt with topics such as drugs, fame and fisting, all set against a Cold War era backdrop of the human race's seemingly imminent destruction via nuclear war. It might have been explicit in places (spot the sampled vocal from a particular band favourite porn film), but the album was also capable of moments of sheer breath-taking beauty, amply illustrated by 'The Power Of Love' which became the band's third No.1 single in December 1984, the Art Of Noise's Anne Dudley's still-astonishing orchestration perfectly complementing Holly Johnson's greatest lyric.
Working a mix of new & old tracks, million-selling singles plus a selection of covers of some of the band's favourite songs (Bruce Springsteen fans still cite the band's stunning cover of their hero's 'Born To Run' as the best cover of one of his songs of all time) into something far greater than its constituent parts, 'Welcome To The Pleasuredome' was undoubtedly the band and Horn's crowning achievement. A heady mix of pop, funk, punk, disco and even (whisper it) prog rock, the album's Coleridge referencing title track opener (later to become the fourth major hit single to be released from the album) ran to over fourteen minutes in length and featured a guitar solo from Horn's erstwhile Yes bandmate Steve Howe.
Now, Frankie Goes To Hollywood's chart devouring 1984 debut album 'Welcome To The Pleasuredome' is celebrated here in BMG's new 'Art of The Album' series, featuring brand new sleevenotes within both the hardback CD & 180g double vinyl LP format. Comprehensively researched and written by The Guardian writer Paul Flynn, these new sleevenotes cover in-depth the story of the album & the period in which it was written & recorded, the key players in its creation, the craft and instrumentation, the impact upon release & its enduring legacy 33 years later.
In the age of immediacy, accessibility, streaming and a la carte downloads the concept of an album or long player has become somewhat lost. The Art of The Album is a new series from BMG looking to refocus the attention on the album as a format. With a collection of seminal and classic albums, the Art of The Album series will celebrate releases that broke new ground in concept, production, songwriting and genre, leaving a lasting legacy as a complete body of work.
With extensive essays exploring the times in which the albums were conceived, the key players and personnel involved, the craft and creation of the music and artwork, the impact upon release and the legacy and cultural impact The Art of The Album series will celebrate the album as an art form.
FRANKIE GOES TO HOLLYWOOD – 'WELCOME TO THE PLEASUREDOME'
(2017 ART OF THE ALBUM DELUXE EDITION) TRACKLISTING;
LP – 180g Double Vinyl LP & Booklet (cat no BMGAA04LP)
SIDE ONE
01. well…
02. The World Is My Oyster
03. snatch of fury (stay)
04. Welcome To The Pleasuredome
SIDE TWO
01. Relax (come fighting)
02. War (…and hide)
03. Two Tribes (for the victims of ravishment)
SIDE THREE
01. Ferry (Go)
02. Born To Run
03. San Jose (The Way)
04. Wish (The Lads Were Here)
05. Ballad Of 32
SIDE FOUR
01. Krisco Kisses
02. Black Night White Light
03. The Only Star In Heaven
04. The Power Of Love
05. Bang
CD – in Deluxe Hardback Cover & 28-page Booklet (cat no BMGAA04CD)
01. The World Is My Oyster
02. including well… and snatch of fury (stay))
03. Welcome To The Pleasuredome
04. Relax (come fighting)
05. War (…and hide)
06. Two Tribes
07. for the victims of ravishment
08. Ferry (Go)
09. Born To Run
10. San Jose (The Way)
11. Wish (The Lads Were Here)
12. including The Ballad Of 32
13. Krisco Kisses
14. Black Night White Light
15. The Only Star In Heaven
16. The Power Of Love
17. bang