The Ghost Train
@ The Palace Theatre Paignton
Wednesday 20th – Saturday 23rd October 2021
7.30pm – 10pm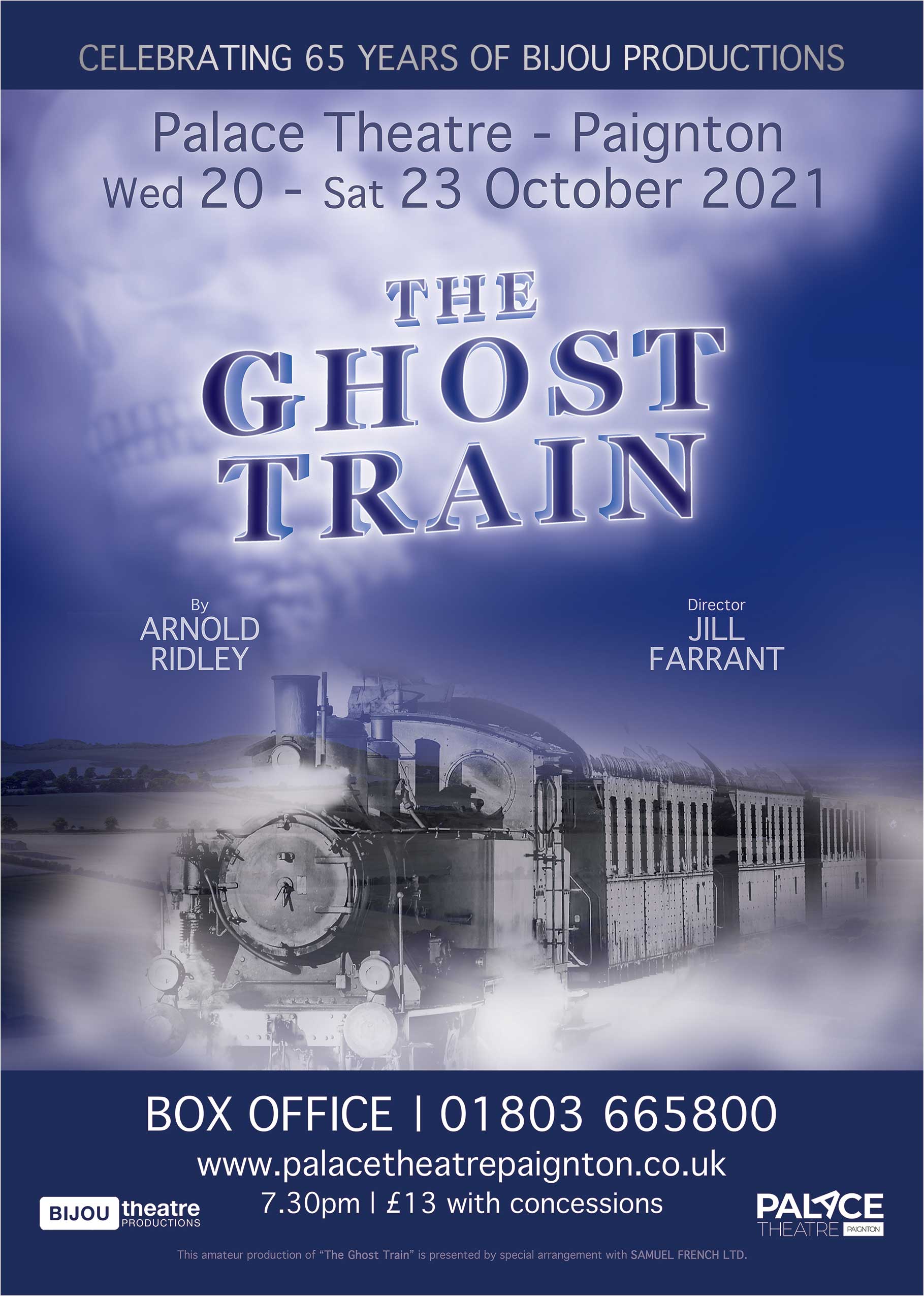 Well this train has been a long time coming!
Twice it was cancelled and now it will hopefully arrive!
This production is very special to us at The Bijou Theatre Club. It represents 65 years of continuous action.  The club started in 1954 in the stable area of the Gerston Hotel, which was down by the level crossing in Paignton. In fact it is now 66 years since it all began when a middle aged lady named Greta Huggins stood in the stable and said to her cousin Dora her husband Bill and her best friend Helena "let's make a theatre" so the 50 seat theatre was born.
In 1969 Jill Farrant joined the management and in 1973 Wendy and Ian Caplan came on board. The first production under the new management was The Ghost Train. When Greta retired in 1976 she insisted that it was to be called the New Bijou Theatre Club. The Ghost Train has stood the test of time and is still very popular. The play is the only one written by Arnold Ridley of Dad's Army fame, and it is a great mixture of suspense, comedy and thriller. As the Ghost train is heard thundering down the line with its whistle shrieking and lights flashing it is truly spooky!
Jill has assembled a great cast with James Mackenzie-Thorpe playing Teddy. We also welcome some new and old faces: Liz Loly, Matt Brown, Stuart Sutherland, Nicola Aldridge, Steve Aldridge, Andy Killin, Gill Pore, Sarah Caplan and Chris Macktenzie Thorpe as the spooky station master.  Why does he want the passengers to leave the station? What ghostly goings on is he so scared about? Who are the three strangers who burst into the station waiting room? What is the truth about the terrifying Ghost train? Whose story do we believe?
One amusing memory springs to mind: when The Ghost Train was performed at the little Bijou for the first time a member of the audience asked if they could come backstage and see where the train ran…
The play runs at the Palace Theatre in Paignton from October 20th to 23rd at 7.30pm.
To book your tickets click here
Box Office: 01803 665800
The Palace Theatre,

Paignton

,

TQ3 3HF