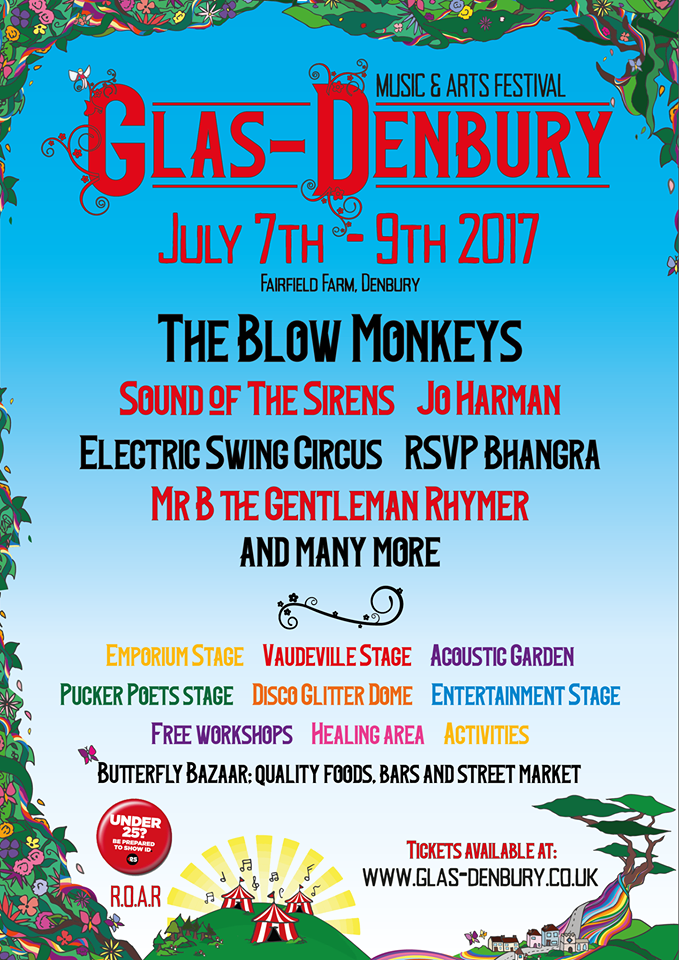 "A proper pucker decent down to earth happy smiley local music festival" – Glas-Denbury is a safe, family friendly festival held in a beautiful Devon setting.
Glas-Denbury is perfect for families with young children and/or teenagers, or a group of adults who want to leave the children at home. If you are just dipping your toes in the festival scene then it's the place to start!
The Butterfly Bazaar hosts quality food stalls offering locally sourced foods and lots of stalls from which to purchase goodies and gifts and festival attire! The bars are stocked with local Devon real ale and cider and the Cocktail bar offers a myriad of cocktails and of course plenty of jugs of Pimms!
Glas-Denbury offers free parking & family friendly facilities including plenty of toilets, baby change facilities and chill out areas for families to relax in.
Come and dance in the daisies and shake your glittery hips and see why everyone's talking about Glas-Denbury.
It champions all things South West and so the Emporium, Vaudeville and Acoustic Garden stages host the best of the South West music scene, while also bringing in artists from further afield. The Soundlaunch "Emerging Talent" Stage runs workshops, jam sessions, showcases and the Glitter Dome with it's DJs takes you through the decades of Disco and the BBC Introducing stage offers a platform to demonstrate the savvy and skill of our local unsigned artists such as Joanna Cooke and King Colobus.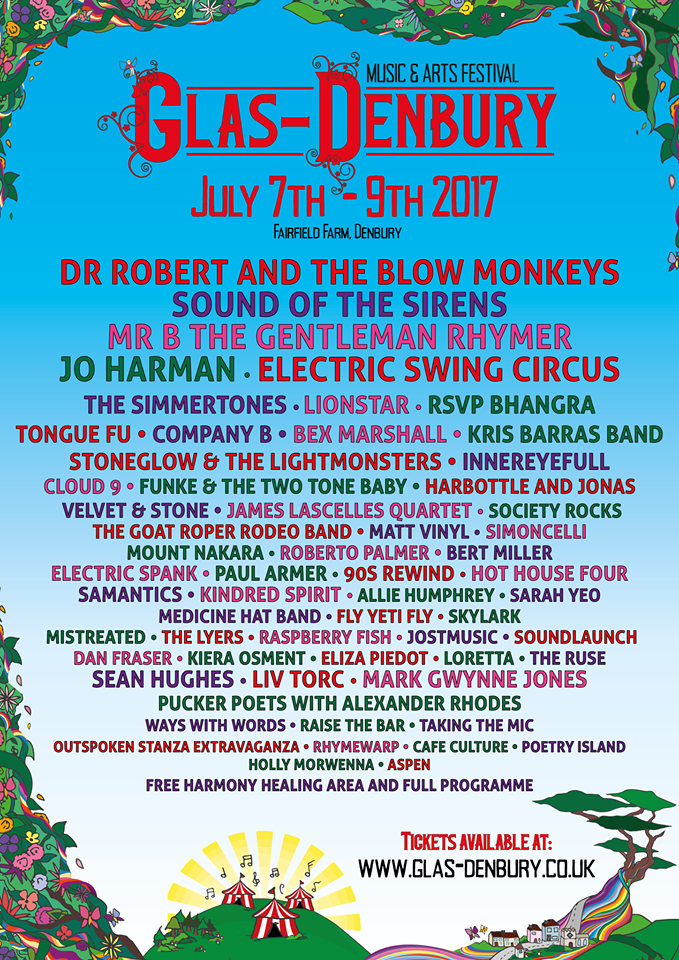 Also on site will be Pucker Poets Stage featuring Sean Hughes (never mind the buzzcocks) and a whole host of brands from all over the South West offering performance poetry and spoken word.  A multitude of magical entertainers will be on site for all ages together with lots of free workshops and activities for all ages including laughter Yoga, Hula Hooping, Forest schools, archery, crafts and theatre will keep everyone entertained.  The Free Harmony Healing Area will give you somewhere to rest, chill, be pampered or experience new therapies.
Ticket Information
Weekend tickets available from £50 and day tickets from £25. Children 12 and under are free. Carer tickets and Group discounts available.