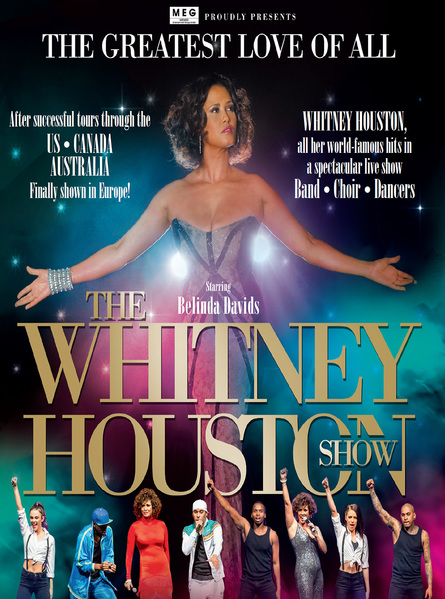 EXPERIENCE 'THE GREATEST LOVE OF ALL' WHEN A LIVE CONCERT FEATURING ALL OF WHITNEY HOUSTONS GREATEST HITS FINALLY COMES TO THE UK AFTER SUCCESSFUL TOURS AROUND THE WORLD PLAYING THE BABBACOMBE THEATRE TORQUAY ON 6TH OCTOBER 2016
It stars the breathtaking vocal talent of South Africa's Belinda Davids and has successfully toured the USA, Canada, Australia, South Africa, Singapore, New Zealand  and mainland Europe hosting a multitude of sold-out performances.
This stunning production, is a beautifully crafted tribute to one of the world's most revered singers. Accompanied by a full live-band, dancers, a professional light show and stage set, Davids performs over two hours of Whitney Houston's best loved pop hits live on stage wearing designs of many of Whitney's original gowns.
And there is no person better than Belinda equipped to do so. In addition to having a voice described as 'jaw-droppingly similar' to the pop diva, Belinda Davids, born in Port Elizabeth, South Africa, openly acknowledges that Houston is her personal idol who was the original inspiration for her own career when she began singing at the age of 14.
"I want people to come and remember Whitney when she was at the top of her game and when she was fabulous", says Davids.
The show includes 20 of Houston's most popular tracks from the full span of her career, including 'I Will Always Love You', 'I Wanna Dance With Somebody' and 'I'm Every Woman', combined with replica costuming and full-scale lighting and effects to produce a spectacular concert experience that honours Houston's memory and celebrates her musical legacy. Generating many standing ovations, per show, from the rapturous audiences on this tour.
As well as having great personal success internationally. Belinda has also appeared on many TV shows including The Jay Leno Show. In 2014 Davids took on the lead role in the production 'The Greatest Love of All – The Whitney Houston Show' in Australia, and she continues to tour the show internationally in 2016, keeping alive the music and spirit of the late, great and incomparable Whitney Houston.
Whitney's long list of awards include, 22 American Music Awards, being the record holder for the most triple crown-hits by a female artist, as well as the only artist with a Grammy, Emmy, MTV Video Music Award, MTV Movie Award, People Choice Award and Billboard Music Award. These achievements only scratch the surface of her countless honours and accomplishments. Whitney Houston has inspired millions and it is clear her legacy will liveon forever.
Clive Davis, record industry executive and long-time mentor
'Whitney was a beautiful person and a talent beyond compare. She graced the stage with her regal presence and gave so many memorable performances over the years. Simply put, Whitney would have wanted the music to go on. '
 Dolly Parton
'I will always be grateful and in awe of the wonderful performance she did on my song (I Will Always Love You), and I can truly say from the bottom of my heart, 'Whitney, I will always love you.''
 Quincy Jones
'She was a true original and a talent beyond compare.'
 Tony Bennett
'Whitney Houston was the greatest singer I've ever heard.'
You can catch this fantastic show @ The Babbacombe Theatre, Torquay on Thursday 6th October 2016 @ 7.30pm
For more details please click  http://www.babbacombe-theatre.com/upcoming-shows/the-whitney-houston-story
& to buy tickets please click  https://babbacombe-theatre.ticketsolve.com/shows/873545341/events
Exclusive Competition
For a chance to win two tickets to the show and to meet Belinda afterwards for a photo opportunity and free signed programme please answer the following question
In what year was Whitney's song 'I will always love you' released?
A   1982       B  1992       C   2002
Please email your answer to info@whatsonsouthwest.com    Please give your answer, name, address and phone number.  The competition will run until 29th September when a winner will be picked and notified by email