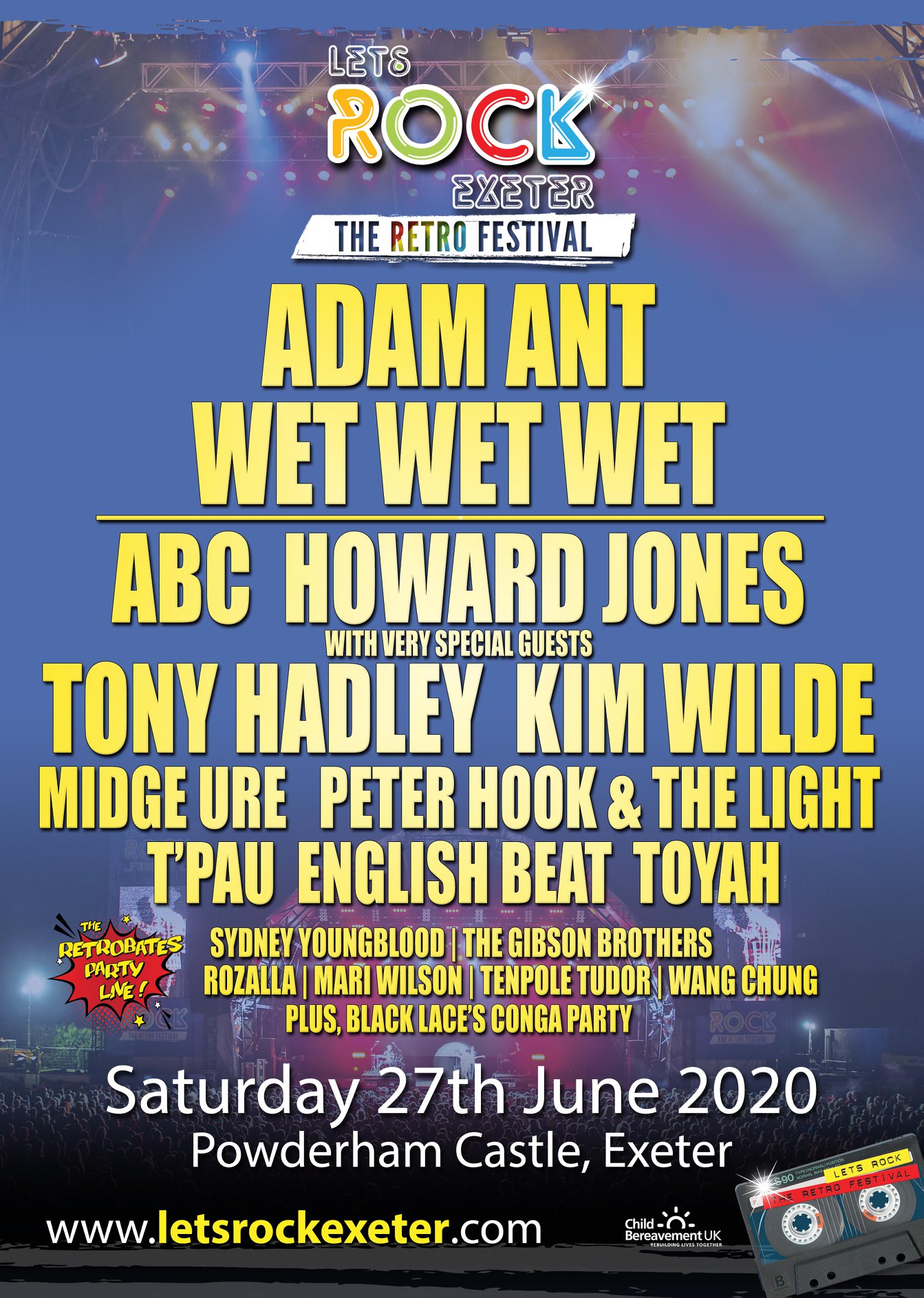 THE UK'S BIGGEST RETRO FESTIVAL SERIES WILL BE
HEADLINED BY ADAM ANT, OMD, UB40 & WET WET WET
 OTHER PERFORMERS INCLUDE ABC, TONY HADLEY, KIM WILDE, HOWARD JONES, SISTER SLEDGE, MIDGE URE'S ELECTRONICA
& MANY MANY MORE
 TICKETS ON SALE NOW!
Let's Rock, the UK's biggest retro festival brand, have announced the headliners and performers for nine of next year's summer 2020 festival series.
In a line-up packed with Eighties icons, Let's Rock 2020 headliners include Adam Ant, OMD, UB40 and Wet Wet Wet. Other performers include ABC and Howard Jones – exclusives for Let's Rock, you won't see them at any other UK festival next summer – plus Tony Hadley, The Boomtown Rats, Kim Wilde, Sister Sledge, Midge Ure's Electronica, Toyah, T'Pau, Go West, Nik Kershaw, Chesney Hawkes, Betty Boo, Heaven 17 and many more.
"Really looking forward to performing at the Let's Rock festivals in 2020," says Martin Fry of ABC. "Sunshine guaranteed. Last time round was incredible from the audience through to every act involved. See you there."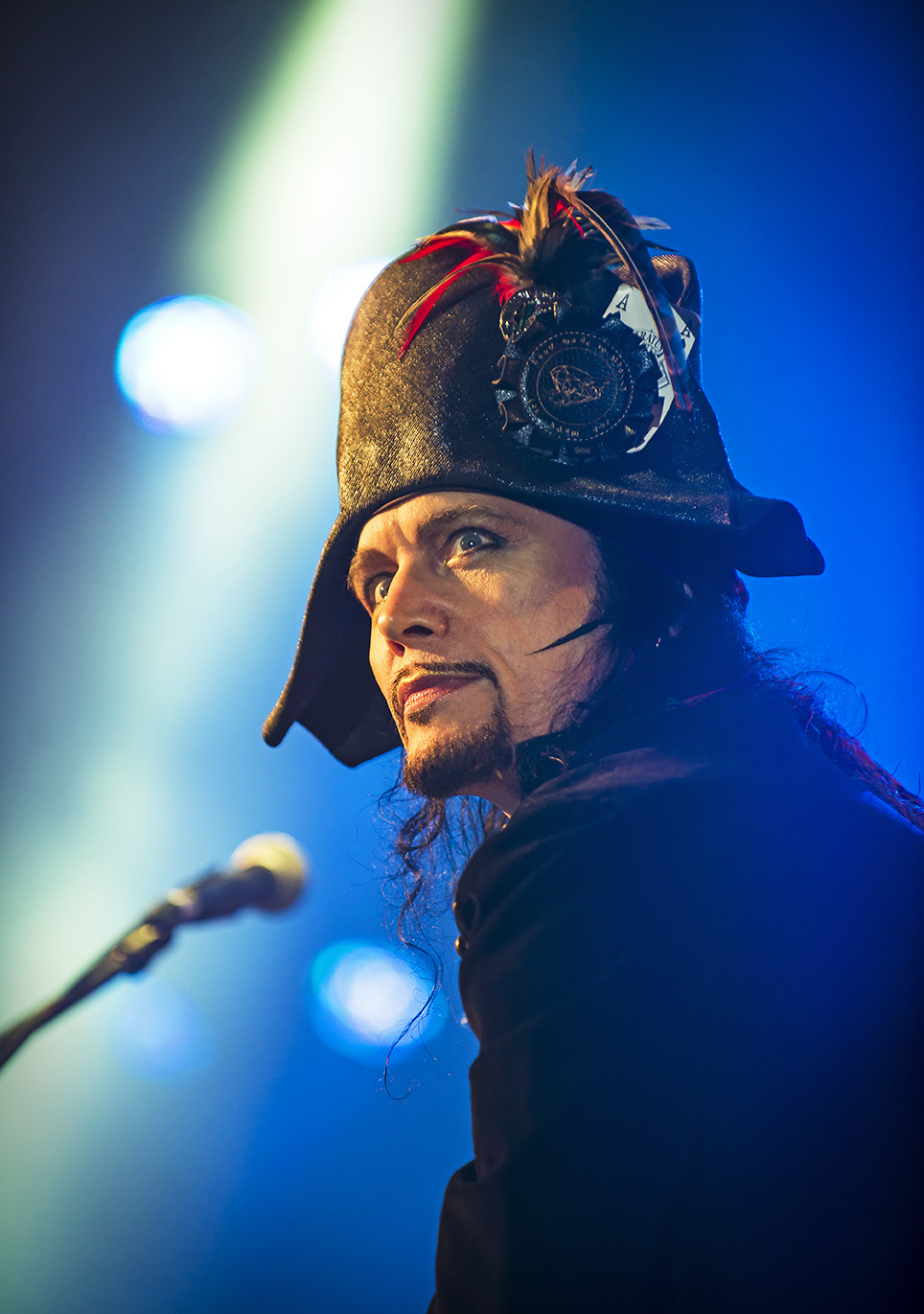 Wet Wet Wet's Graeme Clark says, "We're looking forward to playing three decades worth of hits from the 80s, 90s and 00s for you". Frontman Kevin Simm adds, "We've never played Let's Rock before, but we've heard wonderful things so we're excited to be a part of it!"
Let's Rock legend Kim Wilde comments, "We're privileged to play shows all over the world, but there's very little
 that can match the warmth and fun of a Let's Rock crowd. We always have an amazing time and enjoy watching the other acts just as much as the audience does! Bring on 2020!"
A celebration of all things pop and 80s, Let's Rock offers gloriously unpretentious non-stop fun, with legendary artists performing hit after hit to a crowd of all ages, many of whom embrace the throwback vibe by dressing in their finest retro fashion. 2019 was the most successful summer series in Let's Rock's eleven-year history, with twelve festival locations and a total audience of over 150,000. With their brilliant summer 2020 line-up, next year's Let's Rock series promises to be even bigger and better.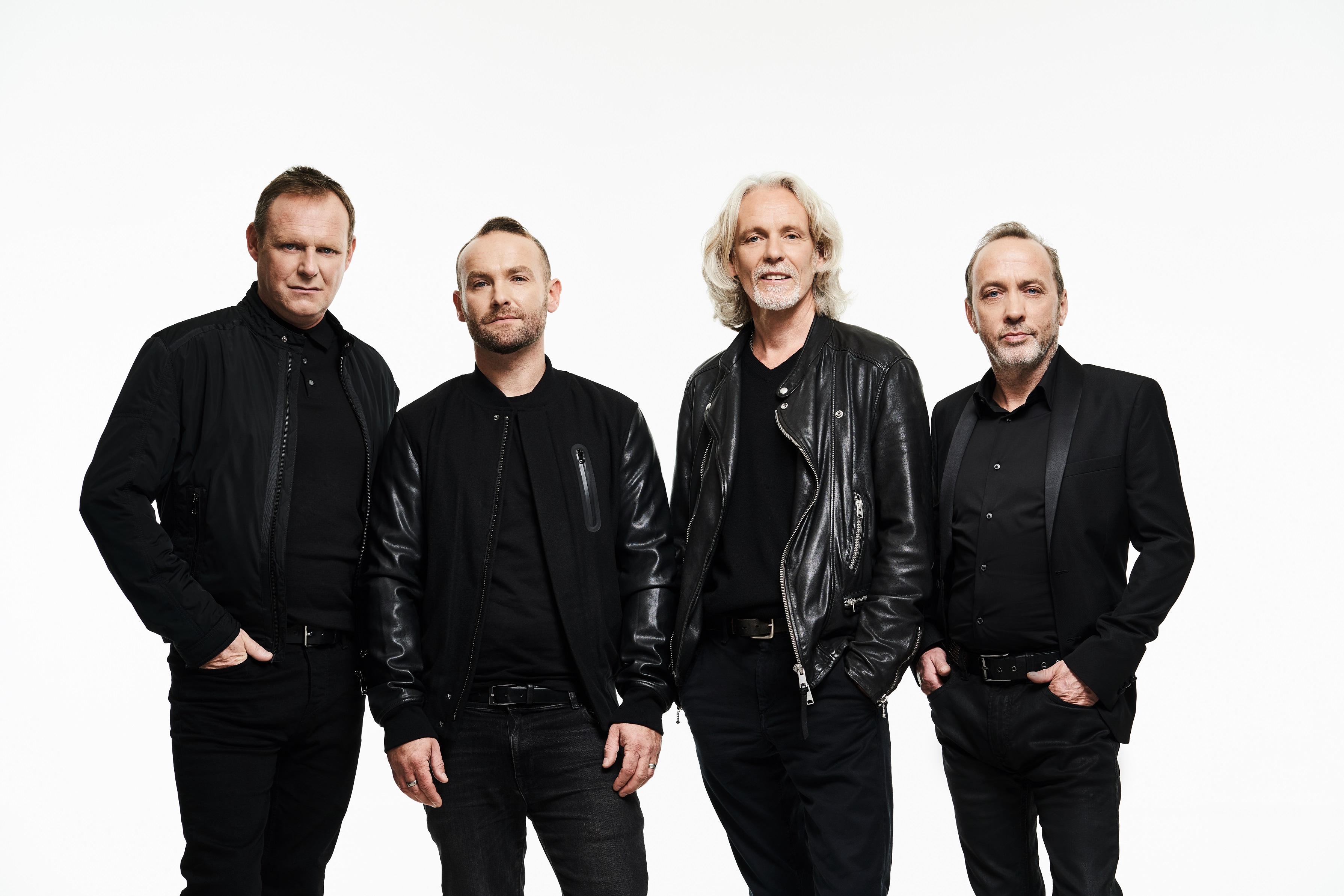 Let's Rock organisers Nick Billinghurst and Matt Smith also commented, "We're thrilled that's Let's Rock is able to attract headliners of the calibre of Adam Ant, OMD, UB40 and Wet Wet Wet. That we're able to provide such an incredible line-up and to grow Let's Rock every
year is down to our amazingly loyal and up-for-it audience, and we'd like to thank each and every one of you for a fantastic 2019 season. Roll on summer 2020!"
Let's Rock works with many amazing charities including Child Bereavement UK, who support families and educate professionals when a baby or child of any age dies or is dying, or when a family is facing bereavement. During 2019, Let's Rock has raised almost £125k for Child Bereavement UK.
 LET'S ROCK – SUMMER 2020 LINE-UPS:
MAY 16             LET'S ROCK THE MOOR, MARSH MEADOW, COOKHAM, BERKS
HEADLINER: UB40
+ ABC, HOWARD JONES, TONY HADLEY, KIM WILDE, MIDGE URE'S ELECTRONICA, THE ART OF WHAT?! (ART OF NOISE CO-FOUNDERS JJ JECZALIK & GARY LANGAN), TOYAH, THE UNDERTONES, WANG CHUNG, THEN JERICO + THE RETROBATES PARTY LIVE feat SYDNEY YOUNGBLOOD, THE GIBSON BROTHERS, ROZALLA, MARI WILSON, TENPOLE TUDOR, CAPTAIN SENSIBLE + BLACK LACE'S CONGA PARTY
Full line-up and tickets: https://letsrockthemoor.com/
MAY 23             LET'S ROCK NORWICH, EARLHAM PARK, NORWICH
HEADLINER: WET WET WET
+ THE BOOMTOWN RATS, ABC, HOWARD JONES, TONY HADLEY, KIM WILDE, SISTER SLEDGE, BETTY BOO, THE UNDERTONES, HUE & CRY, THEN JERICO, ALTERED IMAGES + THE RETROBATES PARTY LIVE feat SYDNEY YOUNGBLOOD, THE GIBSON BROTHERS, MARI WILSON, TENPOLE TUDOR, MODERN ROMANCE, CAPTAIN SENSIBLE + BLACK LACE'S CONGA PARTY
Full line-up and tickets: https://letsrocknorwich.com/
MAY 30             LET'S ROCK WALES, TREDEGAR PARK, NEWPORT
HEADLINER: ADAM ANT
+ OMD, ABC, HOWARD JONES, KIM WILDE, T'PAU, CHESNEY HAWKES, THE ART OF WHAT?! (ART OF NOISE CO-FOUNDERS JJ JECZALIK & GARY LANGAN), BETTY BOO, HUE & CRY, WANG CHUNG + THE RETROBATES PARTY LIVE feat SYDNEY YOUNGBLOOD, THE GIBSON BROTHERS, MARI WILSON, TENPOLE TUDOR, MODERN ROMANCE, CAPTAIN SENSIBLE + BLACK LACE'S CONGA PARTY
Full line-up and tickets: https://letsrockwales.com/
JUNE 6             LET'S ROCK THE NORTH EAST, HERRINGTON COUNTRY PARK, SUNDERLAND
HEADLINER: OMD
+ BILLY OCEAN, ABC, HOWARD JONES, SISTER SLEDGE, GO WEST, MIDGE URE'S ELECTRONICA, NIK KERSHAW, TOYAH, ENGLISH BEAT, PETE WYLIE + THE RETROBATES PARTY LIVE feat SYDNEY YOUNGBLOOD, THE GIBSON BROTHERS, MARI WILSON, TENPOLE TUDOR, MODERN ROMANCE, CAPTAIN SENSIBLE + BLACK LACE'S CONGA PARTY
Full line-up and tickets https://letsrockthenortheast.com/
JUNE 13           LET'S ROCK SCOTLAND, DALKEITH COUNTRY PARK, MIDLOTHIAN
HEADLINER: ADAM ANT
+ OMD, ABC, HOWARD JONES, TONY HADLEY, SISTER SLEDGE, GO WEST, NIK KERSHAW, MIDGE URE'S ELECTRONICA, CHINA CRISIS, ENGLISH BEAT, TOYAH + THE RETROBATES PARTY LIVE feat SYDNEY YOUNGBLOOD, THE GIBSON BROTHERS, ROZALLA, MARI WILSON, TENPOLE TUDOR, WANG CHUNG + BLACK LACE'S CONGA PARTY
Full line-up and tickets: https://letsrockscotland.com/
JUNE 20           LET'S ROCK LEEDS, TEMPLE NEWSAM, LEEDS
HEADLINER: OMD
+ ABC, HOWARD JONES, TONY HADLEY, KIM WILDE, SISTER SLEDGE, HEAVEN 17, NIK KERSHAW, T'PAU, BETTY BOO, ENGLISH BEAT
+ THE RETROBATES PARTY LIVE feat SYDNEY YOUNGBLOOD, THE GIBSON BROTHERS, ROZALLA, MARI WILSON, TENPOLE TUDOR, WANG CHUNG + BLACK LACE'S CONGA PARTY
Full line-up and tickets https://letsrockleeds.com/
JUNE 27           LET'S ROCK EXETER, POWDERHAM CASTLE, KENTON, EXETER
HEADLINER: ADAM ANT
+ WET WET WET, ABC, HOWARD JONES, TONY HADLEY, KIM WILDE, MIDGE URE'S ELECTRONICA, PETER HOOK & THE LIGHT, T'PAU, ENGLISH BEAT, TOYAH + THE RETROBATES PARTY LIVE feat SYDNEY YOUNGBLOOD, THE GIBSON BROTHERS, ROZALLA, MARI WILSON, TENPOLE TUDOR, CAPTAIN SENSIBLE + BLACK LACE'S CONGA PARTY
Full line-up and tickets: https://letsrockexeter.com
JULY 4             LET'S ROCK SOUTHAMPTON, SOUTHAMPTON COMMON, SOUTHAMPTON
HEADLINER: OMD
+ WET WET WET, ABC, HOWARD JONES, KIM WILDE, GO WEST, MIDGE URE'S ELECTRONICA, THE ART OF WHAT?! (ART OF NOISE CO-FOUNDERS JJ JECZALIK & GARY LANGAN), T'PAU, TOYAH, ENGLISH BEAT, THEN JERICO + THE RETROBATES PARTY LIVE feat SYDNEY YOUNGBLOOD, THE GIBSON BROTHERS, MARI WILSON, TENPOLE TUDOR, MODERN ROMANCE, CAPTAIN SENSIBLE + BLACK LACE'S CONGA PARTY
Full line-up and tickets https://letsrocksouthampton.com/
JULY 11            LET'S ROCK SHREWSBURY
                        HEADLINER: ADAM ANT
+ OMD, ABC, HOWARD JONES, TONY HADLEY, MIDGE URE'S ELECTRONICA, GO WEST, NIK KERSHAW, PETER HOOK & THE LIGHT, PETE WYLIE, THEN JERICO + THE RETROBATES PARTY LIVE feat SYDNEY YOUNGBLOOD, THE GIBSON BROTHERS, MARI WILSON, TENPOLE TUDOR, MODERN ROMANCE, CAPTAIN SENSIBLE + BLACK LACE'S CONGA PARTY
Full line-up and tickets: https://letsrockshrewsbury.com/
Further Let's Rock summer 2020 festival locations will be announced in the near future