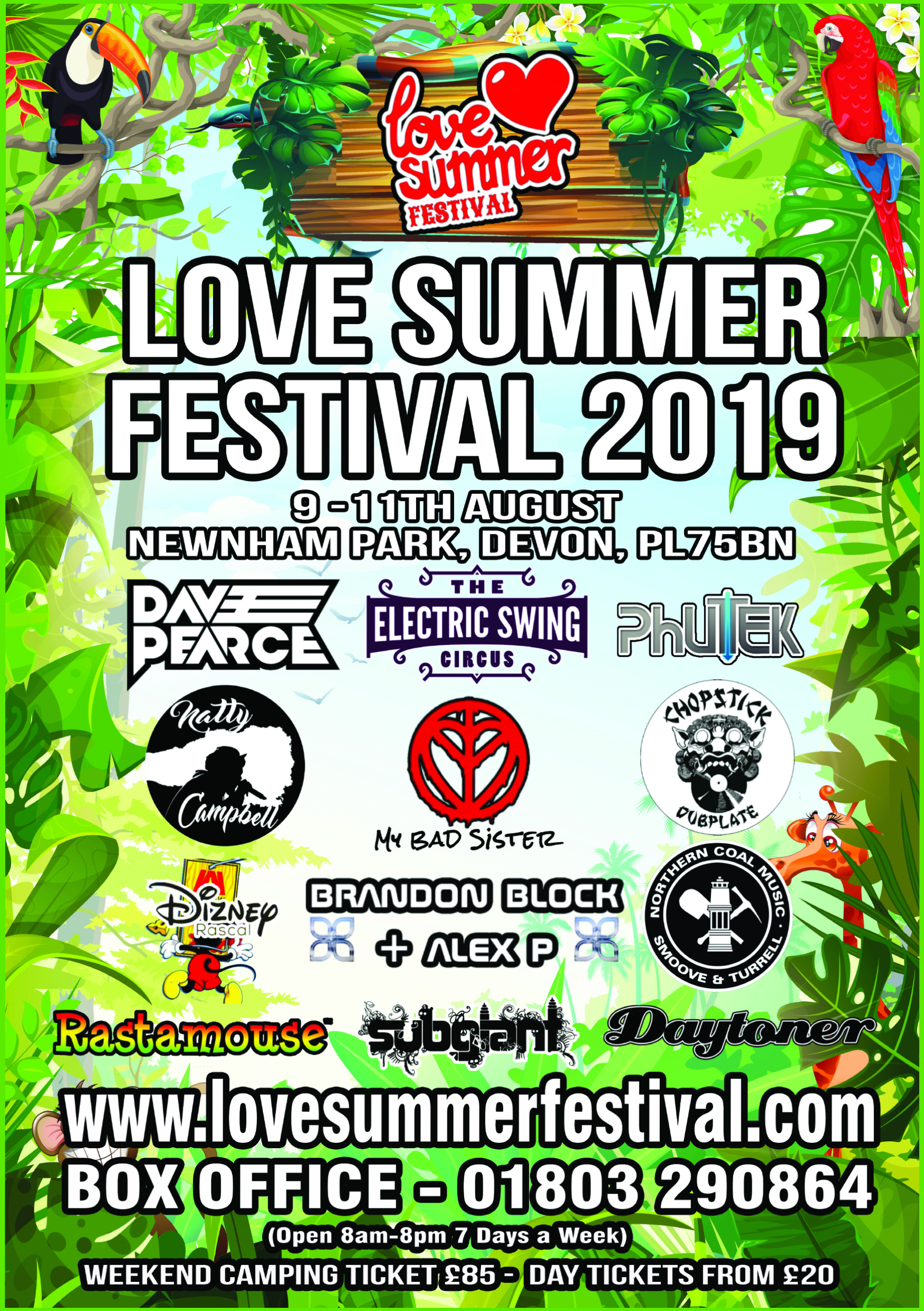 LOVE SUMMER FESTIVAL, BACK IN SOUTH DEVON FOR ITS 9TH YEAR, 3 DAYS OF AMAZING
FAMILY FESTIVAL FUN IN A BEAUTIFUL SUNNY SUMMER MEADOW.
9TH-11TH AUGUST 2019 (EARLY ARRIVAL FROM WED 7TH AUGUST FOR CAMPING ONLY)
NEWNHAM ESTATE PARK, PLYMPTON, DEVON, PL7 5BN
We have been organising festivals & events for over 30 years, our aim is to provide you
with first class entertainment & excellent on-site facilities (we even have flush toilets!) at a
reasonable price. You can bring the camper\caravan, attendance by families and children is
encouraged & you can even bring the dog!
Headline Acts: | DAVE PEARCE | THE ELECTRIC SWING CIRCUS | BRANDON BLOCK &
ALEX P|PHUTEK| NATTY CAMPBELL|MY BAD SISTER | CHOPSTICK DUBPLATE |
SMOOVE & TURRELL | DAYTONER|SUBGIANT| DIZNEY RASCAL | RASTAMOUSE |
Other Acts: DJ ABYSINNIAN | AIRFISH CIRCUS | ALEXANDER GEORGE | BEN MCGOWAN | BLACK
DROVES| CALREK | CHE | CREATURE CRAIG | DATURA ROOTS COLLECTIVE | DAVE MOORE | DJ GAP & KLASS MC | RIBBZ | DUB CUB | EL BARCO | ELLIS THOMAS | FISKY G | FUNBASS | FUNK N STOMP | GAVIN QUIET | GENERAL LEE | HENRY THE EIGHTH | IAIN CROSS | IAIN MCKENZIE | KENTY | KNIEVIL | KONQUERIN SOUNDZ | LADY ANGIE | LAZY SHAUN | LEON TOONE | LOIS MCGOWAN | LONGY | LOUI TT | LOUK | MACH 1 | MADAME SCREECH | MADAME TWISTED | MARK QUILTER | MARTIN CROCKER | MATT VINYL | MAZ | MC DMC | MIKE MCGOWAN | MR K | NAME IS CRITICAL | NCRYPTION | NEWKS | NICE 1 | NICK COLES | NICK MANNING | ONSET | POIROT | PRAGMATIK | QUALITY TOM | RECORD STREET | RESERVOIR DJ S | RIVIERA ROCKERS | ROOTZMILL | ROWLANZ | SAM TANNER | SCORPIO | SHIBBY SHITEGEIST | SHUFFLE BROTHERS | SILVATICUS | SKIZZO | SOFIE F | STATION MASTER KITLEY| SUBURBAN SYMPHONY | THE EXPERIMENTAL | THE KEDELLAS | THE KINGSTONS | THE PHOENICIANS | THE MALTHUSIAN TRAP | THE MONADS | THE RUFFS | TRANZAM |
ENTERTAINMENT & ACTIVITIES: | RASTAMOUSE | POTTERY STUDIO | DJ ACADEMY | CIRCUS SKILLS | FLOTSAM THE FOOL | TRAPEZE FLYING SCHOOL | ANIMAL HQ | ALFREDOS PIRATES | CRAFTY MONKEYS | THE LITTLE SECRET ART STUDIO | GRAFFITI WORKSHOP | FUNBASS | PRESS PACK | ZIG ZAG | CHILDRENS TENT WITH STAGE | WIPEOUT | YOGA | BRANDON BLOCKS HAPPY DAYS TENT |
4 COVERED STAGES (ALL WEATHER)
EARLY ARRIVAL (FROM WEDNESDAY 7TH AUGUST 2019)
GLAMPING (FURNISHED BELL TENT & TIPI HIRE)
FLUSHING LOOS & SHOWERS
CARAVAN\CAMPERS WELCOME
NO RESTRICTIONS ON YOUR OWN FOOD OR ALCOHOL
ARTISAN FOOD TRADERS
FESTIVAL MARKET
COMEDY DOGS WELCOME
DAY & WEEKEND CAMPING TICKETS
FLAT SITE WITH GOOD ACCESS FOR MOBILITY IMPAIRED
LIMITED TO 1000 ADULTS (LOADS OF ROOM TO CAMP)
Prices:
weekend (3 Day 9th-12th aug) | adult £85 | teen £40 | Child £30 | under 5 free
Day ticket | Friday (adult only) £30 | Saturday adult £40, U18 £15 | SUNDAY ADULT £20, u18 £15
Glamping FROM £250 FOR 4 PEOPLE* (*ENTRY TICKETS NOT INCLUDED)
Web Site: www.lovesummerfestival.com
Email: info@lovesummerfestival.com
On-Line Box Office: www.lovesummertickets.com
Telephone Sales: 01803 290864 open 8am to 8pm 7 days a week