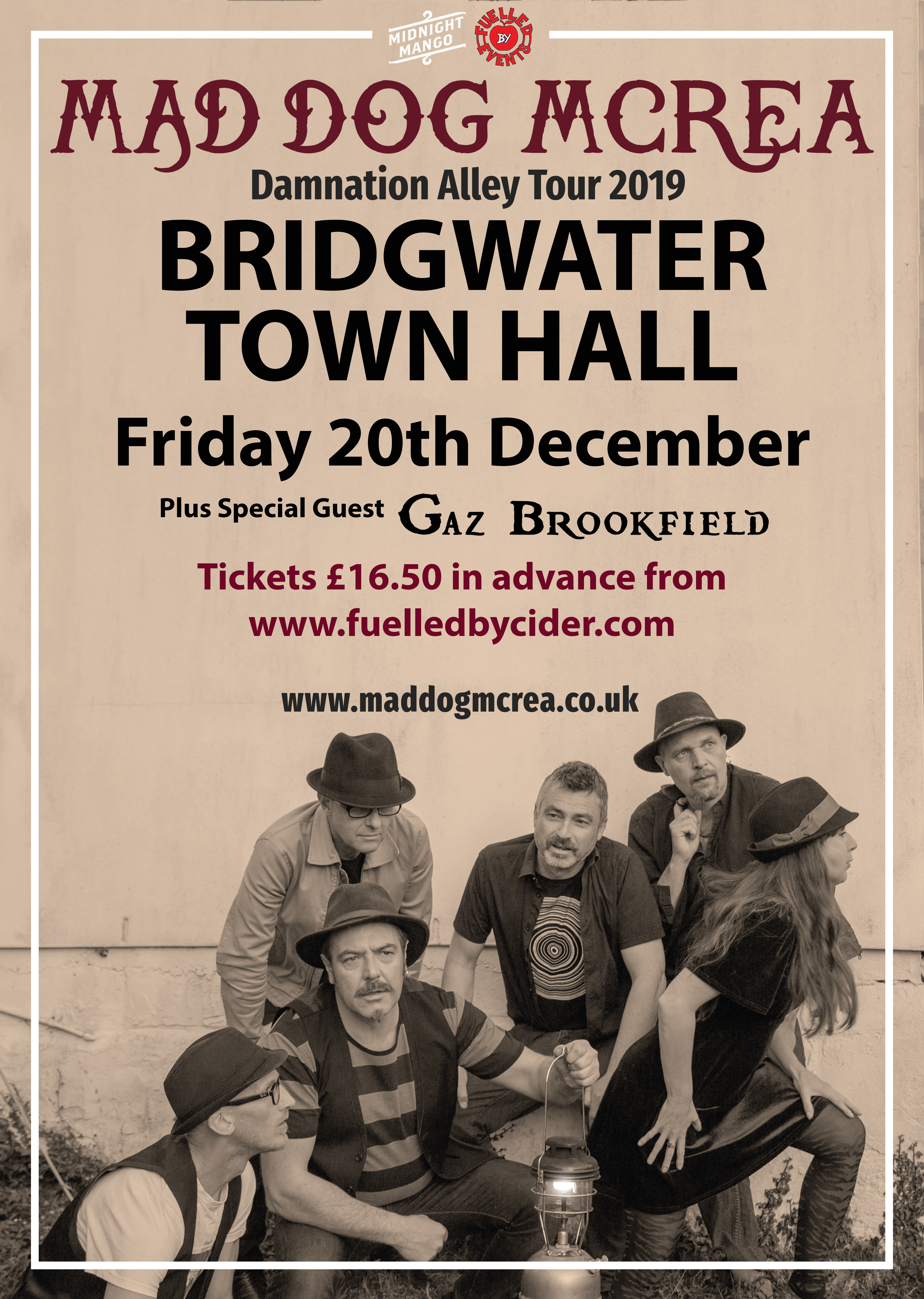 With support from Gaz Brookfield
Is it too early to talk about Christmas? Not if you're a fan of Mad Dog Mcrea, who will be returning for their traditional pre-Christmas gig in Bridgwater on Friday 20th December!
This is always a packed out end to the year with a brilliant atmosphere and Mad Dog's unique blend of folk
rock, pop, gypsy jazz, bluegrass and 'shake your ass' music. The band have built a huge following in the
South West and are looking forward to another famous night at Bridgwater Town Hall.
To make a great event even better, Mad Dog have announced that solo troubadour Gaz Brookfield will be
their special guest support act. Hugely popular across the UK venue and festival scene, Gaz continues to
bring people together with his upbeat, acoustic-punk style and has just released his sixth album 'Lostfolk'.
A quarter of the tickets have already been sold, with a repeat of previous years' sold out gigs looking very
likely. Tickets are £16.50 plus booking fee and available now from www.fuelledbycider.com
Since their last visit to Bridgwater Mad Dog Mcrea have continued their ever-upward trajectory, selling out
numerous venues and establishing themselves as one of the must-see acts at festivals across the UK. In
constant demand and having played just about every festival and two-bit, jibe-arsed dive in Christendom, Mad
Dog Mcrea are, in every sense of the word, a live band. Their latest album Almost Home encapsulates that,
and so much more.
Kev Davis from event promoters Fuelled By Cider said: "We're delighted to bring Mad Dog back to Bridgwater
for another rollicking knees-up! The Bridgwater gig has become a proper Christmas tradition and a lovely way
for live music fans to kick off the festive holiday. We hope to see you there."
This event is open to people aged 14 and over. Under 18s must be accompanied by an adult.
Website: www.fuelledbycider.com