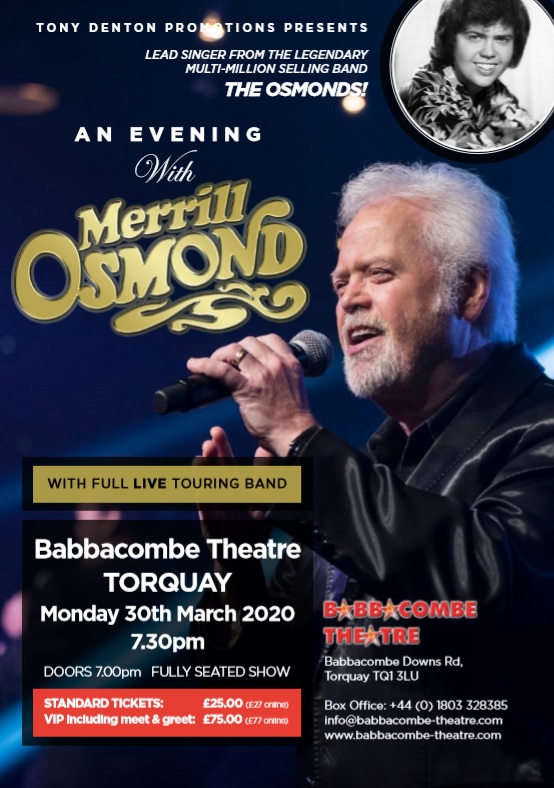 Merrill Osmond will be performing at the Babbacombe Theatre in Torquay on Monday 30th March at 7.30pm.
He will be singing all the hits with his band from The Osmond's plus talking about his experiences of growing up within one of the world's biggest bands, the famous people he has met and how he wrote so many of the world-famous hits, still popular today.
Merrill was the lead singer for the world-famous Osmond family. He is also an established solo artist, has toured throughout the world performing in many major venues and sang lead on 27 gold records. Merrill has produced and written the music and lyrics for 5 number one hit records too.
The Osmond's produced 47 platinum and gold records and no other recording artists has earned as many gold records in one year as the Osmond family.
It's Merrill's incredible voice you can hear on such hits as One Bad Apple, Let Me In, Love Me for A Reason, Goin' Home, The Proud One, I Can't Stop, Having A Party and Crazy Horses and you will hear them all when he performs on the Babbacombe Stage.
Not only can you enjoy the show in the intimate venue, but tickets are also available for a meet & greet. Those booking the limited tickets will get to meet Merrill in the theatre auditorium from 5pm. Enjoy him going through his sound check and get the opportunity for a chat and photograph. Those booking the tickets will also benefit from seats in the first two rows of the venue. Meet and Greet tickets are only available directly form the Box Office at £75, by calling 01803 328385.
If you just book tickets to enjoy the show, they can be booked direct for £25 or £27 online.
For more details and/or to book online refer to the venue's website, www.babbacombe-theatre.com
AN EVENING WITH MERRILL OSMOND – Babbacombe Theatre, Torquay
Monday 30th March 2020
7.30pm.
Box Office: 01803 328385