Babbacombe Theatre, Babbacombe Downs, Torquay.
Audiences attending the Babbacombe Theatre, are always impressed by the junior cast and the dancers of the seasonal shows. This year is no exception!
The theatre this year, is so proud of all the wonderful achievements that, Danze Chique and Kidz & Co. have gone on to accomplish this year.
We not only have national champions performing on the Babbacombe boards, but world class performers, who have won Gold medals at the Dance World Cup, when representing England in Portugal.
These accolades have been won, by dedicated dancers and singers, who train to the very highest standard with local dance schools. Because the local dance schools they train with, offer exceptional standards in all styles of dance and performance, we can have the best of the best as part of our casts.
Three, of the dancers, who perform with Danze Chique, Leah Perry, Amy Bell and Tayla Hayes won Gold at the Dance World Cup in Spain last year.  After winning with their group, 42nd Street, the dance school they represent, The Totnes School of Dance, who in turn represented, TEAM ENGLAND automatically qualified for the Song & Dance section for the 2019 competition. However, only Amy could attend this year, as both Leah & Tayla, opted to focus on studying for examinations. Joining Amy again for this year's competition was our very own starlet, Lily Laight, who is the special guest star in the show, I ? Music. Not only did they both come away with a Gold Medal for their, Song & Dance group, Half A Sixpence, Lily won the Silver medal for her solo Song & Dance, as well as two scholarship offers. Other members of the school also won medals which contributed to the England team winning the overall title, as Dance World Champions, this year.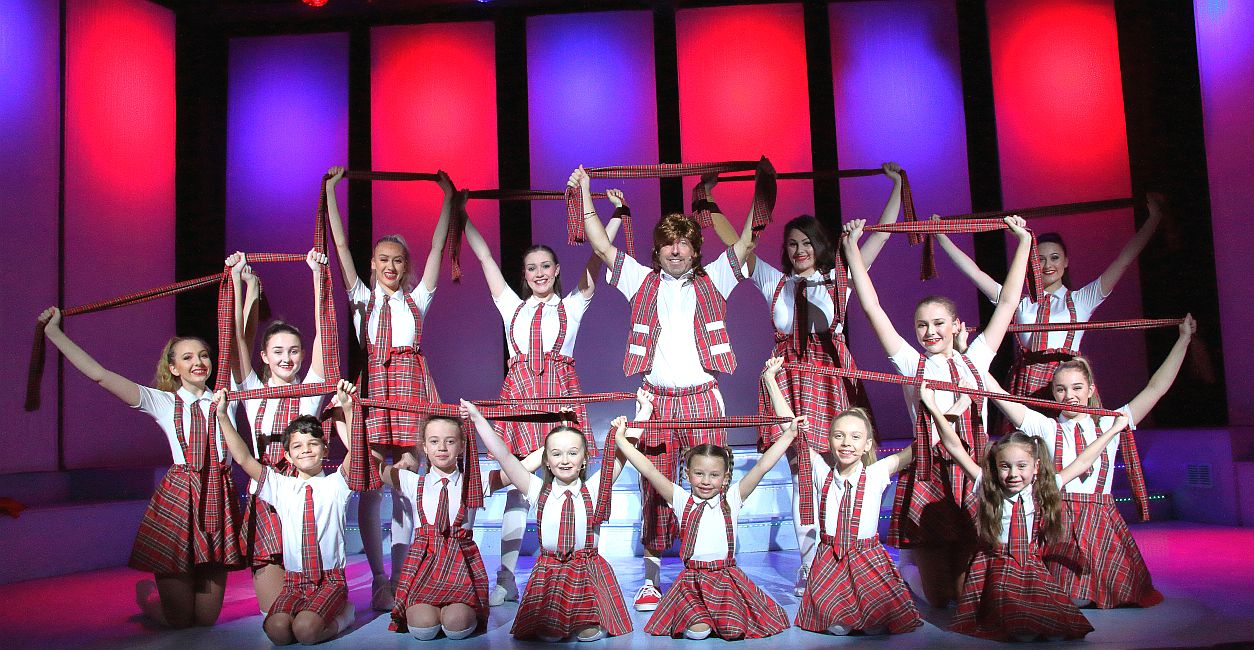 Many of our theatre patrons may not be aware, that the children who perform for us, also represent their own dance schools in annual local, regional and national dance festivals. The National finals happens every two years and at the end of July, all the qualifying dancers, who really are the best at what they do, got to perform at the Wycombe Swan Theatre in High Wycombe. The event is what all these young dancers aspire to perform at.
Amongst the junior cast, four won the opportunity to perform at the NATIONAL FINALS, Ella-Jaie Cox, Maddie White, Rebecca Glasson & Chloe- Mae Taylor and from Danze Chique, six had the opportunity to shine and represent South Devon. The dancers from the Totnes School of Dance, all went on to win not 1 but 2 gold medals for their qualifying group's, and Gold also went to dancers representing, The Buckingham Dance Studios in Paignton, Lucy Samuels & Sophie Beresford, who performed as part of a classical quartet. Whilst not being placed at Nationals, for her Tap solo, we'd like to make special mention to Lianda Axford-Ewing, who dances with The Alison Axford Theatre School.
Whilst dancers have been travelling up to High Wycombe others had been travelling daily to the Plymouth festival. The junior cast between them won, 36 gold medals, 4 silver medals and 5 Bronze medals. Some of those, were invited to dance in the junior championships and celebrated being placed whilst also winning Special Adjudicator Awards. Well done Carys Rowland, Buckingham Dance Studio's, and Ella-Marie Kimberly, Marina Saldanha Dance Academy, for being placed in the finals, Carys being runner up for both Ballet & Modern and chosen as, the child with best expression with Ella-Marie winning the best performance in comedy.
Other junior dancers who exceeded and deserve a mention, who won numerous gold medals is solo's, Duets & Trios are, Carys (9), Ella-Jaie Cox (7), Mia Doherty (6) and Shaya Harris (4). Eloise Prynne (2) and Ella – Marie won 2, with each of the following winning one, although too many medals to mention, when you include the group dances they all participated in, Maddie White, Lea Richford, Chloe-Mae Taylor, Emily Board, Mylee Muncaster, Lacey Stevens, Lola Gay, Rebecca Glasson, Holly Westwood, Darbi Faint, & Ruby-Rose Sweett.
The senior dancers also achieved enormous successes, as part of the groups they performed with, at Plymouth, most with marks of 90-95, which is an incredible achievement for their respective dance schools and principals. However, special mentions are deserving tor the Modern Senior Dance Champion, Lucy Samuels, and runner up in the Senior Tap championships, Lianda Ewing-Axford. Between the seniors, not counting the group awards, won 11 gold medals, so well done too, to Sophie Beresford, Maia Dunstone and Megan Toms.
So apart from exceptional and international principals, the shows Starburst & I ? Music, boast the best young people in the region, doing what they do best, ENTERTAIN you! They have the GOLD medals and titles to prove it!
The shows are currently running weekly at the Torquay venue and you can enquire or book tickets via the Box office on 01803 328385 OR online, www.babbacombe-theatre.com