Tickets on general sale NOW!
AND… All tickets include bus transport to and from the Festival! Good Times! Follow the link..http://occombefestival.co.uk/getting-here/
Occombe Festival is back on 15-16 June 2018. Although we have dropped "beer" from the festival name for 2018, it will still be a main feature of the festival. We promise there will be plenty to try alongside lots of local ales, ciders, wine, Prosecco and Pimm's. And a feast of delicious local food too. It will be the same great party with a fantastic live musical line up including some old festival friends, some new ones and "Occombe Introducing" to showcase some of the country's new and original new talent! So make a date for your diary now to join in Torbay's only festival on a working farm. Our fantastic foot-stomping line-up is below or click here for more.
With 100% of festival profits going to Torbay Coast & Countryside Trust, to protect the places we love – Berry Head, Anstey's Cove, Occombe Farm and Cockington – this festival offers good times that do good. Plenty of reasons to SAVE THE DATE, grab your pals, buy tickets and head down to the farm. (Over 18yrs only. www.drinkaware.co.uk)
Find the festival at Occombe Farm, Preston Down Road, Paignton, TQ3 1RN.
The only way to get to and from Occombe Beer Festival is to walk, get the bus or grab a lift.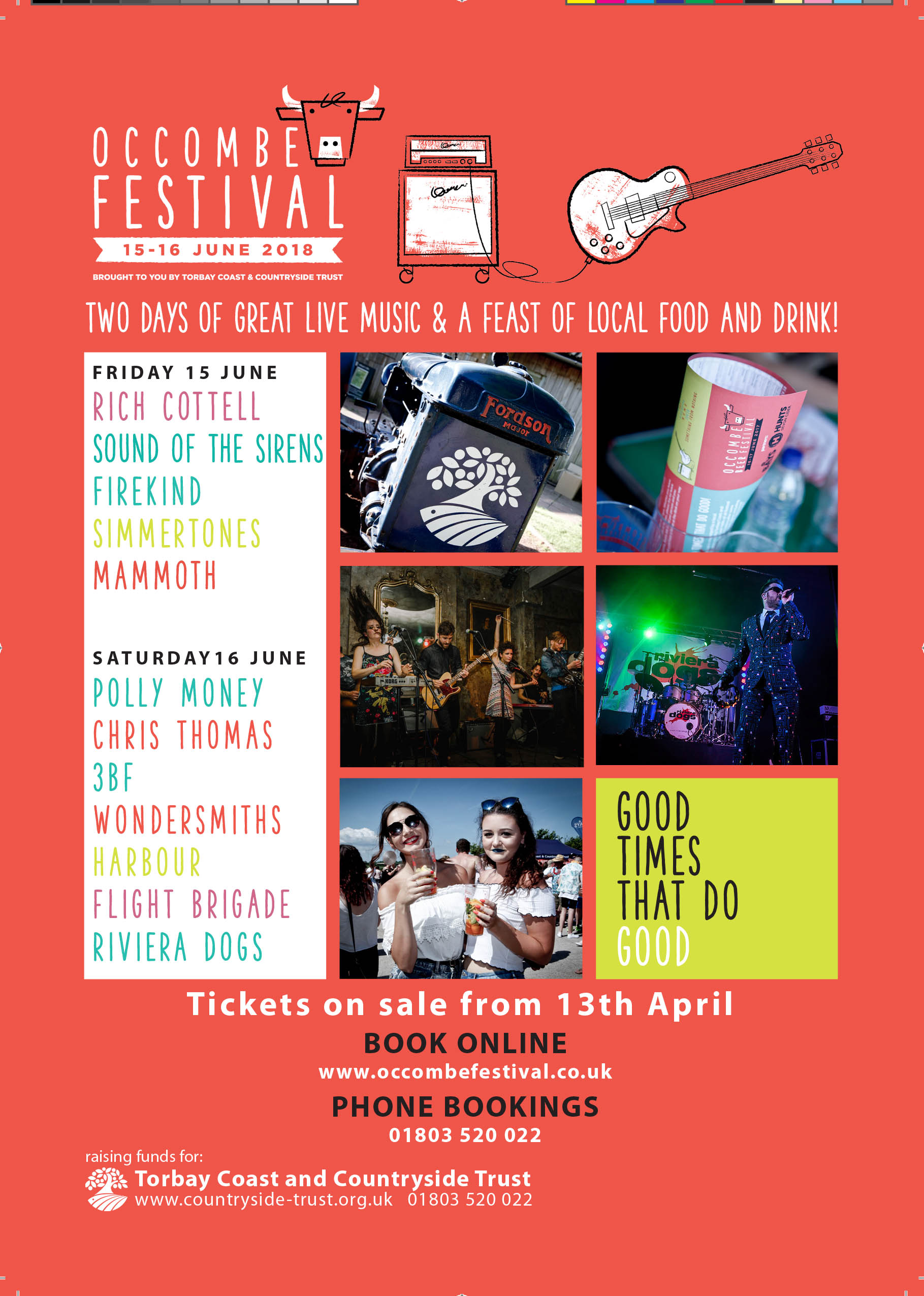 GETTING THE BUS
There will be a dedicated, regular bus service from both outside Paignton Library and from outside the Princess Theatre in Torquay to the festival site; included in the cost of your ticket.
On leaving the event, follow the signs or stewards directions to the bus pick up point:
Departs outside Paignton Library at 3:30pm on Friday, then every half an hour
Departs outside Torquay Princess Theatre at 3:30pm on Friday, then every half an hour
Departs outside Paignton Library at 1:30pm on Saturday, then every half an hour
Departs outside Torquay Princess Theatre at 1:30pm on Saturday, then every half an hour
Last bus from Occombe Farm at 11:30pm
WALKING TO THE FESTIVAL?
You can walk to Occombe Farm from the Preston and Paignton area. Please bear in mind that the route is mainly uphill. Make sure you stick to the footpaths and pavements and follow the stewards instructions as you approach the festival gates.
Top tip: Don't forget to bring a torch for the walk home!
GRABBING A LIFT?
There is no parking available onsite or on Preston Down Road for the duration of the festival (be warned, parking enforcements will be in operation). There is a festival drop off and collection area in the Occombe Farm main car park. If you are using a Sat Nav to get here, use the postcode TQ3 1RN and look out for the yellow AA signs as you approach the festival entrance. Please do not stop on the road – use the designated areas in the main car park only.
FANCY TAKING A TAXI?
Taxis can drop off and collect you from Occombe Farm in our designated areas. There's plenty to choose from… make sure you book your taxi well in advance to avoid disappointment and to save your energy for dancing:
Torbay Taxis: 01803 211611
Price First Taxis: 01803 322322
Torbay Cab Company: 01803 292292
Riviera Taxis: 01803 212600
Ace Taxis (Brixham): 01803 882121
South Hams Cabs: 01803 840404
CAN I TAKE THE TRAIN?
The nearest train stations to Occombe Farm are Torquay and Paignton. They are both about 2.5 miles from the festival site, so you will need to organise a taxi to take you to Occombe Farm, or take on the 45 minute walk… be warned, most of it is uphill!
SHHH… RESPECT THE LOCALS
On leaving the event, PRETTY PLEASE respect the local residents. We know you'll all being giggling your way home, but try not to make too much noise. Volunteers from the Street Pastors team will be available to assist festival go-ers.