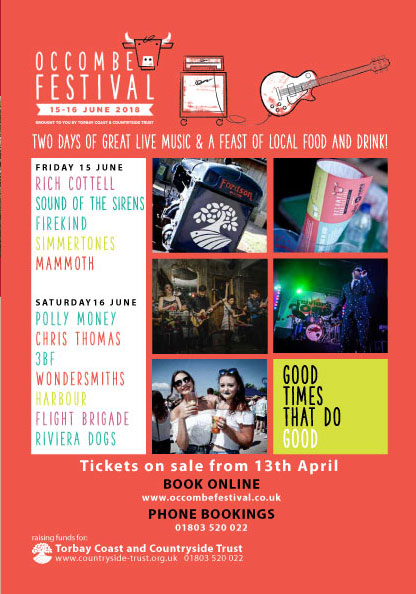 Torbay Coast and Countryside Trust, organisers of the annual Occombe Beer Festival, are looking forward to a bumper party at this year's festival, held on Friday 15th and Saturday 16th June.
Last year's event was a massive success, and the Trust are confident that the 2018 festival, now named simply Occombe Festival, will be even better. First launched 13 years ago, the event has grown in popularity and has earned a reputation for being more than just a two day beer festival on a farm in South Devon. What started out as a celebration of local ales has evolved to include local foods, regional music and cider, wine, Pimm's and new last year even prosecco. Although "beer" has been dropped from the festival title now, it will still be a massive part of the event with over 40 varieties of ales and craft lager to sample.
The musical line has now been announced and includes some old festival friends, some new ones and new for 2018 is "Occombe Introducing" to showcase new and original talent. For this the net has been cast a little wider to secure acts from London and Brighton as well as from Devon. On this year's bill therefore is Rich Cottell, Sound of the Sirens, the Simmertones, Mammoth, Chris Thomas, 3BF, Harbour and the Riviera Dogs. And our Occombe Introducing platform presents Firekind, Polly Money, the Wondersmiths and Flight Brigade.
Some of our most loved regional street food vendors will be on hand too, providing a mouth-watering list of dishes such as gourmet burgers and hot dogs, handmade pizzas, noodles and much more.
Occombe Festival is an essential fundraising event for organiser's Torbay Coast and Countryside Trust, which cares for a massive 1,750 acres of Torbay's most beautiful natural places. These special places include Occombe Farm, Cockington Country Park and Berry Head National Nature Reserve and a host of wildlife friendly woodlands, meadows, stunning cliffs and coastlines. All the profits from the festival go directly to the Trust to help care for and maintain these sites in Torbay; providing places for public enjoyment, recreation and habitats for wildlife. Just collecting litter from our sites costs over £25,000 per year! So, the Occombe Festival really is all about 'Good times that do good'!
Damian Offer, Director of Torbay Coast and Countryside Trust said,
"We are excited about the way Occombe Festival has evolved to become a celebration of local talent, local food and local ales and ciders. Whilst it is primarily about raising funds for the Trust it also gives us an opportunity to provide our community with a fantastic fun-filled weekend of entertainment in a great atmosphere!"
More information about the festival can be found on the trust website, social media pages or by emailing info@countryside-trust.org.uk Tickets are on sale now online at: www.occombefestival.co.uk or call 01803 520 022.