Orphan foal Ava has been allowed to leave quarantine and get her first taste of freedom at the Mare and Foal Sanctuary after being found alone and terrified on Dartmoor. 
It is the day the staff at the Sanctuary feared they'd never see following weeks of health scares for the tiny foal who first arrived at the Sanctuary in July.
Ava has been suffering from pneumonia, stomach and liver problems and it's been an emotional roller coaster for everyone involved in her care since she was first spotted near Lee Moor on Dartmoor.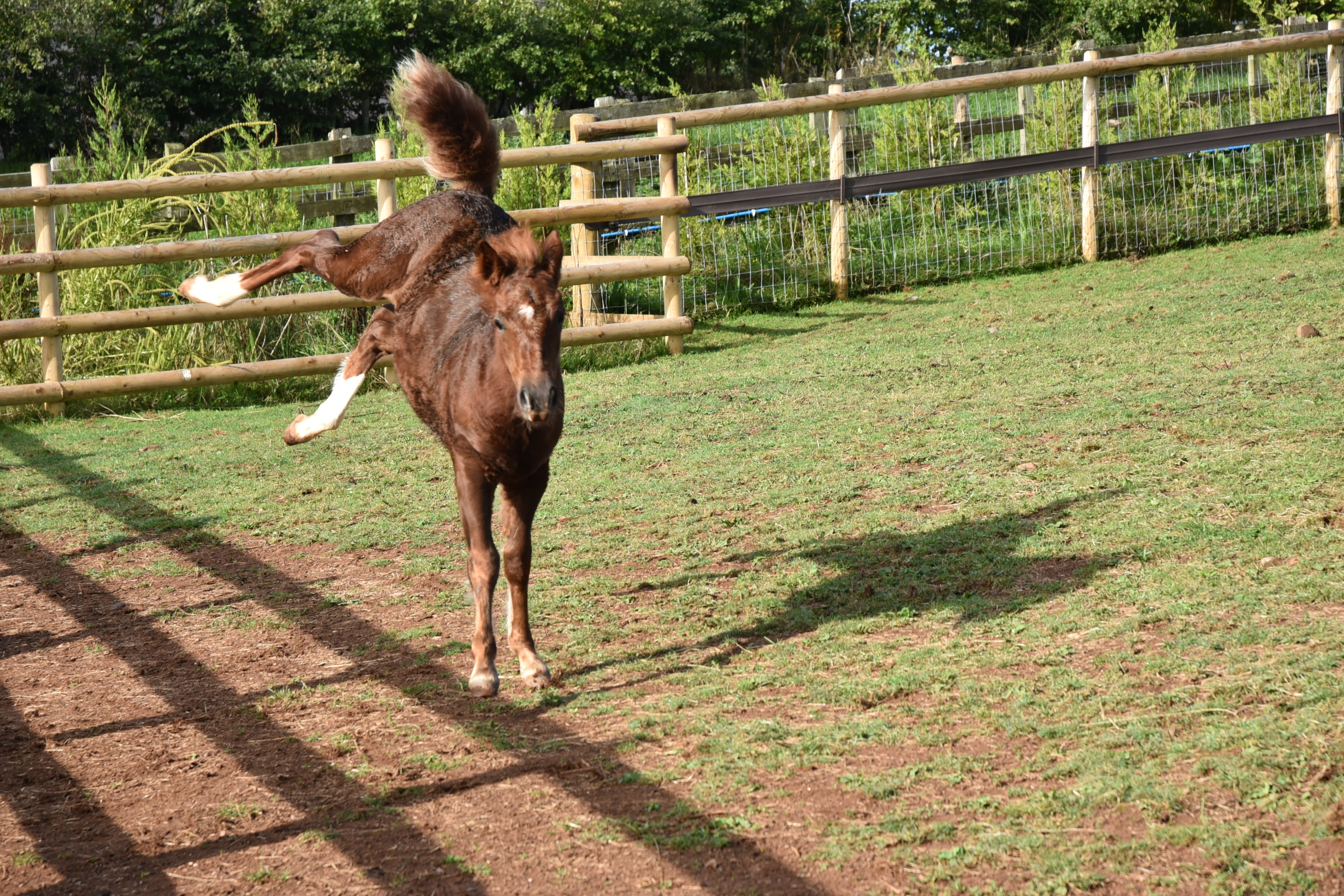 Worried residents initially called local charity Hill Pony Resources who believe Ava's mum died from suspected colic.
But, with a yard full to capacity, they felt Ava would have the best chance of survival at the Sanctuary's specialised veterinary and welfare centre, Beech Trees in Newton Abbot.
The Mare and Foal Sanctuary is now one of the largest equine charities rescuing horses and ponies in the South West.
And it is unlikely – without the charity's regular vet checks, blood tests, medication and two hourly feeds with 24hr round the clock care – she would have made it.
The charity's dedicated grooms took it in turns to monitor and feed her every two hours – often sleeping on site – to ensure her condition did not deteriorate.
Beech Trees Yard Manager Nicola Weall said: "For nearly two months, every waking – and sleeping – hour has been dedicated to making sure she is ok and hoping that she pulls through.
"She still has a way to go with her recovery but here's hoping that she is a fighter and she is now safe in our care for the rest of her life."
The good news is that she now weighs a very healthy 116kg – more than twice her arrival weight – and is growing daily.
And finally, for the first time since she arrived, she has been allowed into her own little paddock to enjoy some fresh air, grass – and the room to run around.
Head of Equine Sally Burton said: "It's been a difficult few weeks for Ava. When she came to us, she was very frightened and was probably already suffering from pneumonia.
"We don't know how long she had been without her mum, but she must have been really worried and was probably trying to follow other mares.
"It's no surprise that she was extremely tired when she arrived at the Sanctuary after having had no milk for quite a long time.
"Our grooms have done an amazing job. Not only keeping her alive, but keeping her calm, engaged, well fed and happy. It's down to them that she has pulled through."
The future is looking brighter and brighter now for little Ava as she gets her first taste of freedom.
But the Sanctuary will be closely monitoring her condition to make sure she continues to get stronger and stronger.
To view Ava's first moments out of isolation, visit http://bit.ly/avalatest
To find out more about the work of the Mare and Foal Sanctuary across the South West, which relies entirely on donations and legacy gifts, and to see the horses and ponies currently available for rehoming, visit the charity's website at www.mareandfoal.org or call 01626 355969