The 171st Free Fun Week hosted by Paignton Regatta is back this year with more live music, fun and shows.
On Wednesday 8th August from 7pm you can enjoy the sound of Wrong Jovi – Bon Jovi Tribue Band. On Thursday 9th August, you can turn up and find the Bootleg Beegees – Beegees Tribue Band performing live. Then, on Friday 10th August from 7pm, bring your friends and dane to the Ibiza Club Classic Party! And for all you Take That fans out there, on Saturday 11th August, you can indulge in listening to Just Take That – Take That Tribute Band. Don't forget to also pop down on Sunday 12th August for a special afternoon which is still yet to be announced.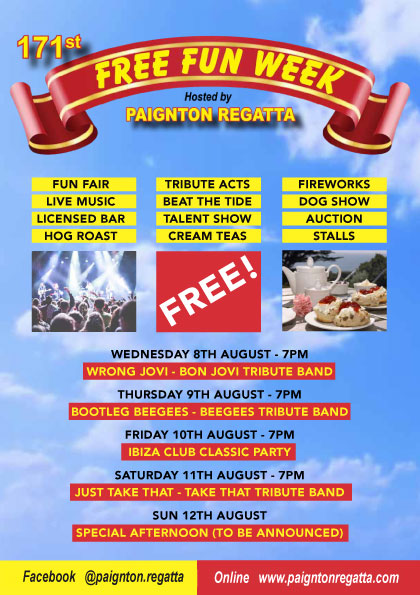 You can also expect, Fun Fair, Live Music, Licensed Bar, Hog Roast, Tribue Acts, Beat the Tide, Talent Show, Cream Teas, Fireworks, Dog Shows, Auctions and lots of Stalls!
To find out more, you can follow their facebook page at @paignton.regatta or log on to their website at www.paigntonregatta.com