OPEN KAYAK & SUP TOURS ARE BACK
Socially distanced
Compliant with Government restrictions
Adheres to National Governing Body guidelines
Fully risk assessed to promote a COVID safe environment
Max 5 participants per instructor
Same awesome instructors, great kit and amazing coastline brought to you by your local award winning outdoor activity company!
Our booking calendar is now live https://reach-outdoors.com/event-booking If you're looking for a specific date or time that's not advertised then drop us a message!
Vouchers purchased (including our amazing lockdown deals) can be redeemed by booking over the phone 01803524950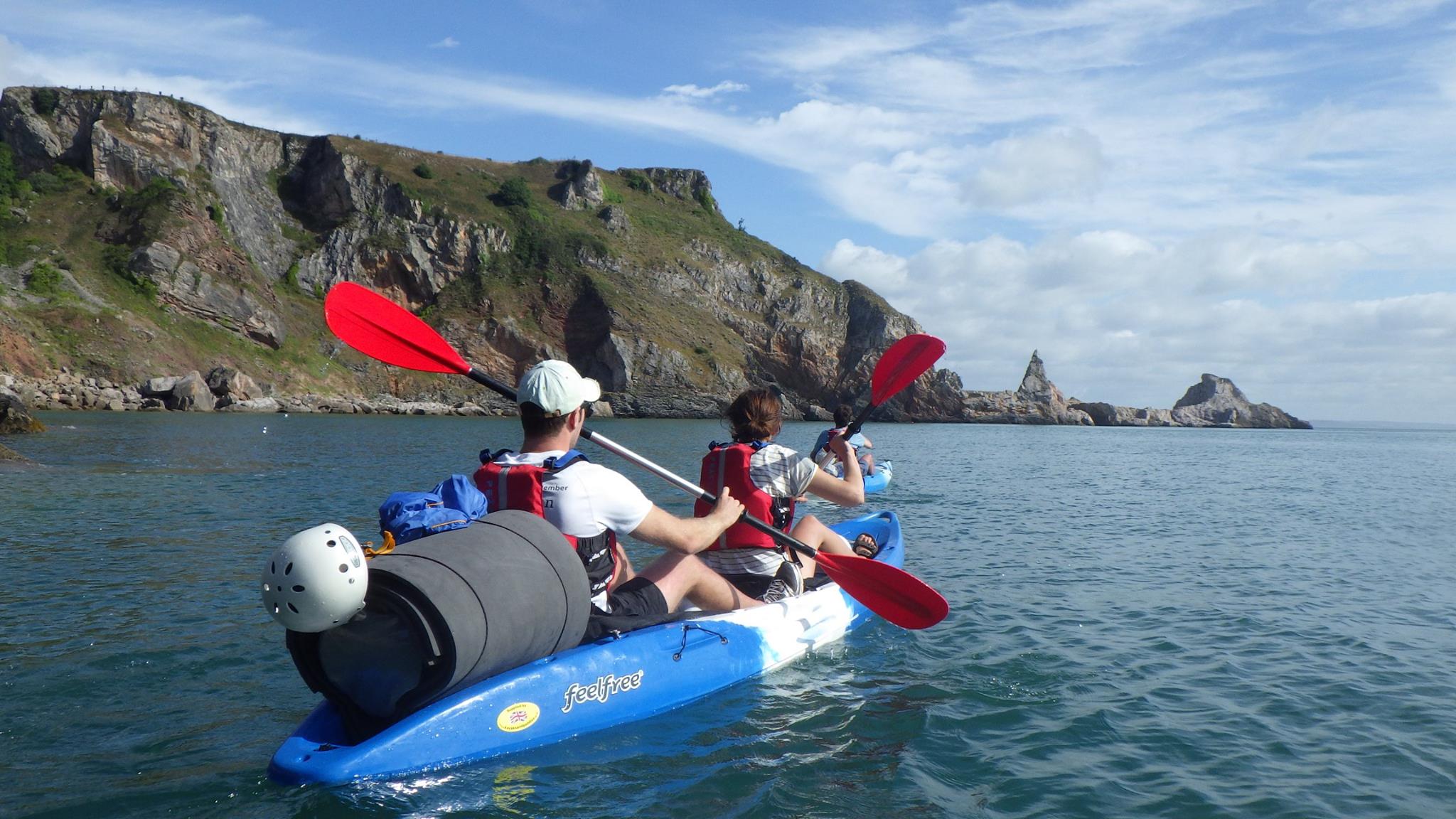 Please read our approach to managing safe, exciting and Covid-secure activities.
On the 13th May 2020 the Government in England announced that providers of outdoor activities could re-open again if they felt they could do in a safe manner. Reach Outdoors had been delivering a range of activities throughout lockdown as part of our essential workers and Vulnerable students education programme so we were well versed in managing safe and Covid-secure activities. We are now open to the general public to access our core activities, however we have made some fundamental changes to ensure we best protect our customers and staff team.
The best place to social distance
The UK Government advice is that the safest place to exercise and socialise is outside. Our philosophy from our conception has been to get people outside and exercising so we are perfectly set up for the new normal that we all face. Since the start of lockdown our management team have been constantly monitoring advice from National Governing Bodies, the Government and our insurers to ensure that we are not only meeting the minimum requirements but are setting the bar for how a safe, Covid-secure business should operate. Our Directors sit on the English Riviera Covid Taskforce so we are receiving up to the minute advice and guidance. Your visit to Reach Outdoors may look a bit different in 2020, below we have highlighted some of the subtle changes you may notice.
Before your visit
When booking activities with Reach Outdoors you will need to sign to confirm that you or no one in your household has displayed any Covid-19 symptoms in the past 14 days and the 14 days leading up to your visit to us. You will also have to declare this as part of the acknowledgement of risk form on the day. By including this term we are significantly reducing the possibility of Covid-19 coming into contact with our staff, equipment and customers. We ask that you come as prepared as possible, in clothing that can be worn under our specialist water sports attire to reduce the requirement to change in a changing room.
During Your Activity
You will need to wash your hands on arrival and will have a quick briefing from your instructor about some of the tweaks that we have made around the centre. We will be meeting you outside to avoid the need to congregate in the Building. It is highly likely you will be in a smaller group than we would ordinarily have on or in the water. The size of the group will be inline with the restrictions at the time imposed by the government and advised by NGB's for the activity you are enjoying. You will also have to socially distance from members outside of your household including the Instructor. The 2 m rule is under review at present and again, we will be enforcing whatever the guidance is at the time of your visit. The instructor will be coaching and demonstrating all skills and games that are included in your session. This is not really very different from our usual approach but you will notice that the instructor will be less hands on and therefore there is an emphasis on clear instructions and respect for the instructor during this time. Other than that, you will have a blast and we will be able to explore and play in the calm, clear waters of Torbay.
What else have we done and will be doing to ensure your safety?
All of our Instructional team have completed training in our core activities around safe practices with Social distancing. They are all aware of the content of our numerous risk assessments and are being kept up to speed on all developments as they happen. We are washing, sterilizing and rotating all of the equipment that you will use to ensure that it is safe and clean for your visit. We have increased cleaning rota's around the centre with regular cleaning of touch surfaces. We have introduced new activity protocols and rescue protocols and are actively involved with the development of guidance with the NGB's that govern our activities. We have also spread out our pre-booked activities and allocated set times for hire of craft, to limit the number of people arriving and congregating at the centre and beach at any one time.
Private Family Sessions
If you would prefer to have a session with just your immediate bubble then we have introduced 2 new ways of doing this. Our 2-1 coaching and 5-1 family sessions can be booked on our online store and then booked in at a time that suits you. Simply visit our online store for more details.
A Reach Outdoors Pledge
We have done all that we can to make our activities as safe as we can for you. Safety has always been at the heart of our philosophy and assessing risk is what we do on a day to day basis. However if you are unsure or would like some further information then please feel free to pick up the phone and give us a call or pen us an email and we will answer any questions that you may have.
From all the team at Reach, we are looking froward to sharing your 2020 Adventures!
Get in touch: 01803 524 950