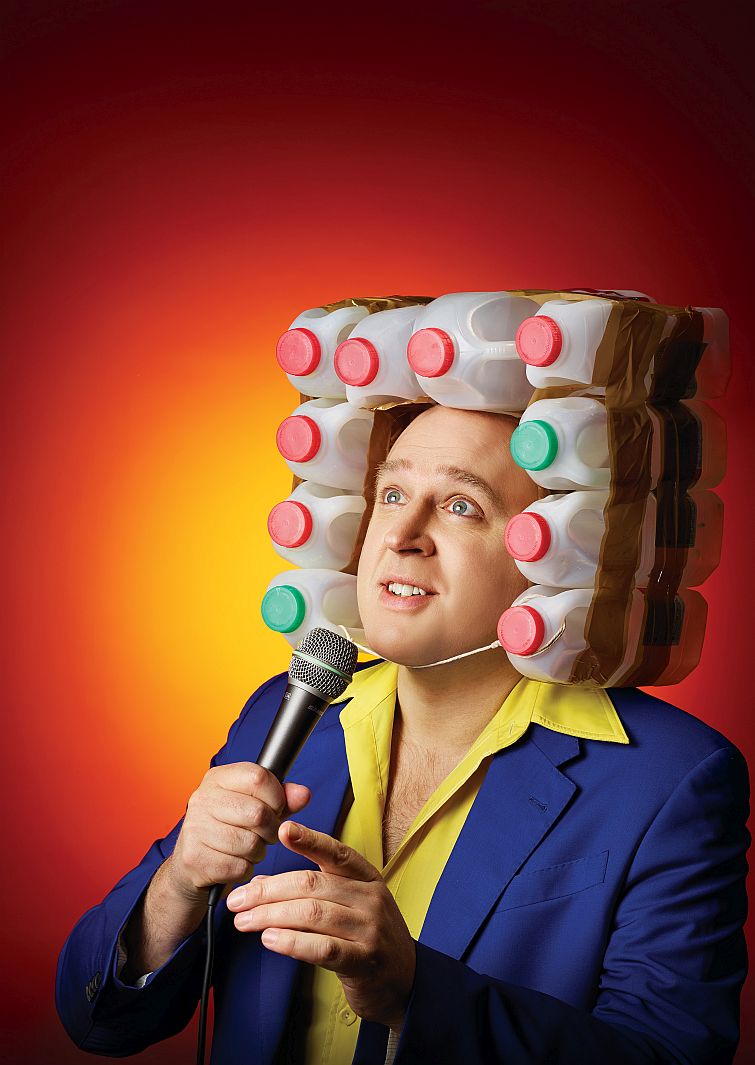 TIM VINE – SUNSET MILK IDIOT
Hey people! Tim Vine back on tour, telling lots of silly new jokes, showing off new homemade props, singing some new daft ditties, and all with the appearance of confidence. The following subjects will be touched upon briefly: pixie football, ice cream and nibble feeders.
Come along, sit down, and laugh.
The quantity won't let up. This is comedy without a message. What an odd person. What a lot of nonsense. What else is he going to do? 'Sunsets are in the sky, milk's nice, and I'm an idiot.'
THURSDAY 22nd & FRIDAY 23rd FEBRUARY 8pm (FRIDAY SOLD OUT). TICKETS £23.50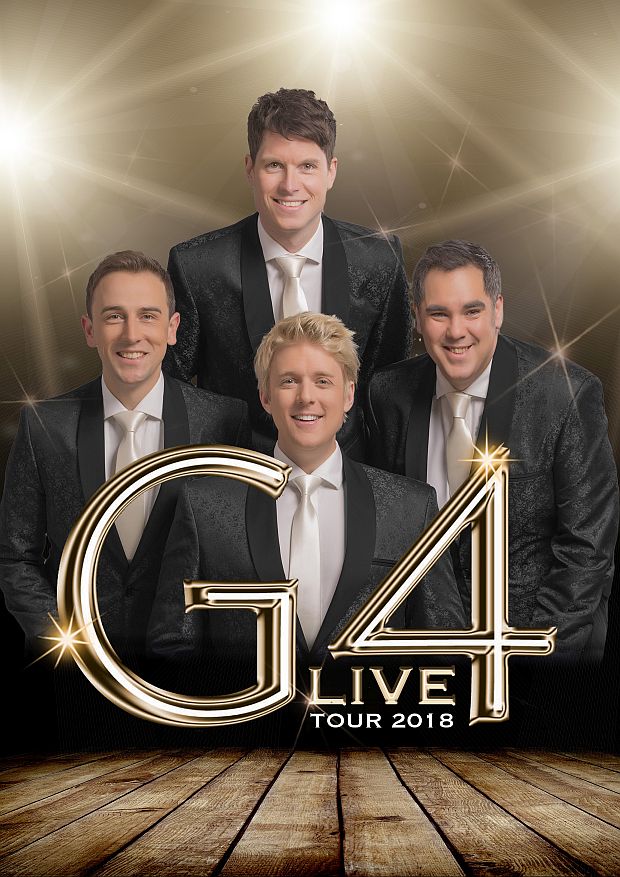 G4-LIVE IN CONCERT
The UK's No.1 classical vocal harmony quartet are back with another exhilarating tour – G4 LIVE!
Having exploded into the industry and the public's hearts back in 2004 on the first series of the X-Factor, G4 continue to blow people away, year after year, with their unique style and impactful harmonic vocals, which are incomparable to any other. They have to be heard live to truly appreciate the power and passion of their voices!
Having recently made their debut in Asia, and after countless UK tours since they first formed, G4 are delighted to have more tour dates than ever in 2018 and this is set to be their best show yet.
Enjoy their classic hits of Bohemian Rhapsody, My Way, Nessun Dorma and Creep plus recent heart-stopping tracks from their latest G4 LOVE SONGS album as they and their live band leave audiences screaming for more night after night.
VIP tickets include a pre-show Meet & Greet with G4 at 6pm, where you'll be served a glass of wine and have the chance to meet the guys up-close and take photos & autographs.
SATURDAY 3rd MARCH 7.30pm. TICKETS £75 (Included best seats and Meet & Greet). Adults £27.50. Concessions £24.50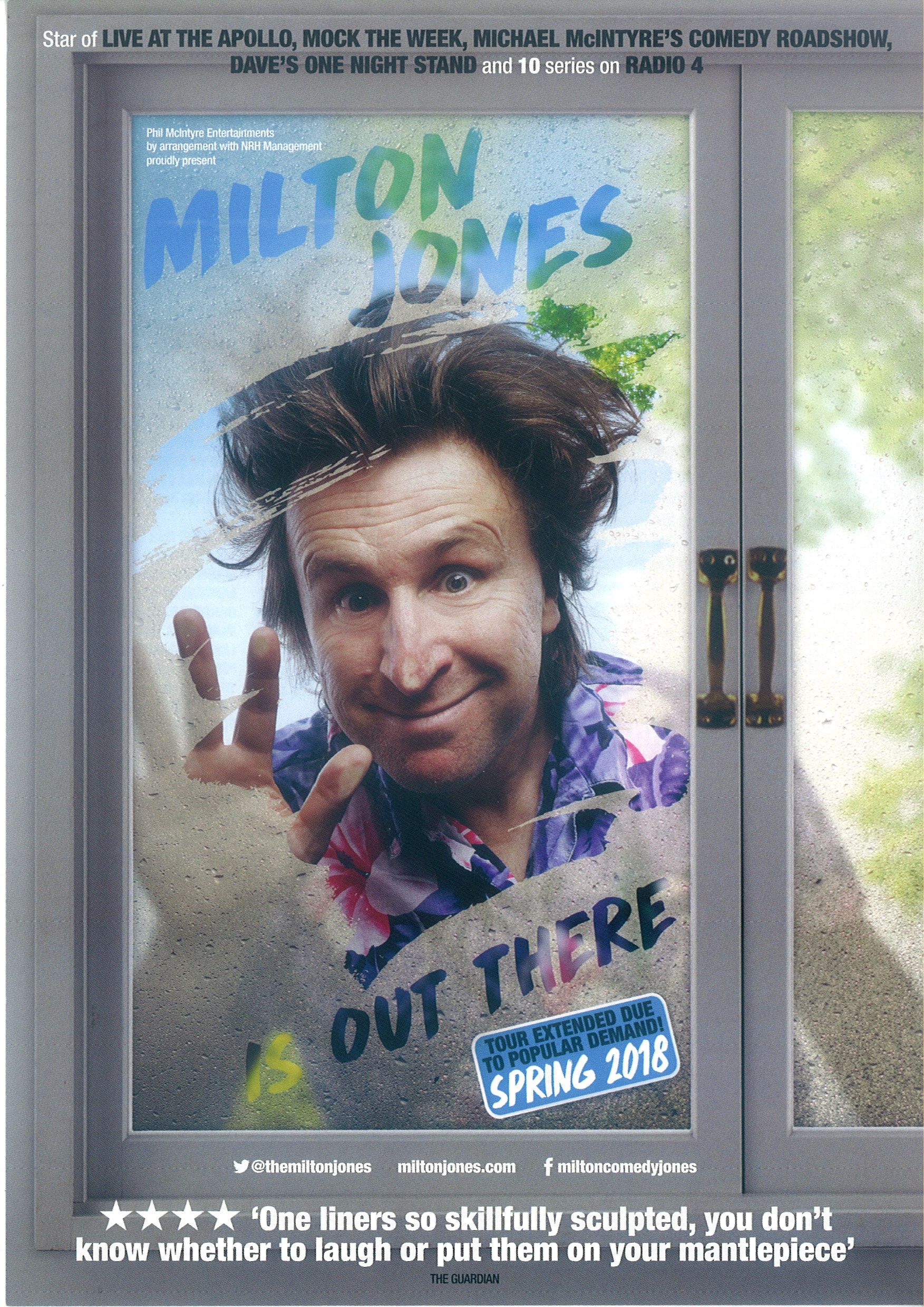 MILTON JONES IS OUT THERE
Milton Jones is Out There. No, really out there and this time he hasn't just forgotten his keys. He's holding up the mirror of truth to society, and he can see right through it, which means its probably just a window.
In his brand new show he'll be putting his foot down and lifting the lid on the pedal bin of lies of the media. He will also be scaling the heights of fashion at the risk of falling into a terrible cravat. Milton will be talking about his life so far – the ups, the downs and why buying his own see-saw was the best decision he ever made.
But perhaps he should give all this up and seek the highest office in the land – but how do you get a desk and a swivel chair up a mountain? Oh and now he wants to be Prime Minister too. Can we do worse than the politicians we already have? Yes we can!
FRIDAY 16th MARCH 8pm TICKETS: £26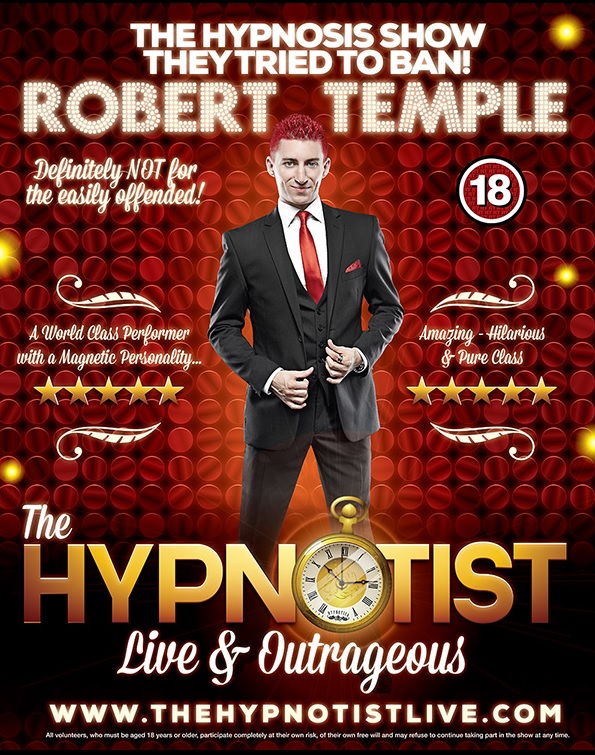 ROBERT TEMPLE – *THE HYPNOTIST LIVE & OUTRAGEOUS
*Not for the easily offended
Join leading hypnotist Robert Temple on a fast-paced, laugh-out-loud and hysterical ride to the centre of your imagination! This is YOUR chance to become the star of this unforgettable show.
Forget swinging watches and people clucking like chickens – "The Hypnotist: Live & Outrageous" is a cutting-edge, thrilling show featuring incredible hypnosis and never before seen side splitting sketches… which are guaranteed to tickle the very naughtiest parts of your mind.
Whether you want to take part or just laugh at the people who do – this WILL be one of the funniest shows you'll see this year… so don't miss out."
MONDAY 30th APRIL 7.30pm. TICKETS: £19, Concessions £17
For more information on any shows and to Book tickets
BOX OFFICE
Telephone: +44 (0) 1803 328385