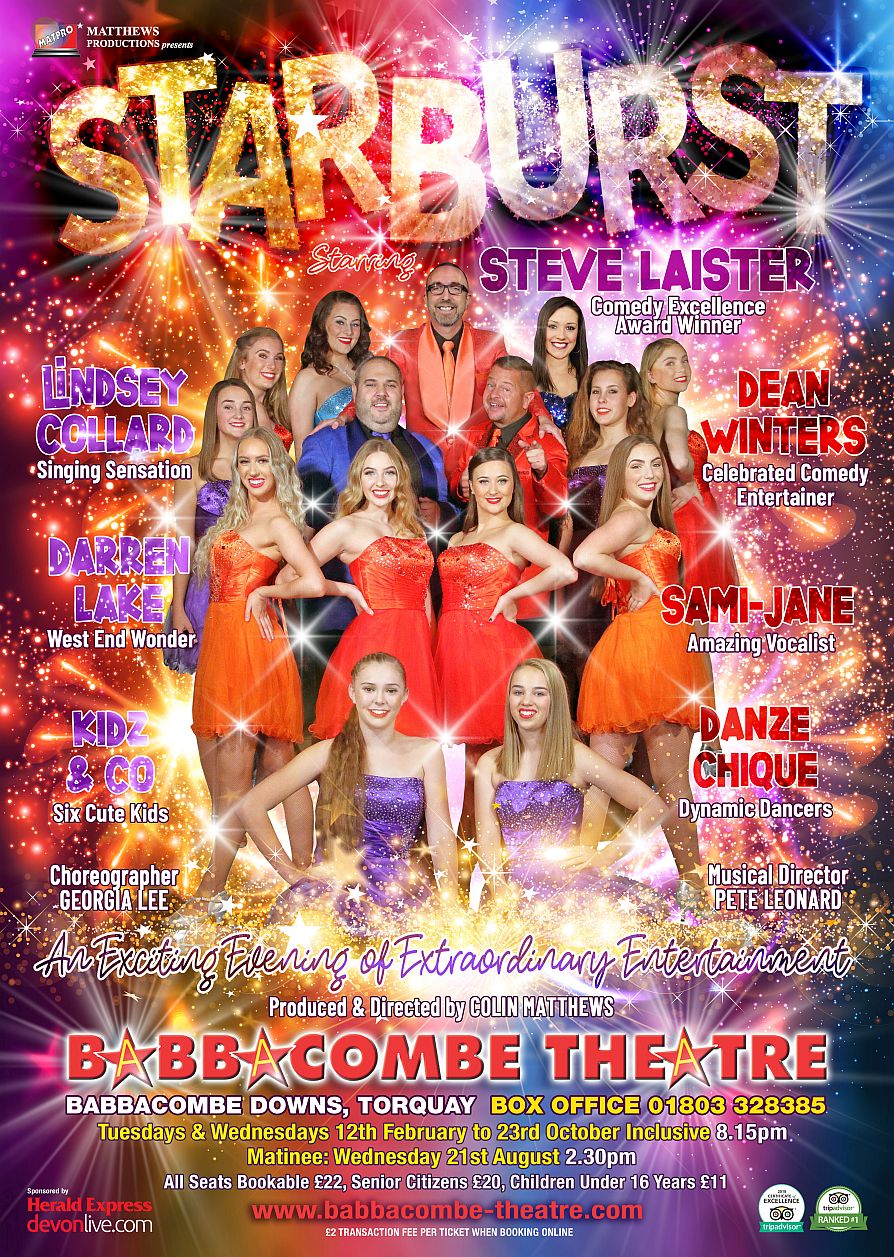 Tuesdays & Wednesdays 12th February – 23rd October 8.15pm incl.
Matinee: Wednesday 21st August 2.30pm
Box Office: 01803 328385
2019 marks a special anniversary at the Babbacombe Theatre in Torquay. The venue, originally a concert hall, opened its doors 80 years ago, in May 1939!
A special anniversary should be celebrated, and in epic proportion. The all new family, variety production, 'Starburst', promises to do just that, every Tuesday & Wednesday from February 12th – 23rd Oct 8.15pm incl.
The show will feature some of the most iconic names in music, TV and the movies, performed by a talented cast, that will embrace the comedic talents of Ken Dodd, Laurel & Hardy, Victoria Wood and the 2 Ronnie's to name just a few. Hear them, sing opulent songs from stunning movie soundtracks, Phantom of the Opera, Gentlemen Prefer Blondes, The Pink Panther, My Best Friend's Wedding and the spectacular box office success, of 2018, The Greatest Showman. They are just as adept at performing pop hits old and new too, with songs from Barry White, Dolly Parton, Cilla Black, Elton John, The Bay City Rollers, Queen and Take That, featured.
With so much in the mix it requires the skills of a great artist, to bring it all together. It all begins with the colours of the paint on the artist's palette, and of course what that artist see's in his own mind before interpreting it on to the canvas. In the case of Starburst, it is the show's producer and director, Colin Matthews, that has selected the elements that will create the lines, colour, shape, form, value, space and texture of this work of art, that just might be considered a masterpiece.
Essential to the blend will be the subjects. Imagine Roy Castle and Peter Sellers mixed up with Matt Monro and Bob Monkhouse and you are beginning to get a flavour of what you might expect to see from the extremely versatile headlining act, Steve Laister. Winner of the 'Sir Norman Wisdom's Award for 'Comedy Excellence' Steve is as equally poised as a singer. He is joined by Dean Winters, an entertainer with 25 years' experience. Dean is known as the 'Little Man with the Big Personality', his extensive comedy talents are equally matched by his wonderful vocal ability. The delightful Lindsey Collard is not only a talented actress but a singing sensation, and Sami-Jane is as proficient at interpreting a pop song as she is the most opulent of arias. Darren Lake brings diversity to the mix with not only his superb acting skills but his vocal prowess.
Combining this much colour in this exhibition of a show, set against the landscape backdrop, offers not only fine art, but for good measure, modernism, contemporary and impressionism. Everything you can imagine, is real, as you will see, when Kidz & Co., 6 adorable children and Danze Chique, embellish every picture as they explode on to the stage in glorious technicolour. They perform the fabulous dance routines set by Choreographer, Georgia Lee with musical accompaniment and orchestrations from Musical Director, Pete Leonard, whilst adorning stunning costumes from around the world.
Inspiring audiences to continue to support local venues, is never an easy task, however combining classic and psychedelic palettes – giving audiences a visual memory, Colin Matthews anticipates that the celebrated venue, situated on the picturesque Babbacombe Downs can go on doing what it is renowned for, for another 80 years, and that is to, ENTERTAIN YOU!
To book your tickets during this anniversary year, to see Starburst, contact the Box Office on 01803 328385 or refer to the venue's website, www.babbacombe-theatre.com