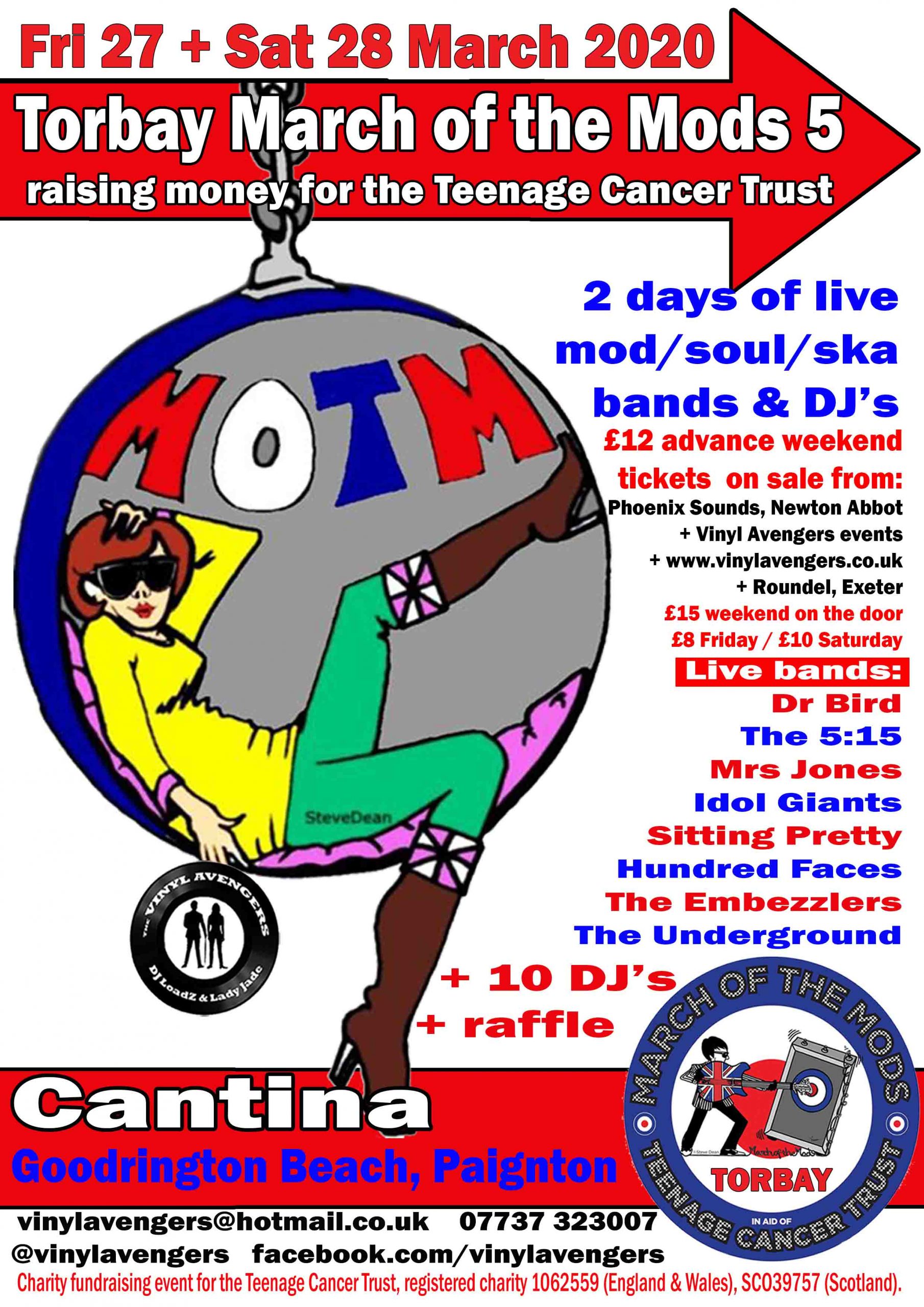 The 5th annual Torbay March Of The Mods weekender – 2 days of mod/soul/ska bands & DJ's raising money for the TEENAGE CANCER TRUST –
Dancing, scooters, sharp suits, 60's dresses, next to the beach!
 March of the Mods is a 100% not for profit group, who stage a number of charity live music events with a mod theme, all over the UK during the month of March each year.  It all started in 2012, with Torbay March of the Mods being the first event (2016) in Devon/Cornwall.  This is the 5th year we have organised this event. TORBAY MARCH OF THE MODS has raised £8500 so far (2016, 2017, 2018 & 2019), contributing to the national running total of £700,000.
This is a charity fundraising event for the Teenage Cancer Trust, which is a registered charity 1062559 (England & Wales), SCO39757 (Scotland).
Link to FB page:  https://www.facebook.com/TorbayMarchoftheMods/
The event will be taking place Fri 27 (6pm-midnight) & Sat 28 (2pm-midnight) March 2020 at Cantina, in Youngs Park, Goodrington, Paignton,  Devon, UK. A large, friendly, venue next to the beach. We will have professional sound and lighting provided by NLS.
Tickets are £12 (adv) for the whole weekend  or £8 Friday, £10 Saturday, £15 wknd  on the door.  Tickets are available from Vinyl Avengers events, vinylavengers@hotmail.co.uk & Phoenix Sound record store, Newton Abbot.  (100% of the ticket money goes to the Teenage Cancer Trust)
< < Confirmed bands/solo acts: > >
Dr Bird (London mod band)
The 5:15 (North Devon teenage mod/new wave trio)
Mrs Jones (South Devon Soul Diva)
Sitting Pretty (Plymouth Mod/Brit-pop 4-piece)
Hundred Faces (Somerset Mod band)
The Embezzlers (Exeter Ska/2tone big band)
The Underground (South Devon mod/60's trio)
Idol Giants (North Devon school-age mod/pop trio)
10 vinyl-only DJ's lined up for the weekend so far, from all over Devon & Cornwall joining the Vinyl Avengers on the decks!
More Bands/DJ's/other entertainment to be announced

For any further information, please contact:

Jade & Ian (the Vinyl Avengers)
07737 323007
vinylavengers@hotmail.co.uk