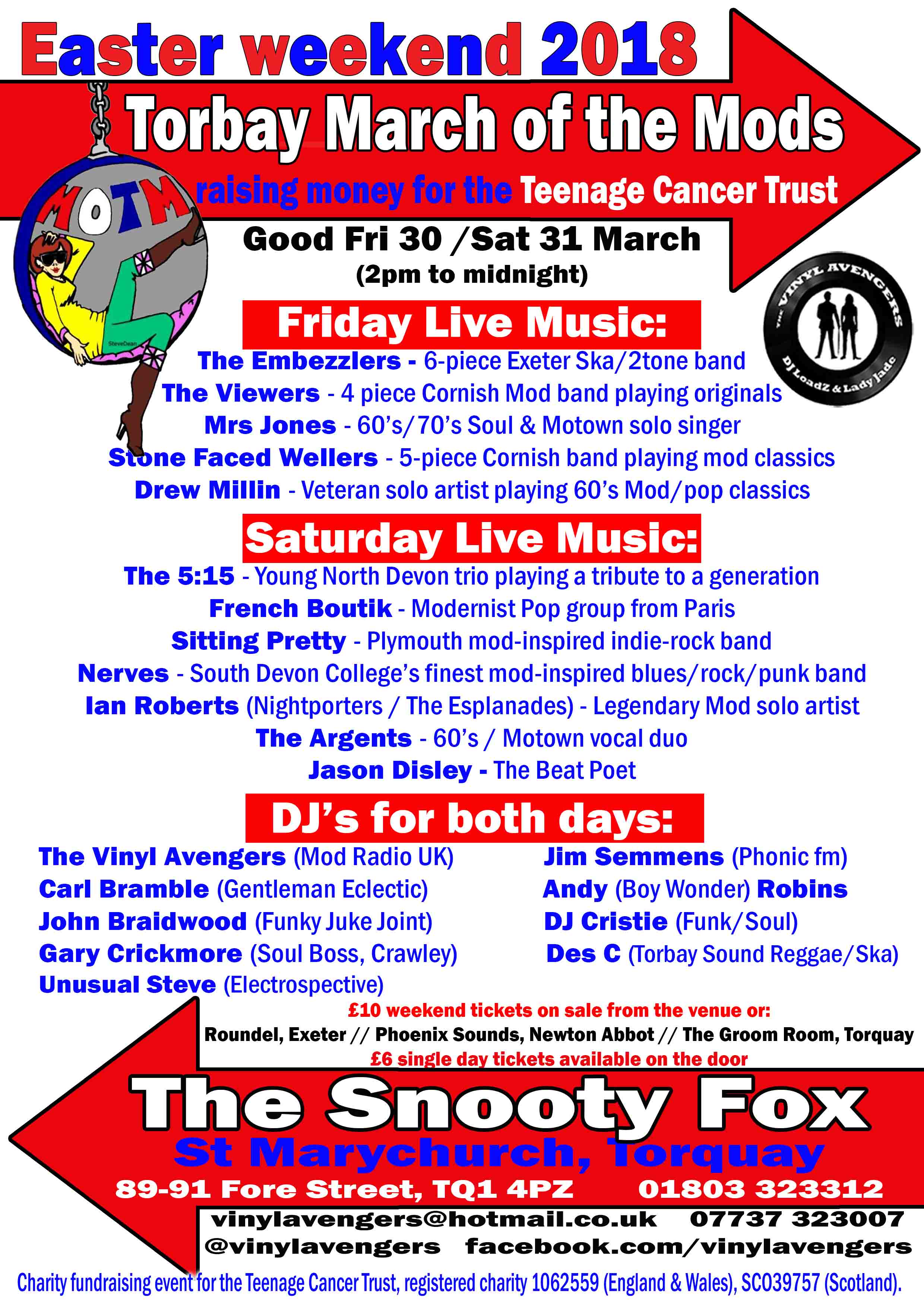 Good Friday 30th (2pm-1am) & Saturday 31st (2pm-1am) March 2018
2 days of mod/soul/ska bands & DJ's raising money for the TEENAGE CANCER TRUST
LIVE MUSIC:
The Embezzlers – The Stone Faced Wellers – The 5:15 – The Viewers – Mrs Jones – The Argents – The Beat Poet – Sitting Pretty – Drew Millin – French Boutik – Ian Roberts (Nightporters/Esplanades) – Nerves (more details below).
DJ's:
The Vinyl Avengers (Torbay-based, Anglo-American retro vinyl DJ's, Mod Radio UK)
Jim Semmens (Exeter, Phonic FM),
Carl Bramble (Barnstaple, The Gentleman Eclectic)
John Braidwood (Barnstaple, Funky Juke Joint)
Gary Crickmore (Crawley, Soul Boss)
Unusual Steve (Torbay, Electrospective)
Des C (Torbay, Reggae/Ska on Torbay Sound)
THE VENUE:
The Snooty Fox Stmarychurch, 89-91 Fore Street, TQ1 4PZ Torquay
This is a large, friendly, family-run pub with a good size stage and wooden dance floor. There are many good hotels and restaurants nearby and Babbacombe Downs is just a short stroll.
£10 WEEKEND TICKETS ON SALE NOW:
– cash tickets from the Vinyl Avengers events or
– pay by bacs/PayPal via vinylavengers@hotmail.co.uk
– Phoenix Sound, Newton Abbot
– Roundel, Exeter
– The Groom Room, Torquay
– THe Snooty Fox, Torquay
Part of the National March of the Mods events, which started in 2013, this is the only MOTM event to have taken place in Devon or Cornwall. This is the 3rd year we have organised this event. We have raised £4000 so far (2016 & 2017), contributing to the national running total of over £100,000!
This is a charity fundraising event for the Teenage Cancer Trust, which is a registered charity 1062559 (England & Wales), SCO39757 (Scotland).
www.facebook.com/events/1731073443858284/