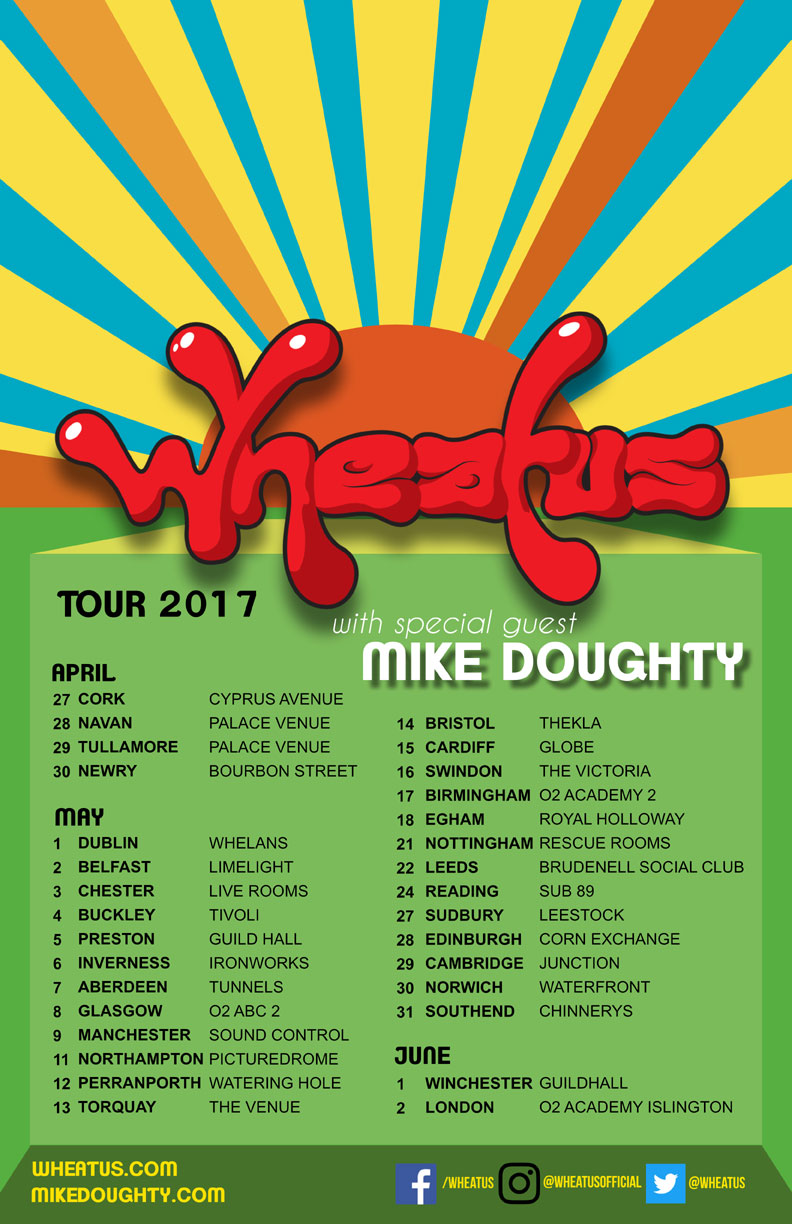 It's hard to believe Wheatus' debut album is 17 years old this year.
Like so many worldwide hits before and since, "Teenage Dirtbag", the band's ode-to-adolescence and inescapable breakthrough, seems timeless. Dateless. As if it's always existed. It's certainly reached subsequent generations to the one that moshed to it first time around.
"That's probably the most astonished I've ever been on-stage, when those kids sang back to us every night," says the band's Brendan B Brown.
He's referring to his experience on tour with Busted last year, when those old enough to remember the early Noughties sang away with much newer fans. Regardless of age, they all knew "Teenage Dirtbag." "I thought it would be good, but I wasn't prepared for the crazy reception we got. It was extraordinary for a support act to get that kind of love."
As for the 17 years since the debut album's release, for Brendan, it seems longer. But simultaneously, not that long ago; "I keep finding things from that crazy time. I've kept a lot of the first album paraphernalia and some of it is as it was. The reaction to that record has remained pretty fresh, which is both odd and wonderful."
Now, after spending nine weeks in a van touring the US, Wheatus are coming to the UK & Ireland for another tour. And Brendan cannot wait; "Playing in the States has made us very keen."
As in more recent years, which have included among other things, sales of equipment on eBay, it's taken some creative funding to get the show on the road, but it's a reality of the modern music industry. No drama or panicking, just pragmatism.
"I've only ever felt the need to plan for the worst. Fortunately, we never got used to having money. Our first album was made on a shoestring, and so it goes. We entered the music industry as the money exited. Perhaps some new efficiencies will come and make things easier, but, with few exceptions, I think what happened to jazz music has happened to the rest of music – only the people who love it to death can stay in the game."
There were a couple of mistakes made along the way, such as selling the beautiful, rare snare drum that was used during the recording of "Teenage Dirtbag", but for now, it's really the only way to make Wheatus work – to liquidate and start over with each touring and recording. Just don't ever expect to see Brendan's beloved Martin acoustic on eBay. That, and a handful of other secret talismans, is on a special list of never-sells.
The biggest upside of self-funding in this way is that the days of being ripped off are over; "That happened to us a few times with third parties involved. And you also wind up learning how to fix your own engine, so to speak. You get to see how the sausage gets made, what's needed and what's not."
Brendan, always singular in his vision, is now also the only member of the line-up remaining. It's nothing new, he says, but also couldn't be happier with the current situation – "I spent quite a few years writing & demoing the first album by myself. When I consider the line-up changes over the years it's 98% positive memories. There was only ever one true falling out. Currently, from a musical point of view, we're greasier with Leo Freire and Matthew T Milligan as the rhythm section than we've ever been. It's really starting to grow me in good funk mould. Plus we're all adults, so that helps."
The forthcoming UK & Irish tour sees the band playing almost every night from April 27, when the tour kicks off in Cork, right through to June 2, when they finish up in London's Islington Academy – an incredible 31 shows in 37 days.
After that, there'll be new material, possible making its debut during the upcoming shows.
"Album seven is halfway recorded, so we'll try to finish that in time for Christmas. Then, in 2018, we've got some re-organising to do. I have a plan for a retrospective box-set style re-release of everything we've ever done and then some… Finally we're gonna get the album one vinyl package together along with everything else re-released on vinyl – in some cases, remixed and remastered too. Lots of work to do in 2018. And then, after that, we'll be gearing up for the 20th anniversary tour."
Wheatus will play the following UK & Irish live dates in spring 2017;
27 April Cork Cyprus Avenue
28 April Navan Palace Venue
29 April Tullamore Palace Venue
30 April Newry Bourbon Street
1 May Dublin Whelans
2 May Belfast Limelight
3 May Chester Live Rooms
4 May Buckley Tivoli
5 May Preston Guildhall
6 May Inverness Ironworks
7 May Aberdeen Tunnels
8 May Glasgow 02 ABC2
9 May Manchester Sound Control
11 May Northampton Picturedrome
12 May Perranporth Watering Hole
13 May Torquay – The Venue
14 May Bristol Thekla
15 May Cardiff Globe
16 May Swindon – The Victoria
17 May Birmingham 02 Academy 2
18 May Egham Royal Holloway
21 May Nottingham Rescue Rooms
22 May Leeds Brudenell Social Club
24 May Reading Sub 89
27 May Sudbury – Leestock
28 May Edinburgh Corn Exchange
29 May Cambridge Junction
30 May Norwich Waterfront
31 May Southend Chinnerys
1 June Winchester Guildhall
2 June London 02 Academy, Islington
Tickets for all shows are on-sale now from usual agents.
https://www.wheatus.com/
https://www.facebook.com/wheatus/